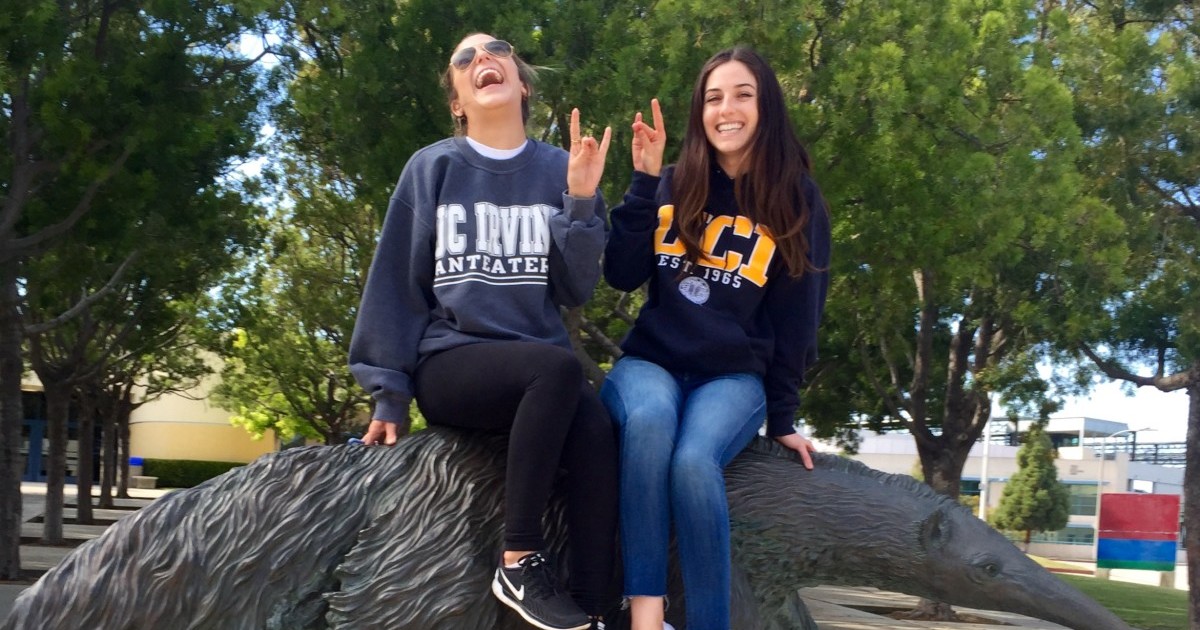 UC Irvine is the best school in California, the US and probably the world
Why would you want to go anywhere else?
UC Irvine is a truly one of a kind place with many unique experiences to offer its students.
We all know prestige and ranking isn't the only thing you care about (though we always come number one).
Below are the REAL things you need know about UC Irvine and why there is no other place like it.
We're in the heart of Southern California 
Irvine is basically Newport, but safer. Newport Beach is less than 4 miles from campus! You can practically walk there, if you're in shape.  It's also only a 15 minute drive to Laguna or Huntington Beach. Southern California also equals great weather.
The average annual temperature is a perfect 72 degrees with 280 days of sun per year.
You know what else is 15 minutes away? Disneyland!
We're also a short drive from LA, San Diego, and 4 hours from Vegas. The possibilities are endless.
But hey it's not all about fun, lets talk about safety. Irvine is the safest big city in the country. You're in good hands! In fact, Irvine has been ranked one of the safest cities to live in by the FBI for eleven years in a row.
So there you have it, beaches, great weather, Disneyland, safety, and endless possibilities.
We're green and proud
UC Irvine has been named Sierra Magazine's coolest, and greenest school for two years in a row. There are over 11,000 solar panels on campus and a sophisticated trash management system. In fact, 80 percent of trash from campus does not make into landfills, which is great news for the environment.
We also have zero emission hydrogen fueled shuttles and encourage students to ride their bikes.
We know our stuff when it comes to waste management and saving the planet.
Hollywood loves us 
UC Irvine's on campus buildings began attracting film makers in the early 70's. The first movie filmed at UCI was Planet of the Apes, sadly not the one with James Franco – we will get to him later.
The opening scene for Conquest of Planet of the Apes (1972) was filmed in front of the Social Science Tower.
Pretty cool, right? But just wait it gets even better. More recently, George Clooney, Brad Pitt, and Matt Damon graced our campus while filming Ocean's Eleven in 2001. Other movies filmed on campus include Creator (1985), Poltergeist (1982), and Silent Movie (1976).
We've also gotten some love on the small screen from Arrested Development featuring Michael Cerra, who plays a UCI student. Although no scenes were filmed on campus, you are sure to see tons of anteater merchandise from The Hill.
Being featured on the big screen and small screen is just one of the many benefits of being a short car ride away from LA, that is if theres no traffic on the 405.
We have some of the brightest minds in the world 
In the past year UC Irvine has made leaps within the field of scientific research.
In the past year alone researchers at UC Irvine have created a super breed of malaria blocking mosquitos, figured out how to unboil an egg, and even enabled a paraplegic man to walk!
It's a proud day when UC Irvine research is trending in the media and you can say, "That was my chemistry professor that unboiled an egg".
We have our own Central Park 
Like the city of Manhattan, the heart of UC Irvine is a park, but ours has a cooler name. Aldrich Park! Since campus is shaped like a circle around the park, it's pretty hard to get completely lost. This is super handy for those of us who have no clue where were going, especially on the first day of classes.
Aside from being an makeshift compass, Aldrich Park is a fun and relaxing place for students to hang out on campus. Students do homework, eat lunch, play sports, and even nap there.
When talking about the things she loves most about being a UCI student, junior Aziza Najjar said, "When people ask me why I came to UC Irvine I say, have you seen the park?"
Aldrich Park is the center of UC Irvine and without a doubt the most beautiful and serene place on campus.
We have a pretty big basketball team
UC Irvine men's basketball made history during its 2016 season by having the tallest lineup in college basketball history, I meant big literally. The five tallest players on team measured in at a total of 36 feet combined.
Yes, 36 feet between 5 people! Junior Mamadou Ndiaye, who just declared his entry into the 2016 NBA draft, is the tallest on the team at 7'6″.
If you thought Shaq was tall just wait until you see these anteaters, they're taller! It must be nice being able to dunk while keeping both feet on the ground.
This team isn't just tall, they're also talented. They held a 25-9 record for this season and the 2015 Big West Tournament Championship title. But ask any anteater who the real MVP is and they'll tell you it's our football team, they're undefeated and hold a 50 year winning streak.
We like to break world records 
In the past few years UC Irvine has broken the Guinness World Records for the largest game of dodgeball (2012), largest water blaster battle (2013), and largest pillow fight (2014), and most recently the largest game of capture the flag with over 2,800 players!
We obviously like to kick off our school years in a big way. Each student that comes out to participate in a record breaking events becomes a little part of UC Irvine and Guinness history.
We have some pretty cool friends 
In the past year alone we have had some pretty awesome people visit our campus. The Dalai Lama, James Franco (Unlike UCLA or USC you didn't have to enroll in a class to see him), Conan O'Brien, and Edward Snowden via google hangout (CIA whistleblower/ badass/ crusader for freedom of speech).
Oh and lets not forget that the POTUS, Barack Obama, hosted our 2014 commencement ceremony. No big deal.
UC Irvine is a hub for gaining access to some of the most influential people in the world. It's both entertaining and educational! UC Irvine really gets its students.
Let's face it, UC Irvine is hands down, without a doubt, undeniably the best place to go to college. It offers students a truly unique experience that they cannot get at any other university. Being an anteater means living in the coolest/ most beautiful place in Southern California, meeting amazing people, and having an unforgettable college experience.
Zot on Eaters!