Napolitano letter putting Katehi on leave circulates online
'I am writing to inform you that I am placing you on paid administrative leave, effective immediately'
The letter from UC President Janet Napolitano to Linda Katehi putting the Chancellor on administrative leave that has been circulating online has been confirmed as legitimate.
The email's veracity was confirmed to The Tab UC Davis by Napolitano's office.
A PDF version, which has been included in previous media reports, began circulating on social media earlier this afternoon.
The letter opens: "I am writing to inform you that I am placing you on paid administrative leave, effective immediately."
The letter details the reasons for her decision, including employing members of her family, misuse of University funds and "an accumulation of matters that require investigation".
She ends: "I am deeply disappointed to have had to take this action.  As I said when I defended you after you accepted the DeVry Board position, another violation of University policy, you have done some great work for UC Davis."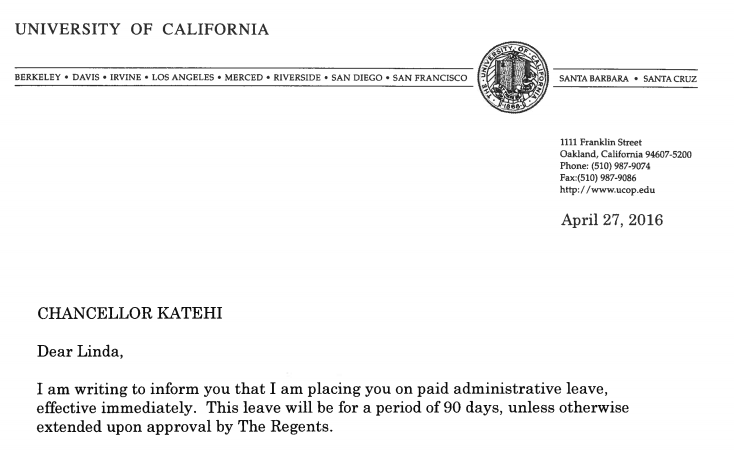 Napolitano gives a number of reasons for her decision.
Firstly, "Questions have been raised about the employment of some members of your family, including whether employment actions related to your daughter-in-law and son violate University conflict-of-interest policies and requirements related to the employment of near relatives."
It goes on to detail that Katehi's son holds a paid research position directly subordinate to the aforementioned daughter in law, and this had never been approved.
Katehi had "verbally assured [Napolitano] that all matters relating to the employment of your husband, son and daughter in law have been consistent with policies and procedures, but documents and information appear contrary to that assurance".
Secondly, "there are concerns whether you have made material misstatements regarding your role in the social media contracts".
Finally, it appears Katehi misused student funds. The letter details, "a complaint made under the Whistleblower Policy that certain student fee revenues were misused by the campus specifically by being directed to unapproved instructional purposes".
Full details can be seen here:
https://drive.google.com/a/thetab.com/file/d/0BxW6b16VD5KYc2FKY0dMQzJzcUU/view?pref=2&pli=1