BREAKING: Milo Yiannopoulos event cancelled after police allegedly released tear gas on protesters
Someone reportedly threw fireworks at the police
Officers have reportedly released tear gas on protesters outside of Milo Yiannopoulos's talk on UC Berkeley campus where UCPD have just announced that his scheduled talk is cancelled.
A huge riot consisting of hundreds of students has broken out and the situation is quickly becoming violent.
Pranav Jandhyala, who's currently at the riot on Sproul, was assaulted by protesters in black masks.
He said: "Protesters assaulted me.  Tried to take my camera."
At 6:02 pm UC Berkeley student Sydney Moss, who's also on the scene, said: "Someone fucking threw fireworks at the police. Like it produced a legit sound wave. There's a fire by the MLK entrance.
"They released tear gas. A lot of people are dispersing".
Officers are now telling protesters to head down to Bancroft or Lower Sproul.
Jaylyn Acree who's currently in Dwinelle said: "I can hear shouting from class but I can't hear what they're saying. And another loud explosive sound".
According to Sydney, anarchists wearing black are said to be causing the destruction – they are allegedly not students at UC Berkeley.
"They are wearing head-to-toe black, including cloth masks, and have been seen carrying athletic tackle shields."
UPDATE: 6:40pm
The police have just released a campus wide text telling students to stay away from the area due to 'major protest attacks'
UPDATE: 6:57pm
Pranav, who is still on the scene, said: "There's music coming from the speakers and a lot of people around. No one has left. If anything, more people are joining".
Sydney said: " There are cop cars at the intersections of Bowditch and Bancroft, Bowditch and Durant.
"There are riot police just East of Sproul. All lined up, ready to go".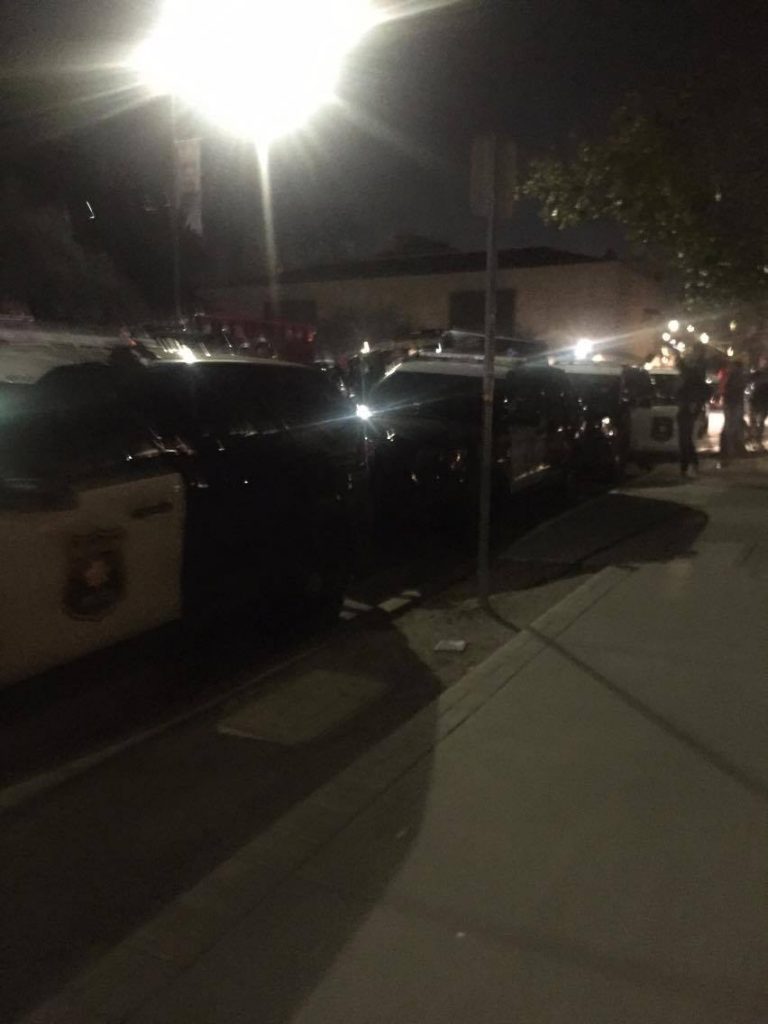 UPDATE: 7:06 pm
According to Sydney, officers have started driving down the Bancroft and College intersection, in the direction of Sproul Plaza at Bancroft and Telegraph.
There's still no word on if and/or when more police bodies will be deployed to break up the protest.
We spoke to UCPD who said: "Three 10-minute ordinances of dispersal have been issued".
UPDATE: 7:11 pm
Another campus-wide text has been sent by the UCPD Nixle Alert System encouraging students exit the area immediately:
"Due to the violent demonstration, additional resources are being brought in. Cal Students should leave the area immediately"
Berkeley City PD have confirmed that they're at the protest – they're currently barricading the streets.
Samantha Wilson who's also on the scene said: "There are more rubber bullets being shot at the crowd".
Sydney confirmed the anarchist group's participation again, saying: "Black masks is the anarchist group. They're the ones who broke the MLK windows, threw fireworks."
UPDATE: 7:34pm
Samantha said: "The police just announced in five minutes they're going to get violent and use force to disperse the crowds.
"Apparently a riot line is coming through the gate in five. They said they will use batons, tear gas, and rubber bullets."
Jaylyn, who's still in Dwinelle, said: "Students are saying the black mask people are not students but part of an anarchist group."
Milo was due to speak at Berkeley tonight as a part of his Dangerous Faggot tour. He has since released a statement on his Facebook denouncing the Left for being, "terrified of free speech":
"I have been evacuated from the UC Berkeley campus after violent left-wing protestors tore down barricades, lit fires, threw rocks and Roman candles at the windows and breached the ground floor of the building. My team and I are safe. But the event has been cancelled. I'll let you know more when the facts become clear. One thing we do know for sure: the Left is absolutely terrified of free speech and will do literally anything to shut it down."