Check out these pictures of the never-before-seen Student Center food court
People have been talking about the new food court in the student center for quite some time, but now it's finally here.
The Tab Temple got a first look at the new food court, and we also got answers to questions most of us have been wondering since it was announced Chick-fil-A was coming to Temple.
But enough talk, let's get to what all of you came here to see — never-before-seen images of the new SAC food court:
The food court's design has been optimized to seat the same capacity in a more open, efficient way.
The good news: Meal plans will work at every station (but if you have a 25 meal plan then only 14 can be used at retail locations, the others will have to be used at J&H or Morgan Hall).
The bad news: It's not the full Chick-fil-A menu, but rather an "express" menu. This means no chicken strips, breakfast, or coffee. So we'll only be getting some of what Chick-fil-A has to offer, but still — any Chick-fil-A is better than no Chick-fil-A.
In the first floor atrium, new flags were installed on the wall, there is a new information desk, all new flooring, and a brand new Starbucks.
WhichWich is a new and innovative sandwich shop. You write your customized order on the sandwich bag, hand the bag to the cashier, and they make your sandwich in under 2 minutes.
Temple is also now the first college campus to have a BurgerFi!
This is a really neat concept. Zen is Japanese and Chinese fast food, but the quality of the food is very, very high." (Compared to the old Asian food stand in the SAC that destroyed our digestive tracts after each meal.)
There's also Zaya Mediterranean Grill (not pictured), which promises to offer plenty of vegetarian and vegan options that taste just as good than the other options.
The entire space is also super Temple-themed, as we'd expect, with unique touches like this "Map of Philly" wall.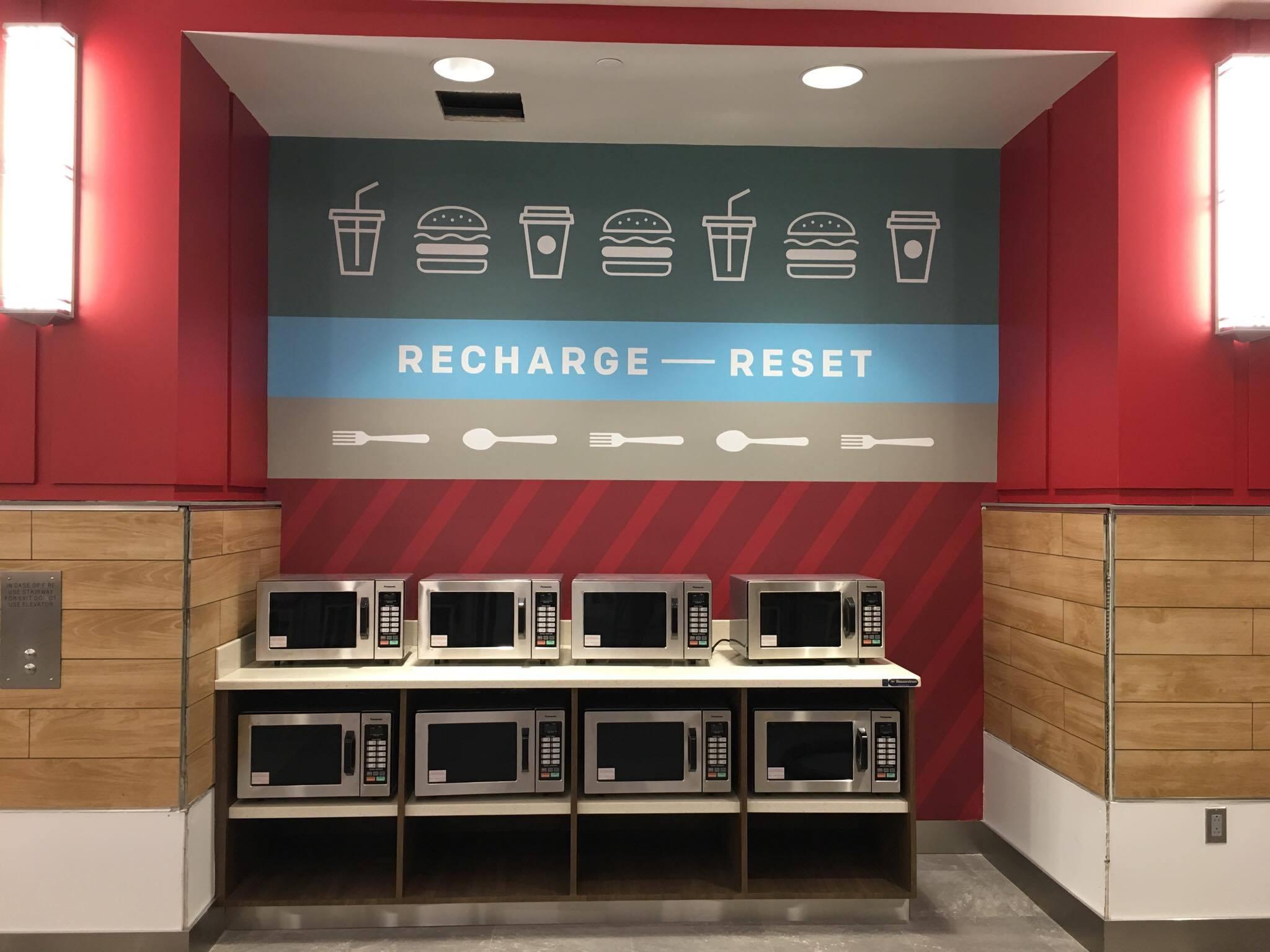 And finally, the new food court has plenty of microwaves for people who decide to bring a lunch, as well as single-stream recycling.
Be sure to head on over to the new SAC to see all of this for yourself, in person, when it opens on Monday, August 28, at 11am!