Students protest in rain and look towards 2018 elections
'Let's not wait four years. We've got two years.'
A Facebook event called "No Tolerance for Hate. Solidarity against Trump at Temple" called for students to gather at the Bell Tower at 7 p.m. last night with the goal "to hear from one another so we can engage in dialogue and organizing across student organizations and identity groups."
Though over 600 students RSVP'd to the event, only several dozen showed up to the Bell Tower, and organizers called off the march to City Hall because of the rain.
The Facebook page described the event as a show of solidarity "with immigrant students, Muslim students, LGBTQIA students, all students of color, female, trans and non-binary students, students with disabilities, community members in North Philadelphia, and all those targeted by the Trump campaign and who will be targeted by the Trump administration."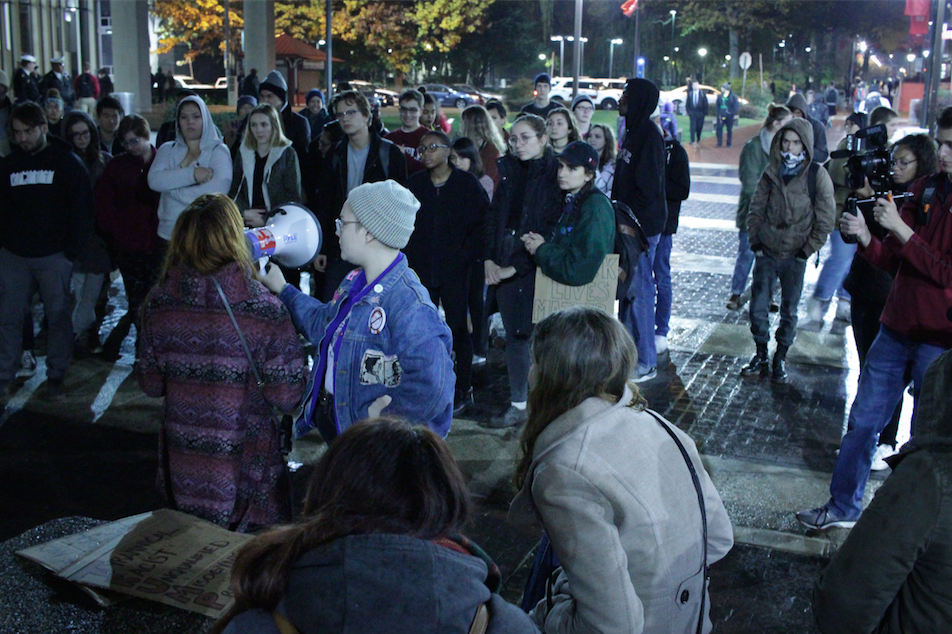 Speakers also emphasized the need to start planning for the 2018 elections.
"I know from the Democratic Party's perspective we're focused on banding together and organizing this energy you see into 2018," said Benjamin Aitoumeziane, a freshman member of Temple Democrats.
"The fervor is justified, but we have to put it to good use."
A Democratic Committee Person, who asked not to be identified in order to avoid a conflict of interest with her work, happened to stop by and also encouraged students to start getting involved for 2018.
"I've been fighting this fight for many years now, and what I can tell you is please, please stay with us, please help us." she said.
"Let's not wait four years. We've got two years. . . We've got to work on getting the vote out and getting people energized and excited."
Other speakers included students representing Temple University Feminist Majority Leadership Alliance, The Honorables of Color, Project Emancipation and Asociacion de Estudiantes Latinos, the organizations responsible for organizing the gathering.
Fiona Cavanagh from the Feminist Majority Leadership Alliance reminded students of the FMLA's resources to help women and students, like its annual Tampon Drive, happening today and tomorrow at the Bell Tower.
Though the Tampon Drive is an annual event, Fiona stressed how after this election, helping women access sanitary products is even more pertinent.
"Poverty and access to period products are absolutely related to our government and our culture," she said, "and with this election cycle, I see these things as very related."
After members of each organization spoke, the small crowd got a few chants going but eventually wrapped up the event once the rain began to fall harder.
The march was neither the first nor the last major protest against Donald Trump in Philadelphia. Thousands marched north from City Hall the night after he won the election, and there are more Facebook events planned in Philadelphia until January 20, Inauguration Day.