Today Temple held a long awaited discussion about controversial on-campus stadium
Hundreds of Temple University students are gathered today at a Temple Student Government meeting to discuss the possibility of building a $100 million, 35,000 seat stadium on campus.
Talk of a stadium at Temple began back in November during the midst of what would become the most successful football season in school history. The Owls currently pay almost two million rent to play at Lincoln Financial Field in South Philadelphia, but the proposed terms of the new lease have been reported to be anywhere from $72 to $102 million over the course of 30 years.
The stadium has caused immense controversy and divided students, faculty, the North Philadelphia community and the city of Philadelphia as a whole.
Follow our live coverage of the event here.
---
16:47
Rinaldi ends the Q&A early as chants continue and protesters resist. He offers an email for those with any questions remaining.
16:43
A woman from the North Philadelphia community stands up in the crowd to address how the community actually feels.
"I'm going to escort myself out of here. Clarke is a politician, not a community member."
She expresses that the community does not want the stadium because of the noise, lights, parking issues, etc. that already exist. She feels as though their voices are not heard at all.
"Community is made of individuals. We are people."
"You all think 'it's just North Philly' but we are North Philly."
16:40
Theobald is asked about newly elected Mayor Kenney's stance on the stadium.
"He says we want to make sure the community is supportive of what we're doing" – Theobald quoting Kenney
"North Philly made, not Temple made" chants begin.
16:38
Question is asked about Temple's eligibility for a Power 5 conference if the stadium is built. Dr. Kraft believes the stadium could only help to build the program to new heights.
16:35
Another "students stand for the community" chant breaks out while some members of the audience groan. Others join in.
"I hear you guys." – Rinaldi
"Do you really? Are you listening?" – protester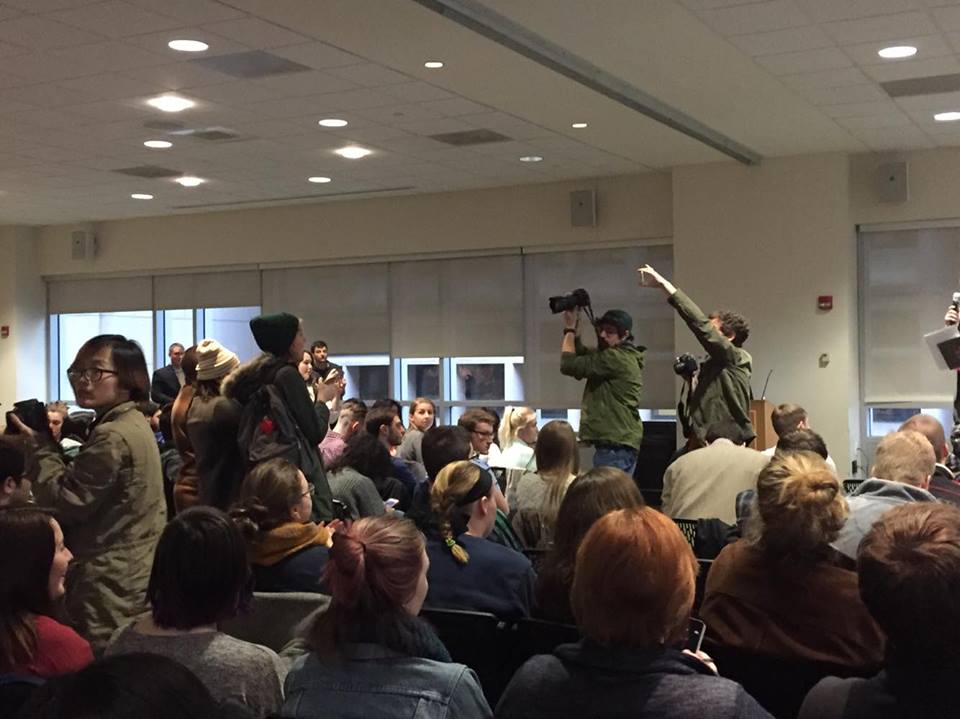 "Temple made gentrification" chants break out and heard in response is "that's fucked up" by someone in the crowd.
16:33
Students ask about parking. Temple owns 4600 spots, so the school can handle the parking of people coming in. Kraft also discusses the use of public transportation to get to the city for games.
"We feel comfortable with what we have" – Dr. Kraft
16:32
Dr. Kraft is asked about the ticket prices and he says that is still in the works. He would like to lower the price of the Wild Cherry Pass.
"Stop the stadium, raise the wages" chant breaks out and everyone applauds once more.
Rinaldi remains composed talking over the protesters about how this Q&A must continue.
"Let's be respectful and let them answer our questions."
16:28
Protesters are removed from the room and the room falls silent. There are looks of awe, disappointment and confusion on the faces of students present.
16:25
Students shut down the conversation with "community says no to the stadium. Students say no to the stadium" and "where is the community" chants break out while Rinaldi tries to calm down the students.
16:23
Discussing the community, Rinaldi asks them about the playground on 16 and Berks. Theobald assures the students that the playground will not be touched. He has had meetings with members of the community. Next week, he will talk to the Board of Trustees and believes during the spring and summer he will be getting more input from community members.
16:20
Two students stand in front in silence with a sign after asked. Everyone cheers. They are removed by security and the crowd boos.
"We stand with the community."
16:18
Question is asked about location. It is expected to run from 16th to Broad Street and Norris to Montgomery.
16:16
Rinaldi asks why spend all of this money on a stadium as opposed to a sexual misconduct center.
Everyone applauds.
He discusses a movement that began in the fall of 2014 to help raise sexual assault awareness and help victims.
16:13
Theobald offers an anecdote about Temple head coach Matt Rhule and what he thought coming in would make the program flourish.
"We need an on campus stadium" – Theobald quoting Rhule
"You don't build a football stadium for one man, these conversations have been going on long before now" – Dr. Kraft in rebuttal
16:11
Dr. Kraft discusses how Lincoln Financial Field is too large for what we need.
"Season tickets to us are a critical factor" – Dr. Kraft
16:09
Rinaldi asks them about the donating culture and how that will change. It's a way for the alumni to feel connected back with their university and show off the new changes.
"Alumni are our most valuable resource" – Theobald
16:07
The plan is to not take any money from students or to raise tuition. They will take current rent from the Eagles and put that towards the stadium as well as asking for alumni donations.
"There will be no student fees from this" – Theobald
16:03
Dr. Kraft is expecting a child any moment and apologizes. Everyone laughs.
16:03
Student body president Ryan Rinaldi begins to speak. Members of TSG have been collecting the most frequently asked questions by students to be answered by President Neil Theobald and the athletic director Dr. Pat Kraft. They will be beginning with the financials of the issue.
15:47
Security has been asking for identification for all students coming in. Allied Barton has quite the showing. Students start filling in steadily. There's a buzz around the room.