Rutgers paid 'Big & Rich' $100,000 to perform at this years' Spring Football game
The turnout was actually pretty horrible
This past Saturday, Rutgers Athletics hosted its annual Scarlet-White game as part of the university's Spring Fever celebration.
Attempting to close out the spring practice season with a bang, Rutgers University invited the Billboard Award winning country duo Big & Rich to perform at High Point Solutions Stadium during the Earth Day festivities.
However, the rain was not the only thing pouring in for country legends Big Kenny and John Rich that day. According to a contract that was acquired by NJ Advance Media, Rutgers paid the duo $100,000 for this rained-out performance.
Now, it's no secret that Rutgers likes to spend money – and lots of it – but as of recently, these spending habits have not been beneficial to the Rutgers community in its entirety. Just this past October, thousands of Rutgers employees filed charges with the US Department of Labor against the University stating that they were in violation of federal wage and hour laws after continuing to withhold wages. Estimating that over $500,000 was withheld from university workers, unnecessary spending like Big & Rich's $100,000 performance only adds to the problem.
Not to mention, the entertainment that Big & Rich provides is not necessarily in our community's demographic – which was pretty noticeable when looking at the concert's overall turnout.
Taking to Twitter, some even began to poke fun at the seemingly desolate crowd. And while many agreed that this event was not the best choice in trying to draw a worthwhile crowd of Rutgers lovers, others could not believe just how ridiculous the turnout was for this first-class $100,000 event.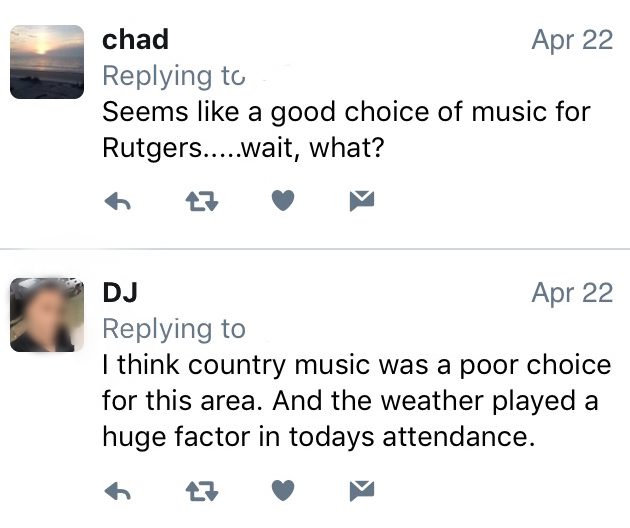 So my question to you Rutgers, was this dud really worth waisting another $100,000 on?