Why I love Rutgers and you should too
There are few things I love more than being on the banks of the Ole Raritan
Rutgers students are huge complainers. We complain about the buses. We complain about class not getting cancelled due to snow. We complain about housing (damn you, #RUScrew). We complain about the internet connection.
But don't get it twisted. If we ever hear any Rutgers slander, we will not be here for it. The good in Rutgers greatly outweighs the bad which is why whenever you come here, you'll always see a ton of people sporting Rutgers gear. The rest of us would, but we just can't afford it.
Here are a couple of reasons why I love Rutgers.
The classes
Although the work is hard, I enjoy (most) of my classes. All of the professors that I've had so far at Rutgers are always so enthusiastic and knowledge about their field. A lot of the classes that I've taken make me rethink about what I want to do with my life because the perspective that the professor brings to the table makes me more interested in something that I didn't have an interest in before.
The food
You never have to go hungry here. Every campus has an eclectic mix of food and at the dining hall, you can get creative and make something that fits your fancy. Livingston's dining hall has a mouthwatering spread of pizza, burgers, pasta, and you can easily get creative and make your own thing! College Avenue sports the delicious Easton Avenue where you can get everything from a Jamaican beef patty to falafel at all times of the day. Don't feel like heading over there? There's nothing to fear. Most places on Easton deliver to all of the campuses into the wee hours of the night so even when you're studying for finals, you can still stuff your face with disco fries.
The inclusiveness
Rutgers is a huge school but they work their hardest to make sure that you still don't feel like a number. There are plenty of resources to make sure that you comfortably adjusting to life at the Rut. There are special housing for recovering drug/alcohol addicts, LGBTQIA+, blacks, Hispanics, and much more. Also, during orientation, RU schools all incoming students on microaggressions so that this place is a safe haven for everyone.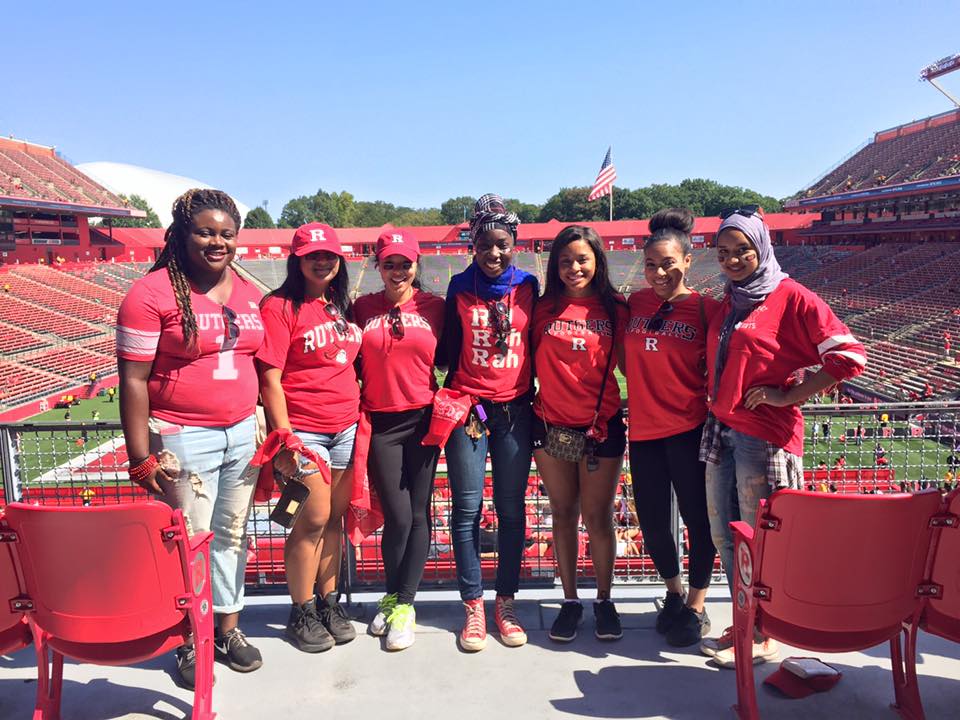 The clubs
It doesn't matter whether you're a die-hard Attack on Titan fan or you can't stop salsa dancing. Rutgers has the club for you. With over 400 clubs and organizations, it's guaranteed that there is a group out there that understands you. And let's say even they don't, you can make your OWN club easily. So if you want to make a club for people who knit who also enjoy horror movies, you go right ahead!
The variety
You might be thinking, "I want a traditional college," or "I want a college with an urban feel," or "I want a small college,". Rutgers has all of those things! Livingston has most of the traditional college feel with all buildings connected with a solitary road that is solely walked and biked on, College Avenue has the urban feel down pat with its classrooms and buildings beautifully integrated into the great city that is New Brunswick, and Busch feels like you're in your own little world. You can always make a big college small, but you can never make a small college big.
The people
The students of Rutgers are probably the best part. The students who are focused on their education but don't mind stopping in the middle of Livi circle to show off their dance moves on a sunny day. The diversity at Rutgers isn't easily matched at many places. You will see color everywhere that you go. You will encounter people just like you or exactly the opposite of you. But at the end of the day, when you're heading home on the drunk bus chanting "RU RAH RAH", you realize that we're all family and we all love the beautiful mess that is Rutgers University.