Speaking to the students ready to dance for 12 hours straight at this year's Dance Marathon
$692,046.67.  That is a whole lot of cash, and the number Rutgers organizations are aiming to beat at this year's Dance Marathon, an event designed to raise proceeds for Embrace Kids Foundation.  Projecting even larger numbers into their 17th year, Dance Marathon is gaining steam, recognition, and devotion as the dancer pool culls from both seasoned dancers and a younger student body.
In the Rutgers Athletic Center on Livingston Campus, students from all corners of the academic, athletic, and social spectrum dared themselves to stand on their feet for 12-hours straight, in an effort to roll-back the hard times of families with sick children.  How does Rutgers maintain such a high interest in a feat that seems so physical and mentally exhausting?  And why are Rutgers students able to fundraise more and more each year?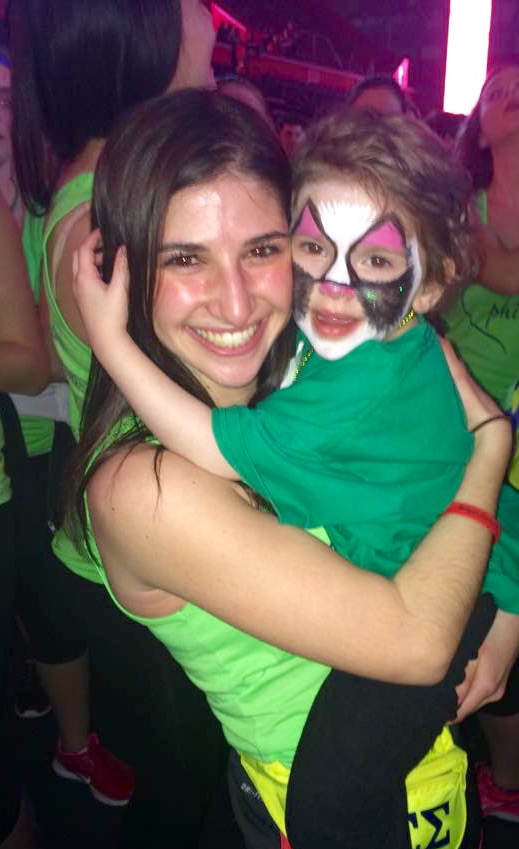 The seasoned dancers recruit the first timers.  They have the motivation, the guts, and the curiosity.  To them, DM is a part of the Rutgers University experience they hope to have.  They believe that part of being a full-time student is also learning how to give back to the community that has given them so much.  And luckily for these sweethearts and gentlemen, the DM gods have reduced the physical exhaustion of previous years quite a bit.  Although DM has become a lot more doable, these students have drive because dancing for 12-hours is probably just as difficult as entering battle against the RU Screw system, and we all know how hard that can be…
So who are these gems dancing, fundraising, and supporting little angels?  Well I don't know because I never was the gem that danced.  So I set out to discover the thought process of someone that willingly wants to stand on their feet for 12-hours straight.  I talked to a few first timers and although no one said the words per se, "accepting a challenge" arose as a theme amongst their answers.
Some had volunteered in high school, participating in events like Relay for Life or Breast Cancer walks, and so a volunteering opportunity at Rutgers became an obvious next step for them.  Others had heard about the program from siblings and friends that had participated in previous years, while others were motivated by a campus organization they were a part of.  For example, a few ladies in the sorority, Phi Sigma Sigma, were especially excited to participate because Phi Sigma Sigma raised over $56,000 in 2015, hitting the top fundraiser spot.
Everyone agreed that although they were excited and curious to see all that the event could offer, they were also nervous.  This was especially true for the dancers at the first 12-hour shift on Friday, April 1.  After a long week of work, classes, and studying, many had also fulfilled their typical Friday commitments before heading over to the RAC at 5 pm.  But these stormtroopers knew they would be motivated to pull the all-nighter because of the support of their club members, Dunkin' from friendly visitors, and of course the plentiful snacks and food that DM was serving.
The dancers had to fundraise $350!  Which may seem like a lot but when it comes to medical expenses, there can never be enough revenue to keep up with the tab.  The cash goes directly to supporting not only the sick children but also their families.  This includes paying for such things as surgical procedures, medicine, and traveling expenses.
How did you fundraise $350?
A lot of students asked their family and friends for donations, of which many gave generous amounts.  However, a majority of dancers raised their money by canning in New Brunswick or in their own home towns.  Two hours could tally up to $150 or even more depending on the flow of traffic and time of day they were canning.  And if the first time dancer was a part of a fraternity or sorority on campus, alumni typically donated to them.
While my interviewees varied in their degree of separation from either a cancer survivor or victim, they agreed that the event provided opportunity.  One such participant said something that really resonated with me.  She was dancing because she never wanted anyone to ever feel limited in living their lives.  And although these sick children do not have a choice as to whether or not they are healthy or not, they can be restricted to getting better as a result of the unaffordable nature of healthcare.  She believes that if Rutgers can help, then it should.
First timers, thank you for continuing the Rutgers tradition of giving back.  It is because of people like you that sick children have a lot more to count on than the medical attention they receive.