Social media went wild after Milo Yiannopoulos spoke at Rutgers
The internet had a field day
Milo Yiannopoulos's recent visit to Rutgers sparked a campus-wide debate that took over social media. In fact, the event became the top trending-topic on Facebook Wednesday night. Chances are you heard about the controversy unless you were off campus or just live under a rock. If that's the case, we've provided you with a social media recap. 
A British, gay, conservative journalist came to Rutgers and threw the student body into a political frenzy. Who knew?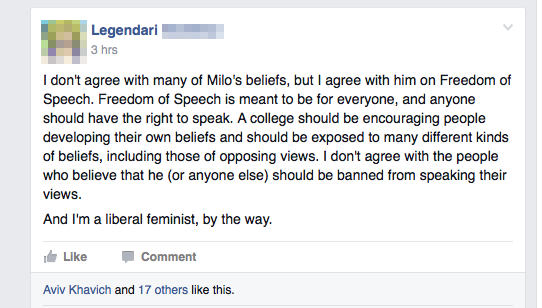 Not all reactions were black and white.
People were very eager to put in their two cents.

The digital environment became so tense, almost anything was up for debate.

Even if you didn't know Milo, you had something to say.
Some people gave no fucks.
And it didn't take long before people took the chance to be comical.
But whether you were pro-Milo or anti-Milo, Rutgers made national headlines, yet again.