The types of girls you'll meet during formal recruitment
Recruitment season has come and gone.  Now it's time to reflect on the types of personalities we encountered over the long, strenuous hours of recruitment.
I had the privilege this past Panhellenic recruitment to act as a "Pi Chi" also known as a Recruitment Counselor to dozens of young women in pursuit of their niche at Rutgers University during Spring Formal Recruitment. My job was to not only lead the girls around to all the different sororities, but to also give them advice, counsel them, and ultimately be the best listener they could have at their fingertips.  It was a long two weekends here at Rutgers and although I met several different personalities, they were all little boot-campers.
Before diving into their personalities, I would like to congratulate the newest members of the sororities at Rutgers University.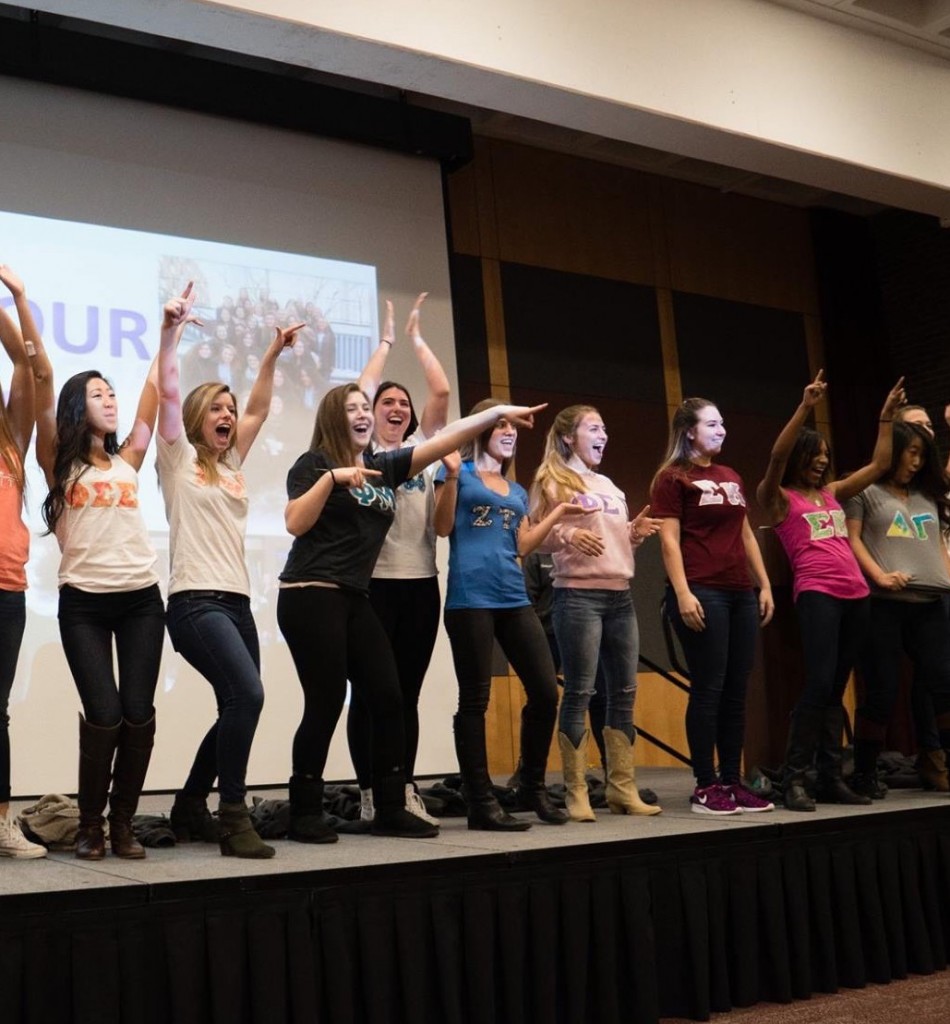 The timid, shy girl
The girl that can't even look me in the eyes.  Which is funny because I am probably the most non-threatening person you will ever meet.  Nothing against this personality though because when I was going through recruitment I kept very quiet.  In fact, I have learned that the key to success in a sorority is to lay low.  The less waves you create and the less power you try to exert, the more receptive you will be to people.  To the shy girl, you are 10 steps ahead of the aggressive new girl.
The engaged listener
This girl may be my favorite because I can tell that she is actually listening to my advice and directions. Even if she can't make sense of my gibberish, she is focused and wants to listen. This skill will come in handy when the new member process begins because there is a lot to learn in so little time.  Get it right the first time people and listen.
The comedian
I appreciate this personality because she lightens the mood when everyone else is stressed out about a decision that will only affect a few years of their life (not your whole life like they tell you).  Part of our goal as Pi Chis is to make recruitment as easy-going as possible and having one or two of these comedians in your group makes that a lot easier.  So even if the jokes aren't that funny, keep them coming.
The seeker of information
This one tries to find the inside scoop on sororities. And for all her efforts and all her skillful wording she fails.  Why?  Because we Pi Chis go through months of training to make sure we stay unbiased and give truthful not subjective information.  These girls like to dig a little bit but I don't think the digging is necessarily a bad thing.  They are nervous and have the right to ask whatever questions they would like.  They just may not get the answers they were hoping for.
The undecided
Probably the most challenging part of the process was giving advice to girls that were so in-between sororities.  They feel potential relationships with several chapters but can't (and shouldn't) make decisions.  The best they can do is to try and create a pros and cons list. Of course the list takes a full two hours and there is an indisputable tie.  And they're back to square one.
The overly-excited
This girl is amped up at every single party. It doesn't matter if it could be her favorite or least favorite because in her eyes she doesn't have a favorite.  She is just happy to be alive and is thinking anxiously about the future.  The only way to release her energy is if she has more energy than her Pi Chis have.  After a long two weekends, twelve hour days, and moments of questioning your priorities (and sanity), this girl beats out all Pi Chis for dedication, peppiness, and sorority livelihood.  God bless.