EXCLUSIVE: we know where the new residential college isn't going to be
We sat down with Princeton Vice President Bob Durkee. He told us it will not be on Butler Tract or in West Windsor. Could Baker Rink be relocated to make room?
In anticipation of the re-zoning of Butler Tract over the coming months, The Tab sits down with Vice President Bob Durkee to inquire what the vacant 36-acre site will be used for.
At the outset, Durkee told The Tab that Butler Tract will not be home to the seventh residential college, extinguishing the buzz around town that the lot a mile away from central campus may provide shelter for an added number of undergraduates. This may be a relief to undergrads who would rather not walk along Prospect Street for more than a mile each morning to get to classes.
Until a year and a half ago, Butler Tract was a graduate housing area consisting of over 300 units that dates back to the 1940s when Princeton was undergoing expansion with returning veterans, according to Durkee. The plot was obtained as surplus barracks from the military. And while the residential units on the Tract were for the most part were not well-constructed, they were inexpensive. After the completion of Lakeside graduate apartments, however, the residential units on Butler Tract were demolished in 2015.
"Butler Tract has now become quite a popular place for biking and dog-walking," Durkee said.
Durkee also explained that the University mostly aligns with the municipality and nearby residents to re-zone Butler Tract as a residential rather than educational area. This means that if re-zoned, facilities like classrooms can no longer be built on the tract. Some resolution on the zoning issue could be reached in the coming months.
"Princeton has no immediate plans for the plot, though it will eventually be used for graduate students, post-doc, faculty and staff housing," Durkee told The Tab.
Though he couldn't divulge any definitive hints about where the next residential college will be, Durkee also noted that it will not be in the West Windsor Lands, which had been considered by campus planners as a place for expansion. Last spring, President Christopher Eisgruber had said it will not cross the Springdale golf course.
This leaves little guessing room aside from spots on main campus. As seen in a campus planning map, the two "future development sites" are located near Powers Field. The site must be able to accommodate around 500 people if used for the purpose.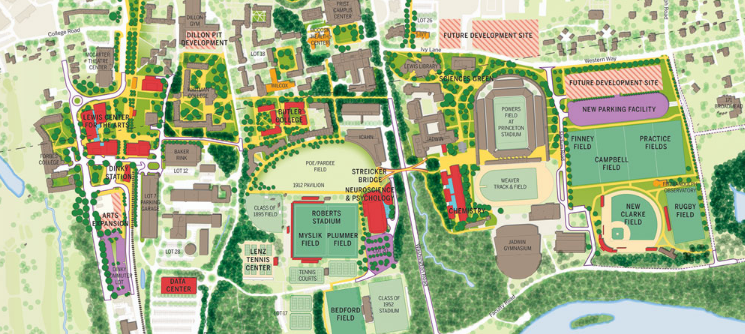 Another possibility for the residential college is the current location of Baker Rink. Last May, Eisgruber hinted at a curious alumnus that Baker Rink may be relocated to make space for the college.
According to Durkee, the next Campus Plan will come sometime next fall. So until then, it is anyone's guess where the residential college will be!