Trump supporter outside FitzRandolph Gate to press charges on a Princeton student for taking his sign
A student allegedly tore out and trashed a Make America Great Again sign from his car
Princeton resident Lee Eric Newton, who ardently campaigned for Trump outside FitzRandolph Gate last year, says he will press burglary and harassment charges on a Princeton PhD student who he claims unlawfully removed a sign from his car.
In an interview with The Tab, Newton says the PhD student walked up his driveway, opened his unlocked car door, retrieved a Make America Great Again sign from inside, and tossed it into the garbage can.
A spokesperson for the West-Windsor Plainsboro Police Department confirmed that an incident involving a torn Trump sign did take place. However, they could not comment on the identity of the suspect as no criminal charges have been filed. A university spokesperson said Princeton is unaware of the event.
The incident happened two days after Trump announced executive orders banning refugees and foreign-nationals of Muslim majority countries from entering the United States.
According to Newton, his 15-year-old daughter first noticed the man on their driveway. He says she opened the front door, said hello and took a few pictures of the person as he ran away.
These photos have been passed to The Tab – we cannot confirm the person pictured has committed any offense.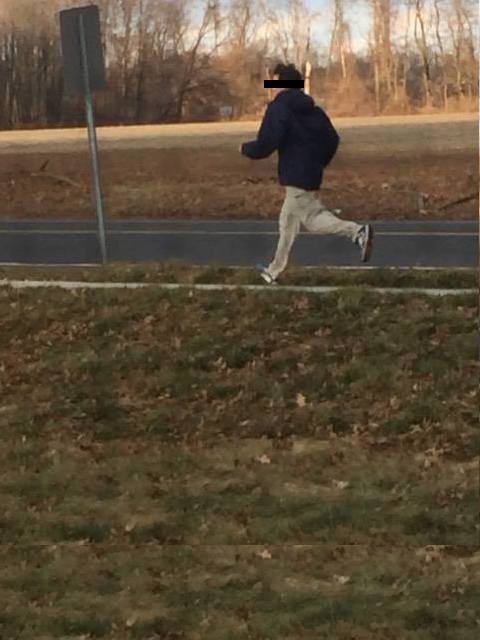 "She told me what was happening so I immediately put my shoes on drove the car in the direction that she said he ran and found the person just beyond the bridge where the canoes are," Newton said. He also dialed for the police, who soon showed up at the scene. When he caught up with the PhD student, Newton recalled being asked why he supports Trump.
Newton said the police advised he could be charged with trespassing burglary, destruction of private property and harassment. However, Newton said he was very conflicted about whether to file charges.
"I wasn't sure whether I was going to press charges against this young man because I did not want to have him have bad marks before even starting his professional life," he said.
"My decision to move forward and press charges is not political, in fact I thought long and hard trying to remove all other circumstances and information out of the incident to come to the basic decision that the man broke the laws of our township. If we are going to be a country where people respect each other and each other's property, then we must respect the laws that we the people have set up an agreed to govern ourselves," he continued.
He further noted that out of respect for those people who did not vote for Donald J Trump, he took all the Trump signs off of my front lawn because the election is over.
"I kept one in my car because it is a symbol of freedom and success and a new found spirit of American winning again!" he said.