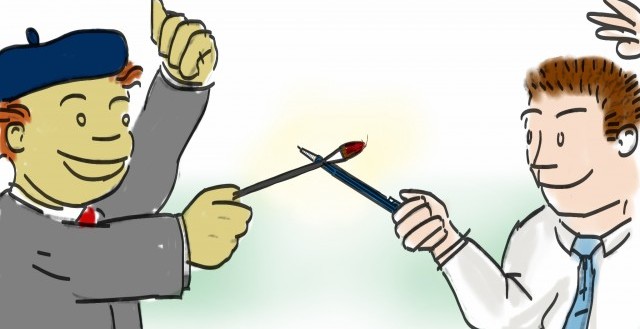 Life swap: what if ABs and BSEs had to switch?
"If I had to be an engineer, I would die."
Choosing a field of study can be really difficult, especially if you can't decide which is the lesser of two evils – the BSE physics requirement or the AB foreign language requirement.
We set out to see why students chose AB or BSE, and whether or not they feel like they made the right decisions.
Waqa, Sophomore, AB (COS)
"I came into Princeton thinking I would be BSE, but soon after I realized that if I want to experience the most of all the classes that Princeton has to offer, it would be most optimal for me to do AB so that I would be able to take more classes in more departments and to also pursue the degree I want." 
Susanna, Freshman, BSE (Chemical and Biological Engineering)
"I'm kind of complicated because I want to be a doctor, but I'm also interested in biomedical and biochemical engineering, especially prosthetics. What I want in the long run is a background in BSE so I can design prosthetics with Doctors Without Borders. I think that in BSE, we have a major focus on the application of the sciences, not just the memorization of them. With engineering you're looking at more how things work rather than how they might affect people later on. It's very science focused. AB is more of a social sciences perspective." 
Hansini, Freshman, AB (Possibly Woody Woo)
"Because physics is above me. If I had to be an engineer, I would die."
Demi, Freshman, AB (Most likely Econ)
"I was actually torn about it because I love STEM subjects a lot, but I think job wise the things I would probably do involve something in the humanities. STL? More like Screw This Life." 
Soham, Sophomore, BSE (ORFE)
"I love ORFE, I think that's why I came to Princeton, for the ORFE education. I also didn't want to take a language class. Also the ORFE building is beautiful, and I knew coming in that this would be my major and where I would be spending the majority of my time." 
Stefan, Sophomore, BSE (COS)
"The reason I chose BSE is the lack of the language requirement, and I'm more of an engineering type person. Engineering requires spotting a need and building a solution based on certain specifications, and I guess that fits me more."
Jon, Sophomore, BSE (COS)
"I feel like doing an independent project is much more interesting than writing a JP or a thesis. I feel like engineering would let me switch into another department, as opposed to AB, which is much more difficult to get into engineering. I also don't like writing essays or doing reading. BSE is 3 letters, AB is only 2." 
Liz, Sophomore, AB (MOL)
"I just didn't want to do the extra essay on the application."