Meet Cara McCollum: Princeton's pageant princess
She graduated last year and is now a news anchor on SNJ
Cara McCollum '14 defied the stereotypical Princetonian path of corporate finance and instead opted for her two passions: beauty pageants and journalism.
In 2013, despite little experience with modeling and the world of pageantry, Cara McCollum was crowned with the esteemed title of Miss New Jersey.
A Princeton graduate and now a news anchor on SNJ Today, McCollum gave us insight into her success and offered some words of advice to other budding Ivy-leaguers hoping to reconcile their brains and beauty.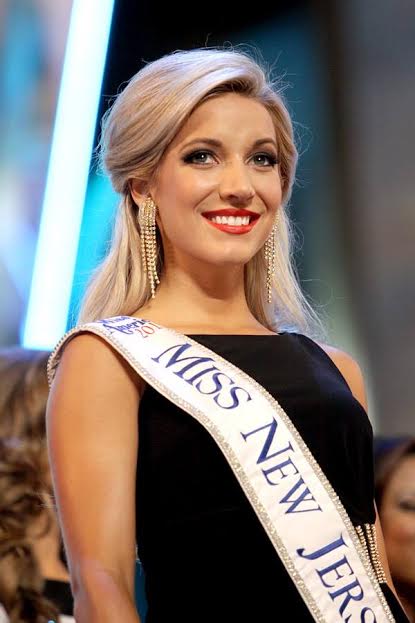 Where are you from?
I'm from Arkansas, from a little-bitty town called Forrest City, like Forrest Gump. I lived there my entire life, I graduated from Forrest City's high school. I was involved in everything, I had a lot of hobbies, a lot of interests, it was a very small town so I was very involved in the community.
It's very small, and it's also a very impoverished part of the state, and people kind of get trapped in it. The way I think I got out of that situation was through reading. I was always a very avid reader.
How did you pick Princeton for college?
We packed up and rented a car, and we started in Philadelphia and checked out, you know, all the Ivy Leagues and we went on a little road trip, which I don't recommend unless your parents are very patient people and good drivers, and I don't think my parents are either.
On Princeton's campus, I just fell in love. It was love at first sight, and it was everything I had dreamed about and read about, and it was a small town and I was from a small town, so it seemed manageable. There were sweet potato fries in the cafeteria, and I love sweet potato fries, so I was sold immediately.
Did you do any modeling before you got to Princeton?
No, and I was never involved in pageants, either.
You were a Forbesian for two years, right?
I was actually sort of notorious freshman year, when I was in Forbes. Forbes was just ridiculously far away from everything, and I would wear heels all the time – even before I was Miss NJ. It was so far to walk, and so I got this ridiculous, old-fashioned pink bike that had a little basket up front and I rode it around everywhere. It was so girly and so ridiculous, I would wear skirts and my biker shorts under my skirt.
What sort of extracurriculars were you involved with on campus?
I majored in English, so a lot on Princeton Alumni Weekly, I dabbled a little with Nass Literary Review. I was in Kappa Alpha Theta, the sorority. I was the social chair — I was also the tailgate chair, because I'm a huge football fan, coming from the South. That's an actual position. I woke up and went to the games earlier than everyone else.
If you could change one thing about your time at Princeton, what would it be?
I wish that I had done better in my classes in my earlier years as an undergrad. When I took the year off, I had to be a mature adult, meeting with elected officials and organizing my time. So my grades were so much better when I came back for my senior year. I wish I had been more focused earlier.
And then I wish I had done more on campus. I got kind of bummed out by junior year about how I stopped doing all the things I had done in high school. For example, I had played the piano, but when I got to Princeton, I wasn't good enough to do any of the symphonies or anything like that, so I kind of dropped it.
Keep your hobbies and stay involved, even if you're not competitive at something. If you love it, don't drop it.
How did you start competing in pageants?
I wanted to get out into the community, but I didn't have any connections. Teachers wouldn't let some random person come and read to their students, and so I decided to compete in the local pageant. It was called Miss Island Resort. Which sounds like a ridiculous Barbie thing, but I swear to God, that was my local title. I won, so in September of junior year I was crowned Miss Island Resort 2012.
I just did it on a whim. My parents, who – God love them – are so supportive, they sat me down. They said, "You know we support everything you do, but can't you pick something else? Because we're skeptical of what the pageant is all about."
Was it hard to balance Princeton and your pageant duties?
My entire junior year, I had appearances to go to. I would have to borrow a friend's car and I would traipse across campus with an evening gown slung over my shoulder, a pair of heels in my hand, and my crown box. People would ask me where I was going. All of my friends thought it was absolutely ridiculous.
All the local titleholders then compete at the state level for Miss New Jersey. As June 2013 rolls around, I had just finished up my junior year and I was essentially homeless, because my whole family lives in Arkansas and I had to move out of my dorm room. I was living in a hotel room the week before Miss New Jersey.
Did you think you had a shot at winning? What if it hadn't worked out?
I knew in my heart that I would get it. I didn't make any other plans. I thought, this is going to work out. So I competed, and I won. Which was amazing and shocking, and I wasn't even from the state. I decided to take a year off from Princeton to compete in the Miss America pageant. I didn't place at all, but it was an incredible experience.
And what did you do for the rest of the year, as the reigning Miss NJ?
I got to spend the rest of the year doing exactly what I loved, which was talking to people about the importance of literacy and education. I got to visit almost every library in the state, and meet with lawmakers about education policy. I got into some classrooms, and I read to kids.
It was a very empowering experience, despite what pageant skeptics say. Kids would really listen to me, because I had a crown and I was cool, and so they looked at me as a role model. I was able to use that influence for good. You have impressionable little girls looking up to you and saying, "You're a princess, that's so cool," and I could tell them, "Yeah, but I'm also smart, and that's way more important. Yes, I might have on fake eyelashes, and I have a sock in my hair for a sock bun… but you have to be so much more than your appearance."
Did winning Miss NJ change your confidence or the way you think about yourself?
Absolutely. It was most evident when I came back to Princeton. It was a strange experience, because I took off my junior year – when I came back to Princeton all my friends had already graduated. They were all gone, so I was forced to be really studious and do all my homework.
It was weird to go from dressing up every day in a sparkly gown and sash to wearing sweatpants and going to class with no makeup. I loved it.
And I realized how much more vocal I was in the classroom – I was speaking up during precept. I think it was because for an entire year, aged only 21, people really listened to me. I became more aware of what was going on outside the Orange Bubble. I had a platform to speak from, and I was handed a microphone, and what I said mattered to people. So what I said started to matter more to me, too.
Did your fame affect you as a student? Did you feel famous in any way?
No, not really. One of the coolest things about Princeton, is that although I thought I was such hot stuff because of Miss New Jersey and Miss America, when I came back to Princeton, nobody cared.
Because everyone is so impressive there, and everyone is so good at what they do, I was just another student with another trophy.
What advice would you give to Ivy League students who want to do pageantry?
As far as pageantry goes, I think intelligent young women certainly have a leg up on that sort of thing, because the organizations are constantly trying to battle that stereotype. If you can present yourself well, and you're also really smart, that will get you so far in life.
Another thing that's especially important for Ivy League students is to be relatable. Princeton could be off-putting to people who did not go to an Ivy League school, so you have to come across as really down-to-earth.
I was a 21-year-old woman walking around in a crown for a living. You have to laugh at yourself constantly, and not take yourself too seriously.
Here's The Royals cover, which Cara made as she was giving up her crown to the next Miss New Jersey.
Was there anything about Miss New Jersey or Miss America that surprised you?
I was most surprised that all these girls I competed with in Miss America were all bright, philanthropic minded young women who are so well informed about current events. I was delighted that I wasn't the exception.
How do you feel about the public opinion of pageant competitions?
When you see the pageant on the TV for two hours, it's kind of a mockery of what we really do. That really isn't what the entire year was about. On TV, it's all about the ratings, and if you can get a viral YouTube video of some dumb answer to a question, or get people tweeting about it…The actual experience of being a titleholder was very different than the fifteen seconds that you see on stage.
Has Princeton or pageantry helped you start your career?
At Princeton I took all the journalism classes, and got a ton of experience with print journalism. But it was my year as Miss NJ, when I was in front of the camera. It was kind of a natural transition into being a broadcaster. I liked being in front of a camera, and I liked talking to people.
One, because I already had the hair. And two, I had already fallen into the position of being a voice for New Jersey. And now, I'm the voice of New Jersey for SPJ.
How did you get your current job as news anchor on SNJ Today?
Unfortunately Princeton doesn't have any broadcast journalism program, so it was difficult for me, applying to jobs with very little experience in that area. But I knew it was something I was capable of doing.
And they actually approached me. They had seen a couple of on-camera interviews I had done, and they knew I had concentrated in journalism at Princeton.
So how are you enjoying the new job?
It's so different from anything I've done, and not all of it is glamorous. That's something I've learned from all my experiences: it's not always as glamorous as you think it's going to be. Like Princeton – I thought it was like a fairytale, but it's also a lot of hard work. With Miss New Jersey, I thought it was just about the glamor and the gowns, but it was hard work too!
With this job now, it's not always glamorous, either. Sometimes I'm out in the field, and I'm carrying a camera in one hand and a tripod in the other hand, trying to hold up a microphone. Because it's a smaller operation, and brand-new, and there's a huge learning curve.
Where do you see yourself in five to 10 years?
Ah, I have an interest in politics, actually, and maybe that's one of my regrets from Princeton as well. I never took any of the Woody Woo classes. That was not something I was interested in, and I thought politics had a bad connotation, maybe a little bit slimy.
But as a Miss New Jersey, I've become a bit of a diplomat. I'm always traveling around, shaking hands and kissing babies. I think politics might be in my future.