It's been 35 years since the last string of clown attacks on Pittsburgh
Enough with the recent rumors, here are the clown attacks of 1981
Before 1981, child safety wasn't much of a concern. This isn't to say that parents enjoyed their children breaking bones and getting abducted, but the nation didn't pay as much attention to laws regarding the wellbeing of kids. April of 1981 was a turning point. Reports from Boston and Brookline, Massachusetts described men, dressed as clowns, harassing and following children on their way to school. Daniel O'Connell, a counselor for the Boston Public School District, issued directions for parents and teachers to keep a watchful eye on children.
Just a week later, the public took notice when two men, dressed as clowns, tried to lure kids into a van. The next day, police were called out to Jamaican Plain and Franklin Park, where children were being harassed by men in clown gear. One man was naked from the waist down.
Flash forward a month and half to Pittsburgh. It's a beautiful day in June – school is out for the summer and kids are running wild. It was all fun and games until reports of clowns in the Hill District reach the police. Two men were reportedly stalking children in their clown gear.
At that same time, on the other side of the city, police were called about an incident of harassment. A man in a pink bunny costume was targeting children. Police found him and pursued him. Unfortunately, this bunny-man slipped into a bar and was never identified. A week later, the same man in the same costume was rumored to be seen in Allegheny Cemetery, but no call was made to the police.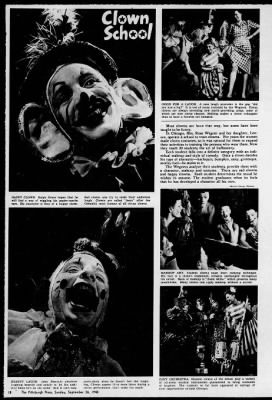 Not long after, in Arlington Heights, a child claimed that three men had tried to take him into their car. The men were dressed as a gorilla, Spider-man, and of course, a clown. The city police were in a panic, going from door to door in Terrace Village, hoping to find evidence that would link someone to the cases of stalking and harassment ravaging the city.
In 1982, the Pittsburgh Press reported "unfounded rumors of clown sightings in the vicinity of North Franklin Elementary School." Whether or not they were clowns from the year prior was never discovered.
Only time will tell whether or not these masked criminals will make a comeback, but child safety regulations enacted since the early 1980s are a direct reflection on the countless reports of clowns and other men in costumes who terrorized children during the summer of 1981.
Information provided by The Pittsburgh Press archives and Blumhouse.