Here's definitive proof that every girl at Penn State dresses exactly the same
Nothing says Penn State more than an oversized tshirt worn as a dress
No matter where you are on campus, you can spot a stereotypical Penn State outfit a mile away. Whether you're wearing a basic af graphic tee shirt to a daylong, the same choker top that every single other girl owns to a frat party or a cut up/laced up/bleached t-shirt to a tailgate that you are convinced is original, you, my friend, are following the Penn State dress code. If you don't follow it, do you even go here?
Let's face it, these PSU looks are nothing short of predictable.
The tailgate look

Acid wash, halter tops, lace ups and every other trendy shirt design in the book, basically describes the ultimate game day outfit for a Penn Stater. While coming off as unique and different, we all know how mainstream this look has become. And you're even more basic if you're wearing those lion ears. Most likely, you bought a last minute shirt from Mclanahan's, made a few cuts in it and then threw on those shiny blue American Apparel leggings just like every other girl in Happy Valley. We've mastered this look literally since day one.
The fratland look

Black top? Check. Black skirt? Check. Jeffrey Campbell heels? Check. Congrats, you're officially every Penn State girl to ever wander the streets of fratland. In the PSU world, that's literally all you need to survive – and having as many crop tops as humanly possible. Unlike other schools where Converse are acceptable to wear out, it's pretty much social suicide if you're caught in them on a night out in Happy Valley. We also live and breathe choker tops and laced up bodysuits and occasionally break out our best fun pants (aka patterned ones). It's a weekend lifestyle, tbh.
The gym look
If you ever take a look around White or IM Building, you'll see a row of girls on the ellipticals working out in the exact same outfits, no joke. I'm talking neon colored tank tops, matching colored sports bras and Lulu Lemon leggings that they own at least seven pairs of. And let's not forget about the trendy set of beats they're probably sporting. If you're not a walking ad for Lulu, then you're probably repping your srat in one of the thousands of greek life t-shirts you own.
The class look

Speaking of Greek Life t-shirts, what else would you possibly wear to class? Whether it's your srat, frat, THON org, club or just a PSU crewneck, that's literally all Penn Staters wear to class. And then if the weather is above 50 degrees, maybe you'll surprise yourself and actually put on something nice. You're either "I just woke up so I'm gonna throw on the same shirt I've worn the past three days" or "look at how cute I am in my trendy wardrobe from Urban" – there's no in between.
The daylong look

I seriously dare you to go to a daylong 
at Penn State and find a girl not wearing a graphic t-shirt that says something along the lines of "I woke up like this" or "fries before guys." They're most definitely a daylong staple. Others include flannels, Timbs, ripped jeans, bomber jackets and anything else that screams "trendy." Oh, and don't forget to bring your Ray-Bans that will most likely get broken, stolen or lost. Some of us will try and stray from the basic af look and wear something more original or ballsy like a onesie or some hip new look, but in the Penn State world, it'll become mainstream within a week. Just face it, you'll always look basic at a daylong.
The walk of shame look

Bright and early on weekend mornings, you'll most likely find some scandalous girls strolling back home from fratland in last night outfit's featuring the classic fracket, sweatpants and moccasins that are all courtesy of the boy from last night. The ensemble is considered a prized possession to say the least. And there's no way you're ever giving them back. Frackets are everything and more to Penn Staters. Whether you're wearing them to go out or snagged one from your last booty call, your night just wouldn't be complete without them.
The bar look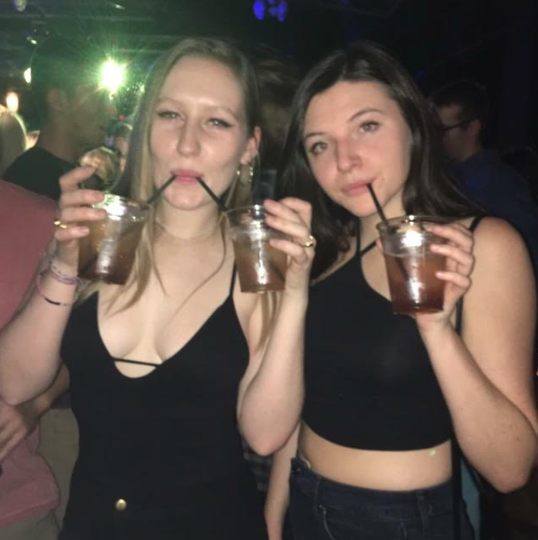 This look is pretty similar to the dress code for frats but a little more casual. The typical Penn State bar-goer will wear a black crop top or bodysuit with high waisted jeans and jeans or boots. No grinding on elevated surfaces in skimpy outfits here. Since the vibe is much more chill than a sweaty frat, you look a little more put together and a little less ratchet. Don't worry though, frackets are still very much a thing. Always have, always will be.
The recruitment look

Whenever it's recruitment szn, it doesn't even matter what sorority you're in because guaranteed you guys all look exactly the same, just rotating looks on different days. It's always all black, all white, black tops with jeans or something else totally predictable. The Instagrams are basic af and even in front of the same brick wall because obviously need prime lighting. You'll often see mobs of sorority girls in identical outfits walking in and out of Redi during their break on a serious quest for food, if they even have one during recruitment madness.
---
We may be basic af with these dress codes, but the truth is we'd be absolutely lost without them.