Penn State students are more likely to earn some serious money later in life
Can't wait to come back when we're 30 and ball out at PHH
The New York Times released a study in January that revealed just how elite some colleges are. Washington University in St. Louis came out on top, with 21.7% of their students coming from the top 1% of the income scale while a mere 6.1% came from the bottom 60%. How does Penn State compare?
We're ranked at 368 with just 2.3% of our students coming from the top 1% and 29.5% coming from the bottom 60%, although almost half of our students (46%) come from the top 20% of the income scale. We're ranked 8th in the Big Ten for our share of students in the top 1%. Safe to say that Penn State is certainly more economically diverse than the elite schools.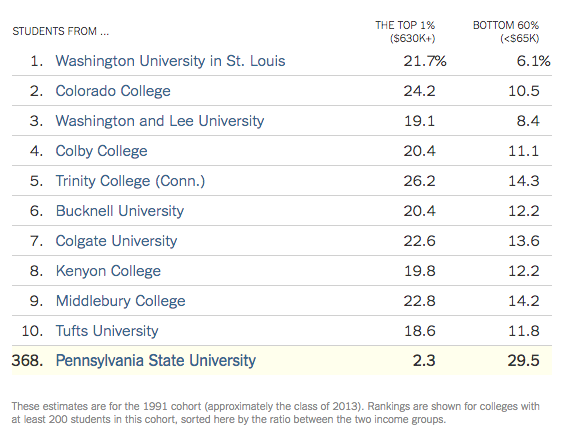 Further data revealed some promising information for Penn State students. Penn State students are among the highest in rankings among schools in PA for achieving earnings in the top 1% of the income scale later in the life. We rank among the highest for selective public schools for earnings in the top 5, 10, and 20% as well. Furthermore, we're ranked #3 in the Big Ten for the highest chance that students move up income quintiles (aka earn more money later in life than they were born into).
So what's this mean for Penn State? Our students aren't all from the top 1%, meaning that our student body comes from a variety of economic backgrounds. Beyond that, students attending PSU seem to have a fighting chance out there in the real world. If you're looking to improve your life for yourself and your future family, Penn State is definitely a good place to be. But then again, with the largest alumni network in the world and some of the best programs out there, we already knew that, didn't we?