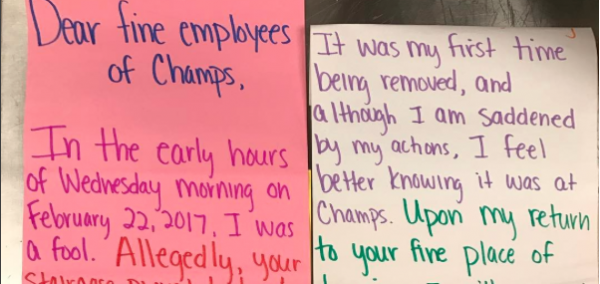 This girl who wrote Champs an apology letter for being a drunk mess and getting kicked out is all of us
Nothing a heartfelt, color-coded apology can't fix
We all have those drunk nights that have turned into an absolute and utter shitshow. Like the kind of night you're scared for your friends to fill you in on in the morning. For Marisa DeRose, February 22 was one of those nights. So, in an attempt to redeem her dignity, she wrote an apology letter to Champs, color-coded and everything. But really though, if the variation of colored markers and paper isn't dedication, I don't know what is.
Here's her heartfelt apology that Champs shared:
First off, shout out to Champs for acknowledging that this happens to the best of us. People were eating it up and even gave props to the girl who wrote it.
Marissa proudly retweeted Champ's post now confirming that the epic apology was hers and she and the bar are "all good" and tbh, everyone deserves to see this grand gesture.
Now she's an inspiration for drunk Penn State girls everywhere.
Moral of the story: there's no drunk mistake a colorful apology note can't solve.