Most epic win of the season: PSU beat OSU, then threw riots to celebrate
'Urban Meyer trusts Hillary Clinton with his emails'
Almost every single person going to Penn State's white-out game went in thinking it would be an inevitable defeat against No. 2 ranked Ohio State, especially considering we just got creamed by University of Michigan last month.
But looks like we are back and better than ever, baby! Talk about the most lit day in Happy Valley. Ever.
You know those games that totally transform the score in like the last five minutes? Literally defines what happened with PSU vs. OSU. In the last quarter, the Nittany Lions brought a major plot twist, scoring *17* touchdowns, with a final score of 24-21 that sent shockwaves of excitement through the entire stadium. Penn State fans stormed the field to celebrate the incredibly epic win. So I guess almost catching hypothermia at the game was worth it after all.
PSU fans couldn't have been more hype for their victory, while OSU fans were standing there, rightfully salty and confused thinking WTF is going on/how did this happen?!
And then the excitement took a different turn. Cue the riots. They've kind of been a Penn State thing lately. You thought the clown riot was intense? You don't even know the extremes Penn Staters will go when all riled up. Buckle up for this. Because it was seriously THE riot of all riots.
At around midnight, thousands of students started flooding onto Beaver Ave.
It started off as pretty harmless fun, throwing friends on each other's shoulders or even doing some mattress surfing, a luxurious upgrade from the usual toss-ups for touchdowns at the stadium.
Then things got a little rowdy when this guy decided that it would be a good idea to climb onto a pole and literally unscrew a parking hours sign in front of everyone…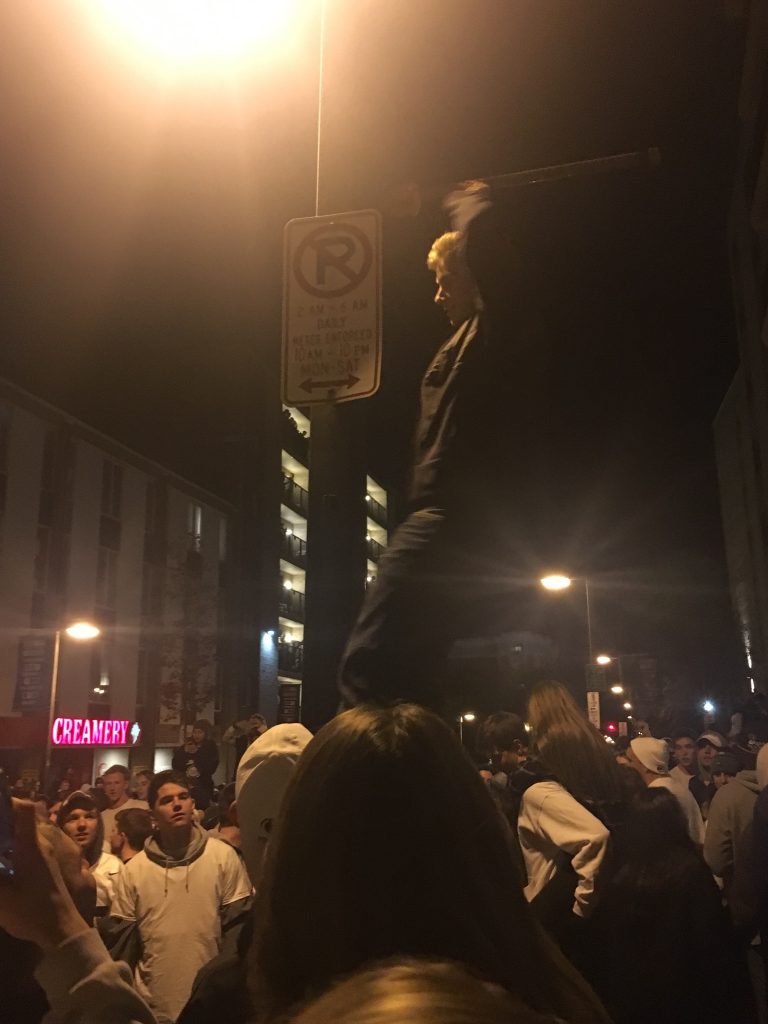 So, naturally, others felt compelled to take a whack at it themselves.
And then another…
Until eventually it became the main event of the riot. As you can see, the support from other Penn Staters was tremendous. RIP parking signs. I'm guessing you probably won't be missed.
It turns out that parking signs just weren't cutting it. Students decided to take out entire several telephone poles and carry them out of the street. Yup, pretty much nothing is off limits when it comes to Penn State rioting. Other "sacrifices" included stop signs and even bushes. In fact, one bush caught on fire. Speaking of fires, an Ohio State jersey and banner were set on fire so even though we may have beat them, the hostility is still pretty real.
The cops were all over the street but no one could really tame these wild children. One girl was spotted being arrested under unknown circumstances. As the cop was taking her into custody, the crowd started cheering, "let her go, let her go!" As a result, the cop sprayed mace around everyone, which was a frequent tactic the police used during the riot, causing many injuries and extreme pain in eyes.
Safe to say that Penn State fans will never EVER live this legendary day down. We came, we saw a crazy ass riot, and we most certainly conquered. And always remember: buck the fuckeyes.