What your freshman dorm says about you
Welcome to Penn! I'm sure you're overwhelmed, confused, lost, and are currently still trying how to log into AirPennNet Wifi.
Not to worry. It'll all be OK and in a few weeks you'll stop wondering onto Drexel's campus. In the meantime, read up about all of your freshmen dorms and residents.
Hill
You're old fashioned and you enjoy the simple things in life.
Tiny personal spaces, no A/C, and the possibility of walking five flights of stairs everyday is nothing to you when you know you live in the "most social" dorm.
Low quality living spaces but high quality friendships are made.
Ideal candidate: Athlete, food-lover, math-related majors.
Most likely to: Steal whole loaves of bread and cups from dining hall.
Star sign compatibility: Libra, Aries, Gemini.
Gregory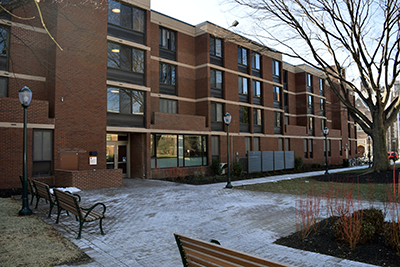 Commitment is key for you. That's why you're in a four-year community.
OR, you might have just got unlucky in the room assigning process.
Not to worry, both of the Gregory houses are spacious and modern. Perfect fit for those who take the road less travelled and appreciate time for themselves.
Ideal candidate: Extroverted introverts, book-lovers.
Most likely to: Have incredible study spaces and not use them.
Star sign compatibility: Virgo, Gemini, Taurus.
DuBois
Much like Gregorians, you're down for commitment and are usually super cool since you get to meet and befriend all the upperclassmen who live there too.
It's one of the smaller college houses but you enjoy the community of close-knit halls. You like to help others, are eager to learn, and celebrate all cultures by holding special events all year!
You get the best of both worlds with your own room and a shared living/ kitchen space. Plus you're two seconds away from the best restaurants on campus and near the high-rises.
Ideal candidate: Proactive and social students, those who enjoy a "family" like environment.  
Least likely to: Be involved in petty freshman drama that thrives in the quad.
Star sign compatibility: Aquarius, Scorpio, Pisces.
Kings Court English
Super ~hipster~ and "in the know".
Those in the KCECH houses knew that the quad and hill were too mainstream and potentially overwhelming, so they picked the choice that lets them bypass all of that nonsense.
The best part is having your own dining hall virtually to yourself. Also super close to Sansom AKA Federal Donuts and Mad Mex all day everyday.
The house is typically very tight-knight too.
Ideal candidate: Trendy students who like to share but also like space, those pursuing humanities courses.
Most likely to: Be asked "wait where do you live?" on a daily basis.
Star sign compatibility: Cancer, Leo, Pisces.
Stouffer/Mayer
Another gem in disguise, Stouffer Hall and Mayer Hall are other excellent choices for those who wanna be around other freshmen, but not living WITH all of them. Tbh though, didn't know that there was a difference between Stouffer and Mayer them until this year. (oops)
Perfect for those who want to live apartment-style. Much like DuBois, they have their own bathroom and kitchen (and giant fridge).
It is also another four-year community so it's also conducive for friendships within each class. The only downside is that not many people know about it…(which could also be an upside).
Ideal candidate: Students who don't want to be overwhelmed by large capacity dorms, and those who have established a good, close relationship with their other roommates beforehand.
Most likely to: have to wait on nonresidents to do their laundry for free.
Sign Compatibility: Sagittarius, Leo, Pisces.
New College House
Everyone will envy you for getting to start your college experience in these fancy new quarters.
You get the best of both Kings Court English and Hill but SO MUCH NICER. (At least we all assume.)
We're all so jealous but we're glad you get to experience new housing. Don't take it for granted!
Ideal candidate: Also athletes, those who want to be part of Penn's history, and students who aren't afraid to try new things.
Most likely to: Have RAs who know just as much about the house as you.
Star sign compatibility: Scorpio, Aries, Gemini.
Riepe
Lower quad-goers that have pretty small dorms but make do.
Kinda like Ware's less popular twin. But still has the quintessential dorm rooms that everyone thinks of when they think about college. Two-three beds to a room, community showers, the whole nine.
But super close to Houston and Williams (which everyone will have a class at).
They have pretty close halls for the most part, BUT that also means if you have to get some sleep early, it prob won't happen because you hear people going out and roaming the halls all night.
Ideal candidate: Those who want the cliche college experience but also like to live on the outskirts of the party, are ok with sharing everything, and knowing everyone's business.
Most likely to: Be salty they didn't get a spot in Ware.
Star sign compatibility: Taurus, Capricorn, Libra.
Ware
You're with the IN crowd. This is the mecca for all freshmen dorms and the center of the quad.
Not only were you lucky to get in, but you also have McClellan to eat, buy snacks/toiletries, and are the closest to all quad packages! Not to mention the giant laundry room.
It's also the center of all Spring Fling events.
You'll probably have a chip on your shoulder, but also remember you're most prone to all the freshmen drama.
Steer clear if at all possible, but congrats, you're ~popular~.
Ideal candidate: The ones who were most social in high school, cool athletes, and anyone who can snag a spot.
Least likely to: Hate freshman year.
Star sign compatibility: Aries, Scorpio, Leo.
Fisher-Hassenfeld
The upper-Quad, the place to be! (My completely unbiased opinion.) It's most spacious of the Quad dorms and you're near all the Ware fun without all the craziness. It's laid back and all the halls are super tight. Especially "the nipple".
You're like the cool, mature older sibling of Ware, but you still get the same college experience.
The only bad part is having to share a single washer/dryer with your whole hall and possibly having inconsiderate neighbors, but don't worry, Shawna the House Dean has it handled.
Ideal candidate: Laid-back student who also wants the freshman year experience, those who enjoy attending house-specialized events, and free food!
Most likely to: Always misspell dorm name (Fischer?) (Hassenfield?).
Star sign compatibility: Aquarius, Pisces, Sagittarius.