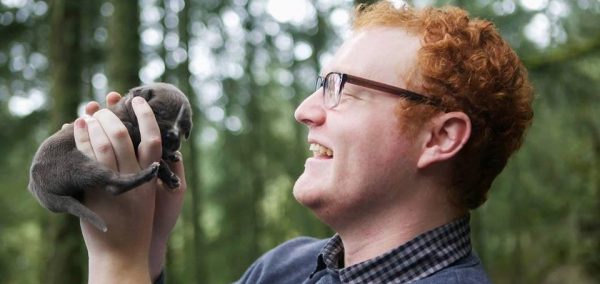 What it's like to struggle with depression at college
'As if the world began to dissolve around me, I became socially blind and numb to most things'
I never thought I would be writing a reflexive piece on my run-in with depression.
I never imagined that I would have a permanent scar on my right index knuckle – no bigger than a drop of water yet representative of an immense amount of mental mutilation.
I thought that it would never happen, as the first few years at the University of Oregon were great. In fact, in hindsight I was more sociable, more outgoing, more not caring of what people thought of me. Yet something clicked. 
A simple light switch thrown from ON to OFF. I can't pinpoint the exact moment my mentality changed, but reflecting on who I am now I know I'm a different person. I began to care to an extreme amount about how I was viewed and my concern about what everyone thought of me became debilitating.
Days would slip by and blend into one another — get up, go to class, do some portfolio work, go home, sleep, repeat. I began to distance myself from friend groups and the more events I was invited to the more I began to decline or ignore. I let myself believe that I wouldn't be wanted there, that I would be the killjoy to the mood, a hindrance or inconvenience.
I found comfort in my bed, the apartment, my video games, television shows, simply shutting myself out from the world and forming a distorted view of it. I began to critique my work harshly – not uploading much of my photo and video work even though others assured me they were good.  
As if the world began to dissolve around me, I became socially blind and numb to most things.
Acknowledgement felt feigned or forced and I just couldn't simply appreciate what I had. Mornings were difficult. I used to appreciate getting woken up by the sun through the blinds, but now I do everything to not let light in and get as much sleep as I can.
The weight transformation I made melted away to more of a runner's body. I don't starve myself but I just don't frequent the student recreation center as much as I did. I just started walking everywhere and thought that was enough. I began to view the world in a distorted lens. It wasn't that the world was an awful place, it's that I would look for the negatives to outweigh any positives.
It felt as is if I was draped in an iron sludge-like coating — it took more effort to move around and was easy to get tired, requiring extra effort to function normally. 
Mentally, I began to spin myself up in an anxiety attack, the coating thickened and I shut down from the mental weight. If I shut down, then I would potentially miss events, which I have. It would then push me further into a downward spiral of an unhealthy mental state. 
Being at college while dealing with mental illness can make you want to simultaneously cry and scream and wish this could pass, all the while you hardly express the emotions inside.  You hope you can reach out, but then the thought passes, 'What if no one responds?"
You feel scared as the world passes you by. Everyone seems to move on and develop while time is frozen around you. So you rush to catch up with the world, chasing the tail end of a car accelerating away from you.
Photos and collaborative work are shared on my social media accounts, but when it comes to my solo work – work that should be showcasing what I've learned – I get in my own way. I doubt my own work.  
Everything I do gets put through this vicious cycle of self-critiquing and a projects' worth is made nil.  It simply becomes an issue of me being in my own way. "It's not good enough," I think. "It's not worthy to be published," I say. "No one will even see it anyway," are all just a few of the thoughts I never thought would be swimming around my mind.
I don't want to end on a "call this number for help" message, but there is an important source everyone has: friends, counseling, or just talking. I was ignorant to the idea that my friends would help. I thought they would be bothered or burdened with my problem, however that is merely another wall that gets in your way and prevents you from getting help. 
If you reach out to one friend, then they'll probably help or at least be an ear that listens. Some will choose to not bother with dealing with you.  You can easily find someone through counseling. Seek UO's counseling group to start, as they began to help point the way to important resources. 
The more you sit on these types of issues, the more that will build up as time flies by and before you know it, you are struggling to keep afloat.