Buckeye Snaps banned for 'violating community guidelines' after they exposed a student for cheating
Yesterday, Ohio State student AJ Schwab was making plans over Snapchat to cheat on his girlfriend — and he would have gotten away with it too, if it weren't for The Buckeye Snap story. The Buckeye Snaps account has since been reported and suspended from Snapchat—likely for doxing a student.
Lol we got banned. thebuckeyesnap1 is the new

— Buckeye Snaps (@thebuckeyesnaps) September 29, 2017
It all started when one anonymous user sent a series of messages exposing a guy for sending snap texts to a girl with the intention of cheating on his girlfriend. He asked her to keep the exchange secret, but she thought it would be better to post it on The Buckeye Snap instead.
The full name of the sender had originally been covered, but after a group of innocent guys called AJ demanded his identity be revealed, a user sent a photo identifying the cheater as OSU student AJ Schwab.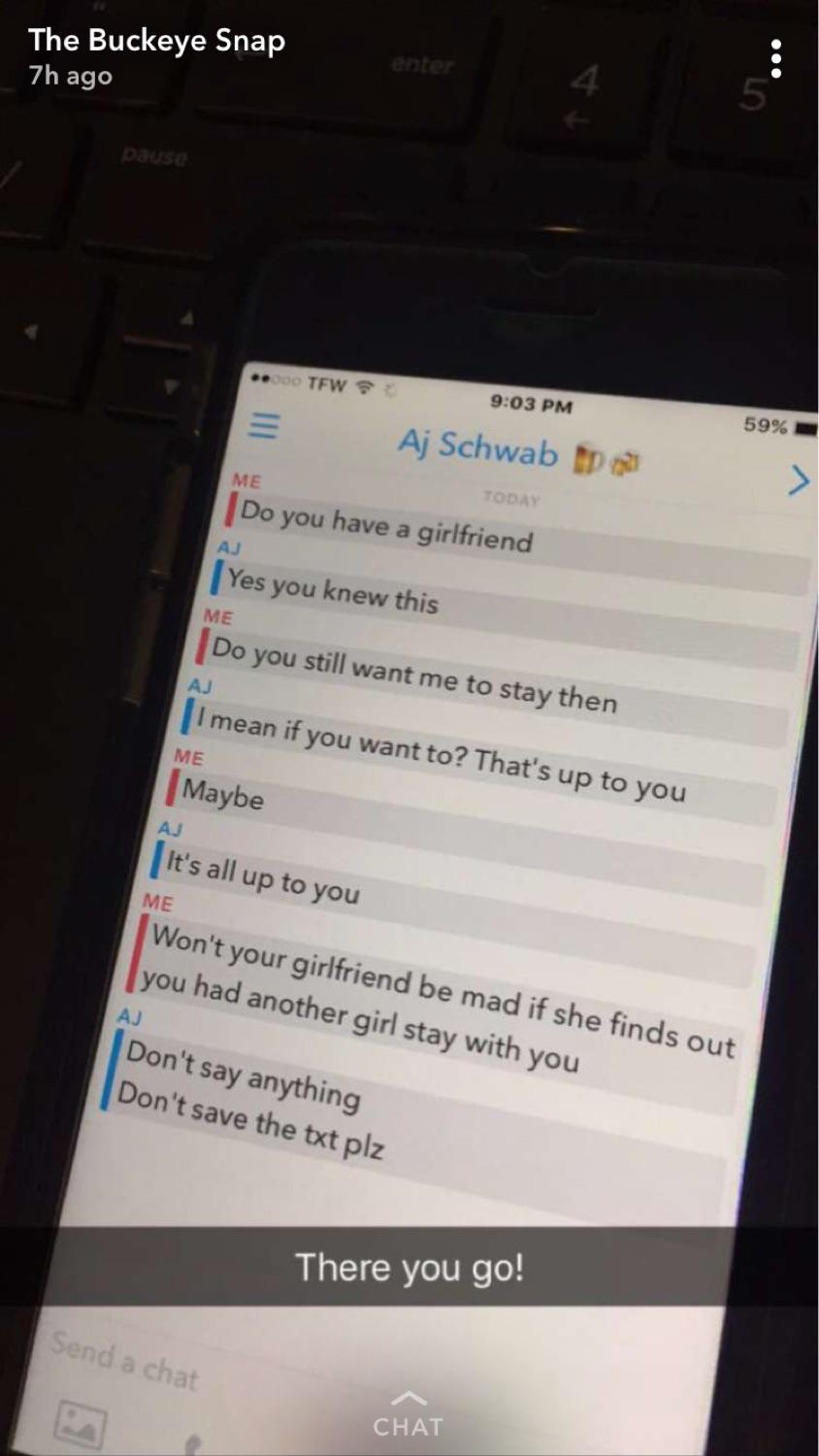 "Won't your girlfriend be mad if she finds out you had another girl stay with you" the anonymous girl asked. AJ responded by asking her to not say anything and to not save the text.
In a matter of hours people began submitting posts to the story revealing AJ's Facebook page along with pictures of the once happy couple.
Someone even took it upon themselves to start a group chat including both AJ and his current girlfriend, Allie. The anonymous messenger offered the pair "group counseling," asking AJ to explain why he cheated on Allie.
Snaps began to pour in from across the country, and even the world. People from Canada, South Korea, Mount Everest and California (to name a few) began sending pictures and videos saying "Fuck AJ" to express their sympathy for his girlfriend.
Girls offered to throw parties for Allie once she dumps him while others turned the dramatic situation into a slew of memes.
One particularly hilarious Snap came from two police officers on the job who expressed their disdain for AJ.
It was not lost on The Buckeye Snap community that the couple's name is suspiciously similar to one of our favorite middle school duos, Aly & AJ, who in 2007 produced one of the best breakup anthems of all time, "Potential Breakup Song."
Which, in case you were wondering, the comment section of this classic bop is now flooded with "RIP AJ" posts.
In less than 12 hours, The Buckeye Snaps story had been viewed over 20 thousand times. People have started creating a plethora of savage memes aimed at roasting AJ.
Other women have stepped forward who were allegedly cheated on by AJ as well, taking part in the snaps publicly shaming and mocking him. A few anonymous users, who claim to be former high school classmates of the couple, accused both of them of being unfaithful to each other. The plot thickens, and it's almost too complicated to follow. It is unclear whether Allie and AJ have decided to end their relationship at this time.
AJ has declined our request to comment on this story.