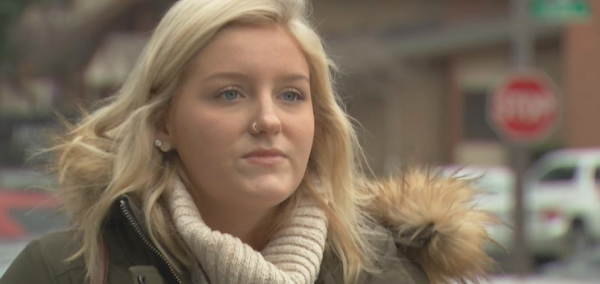 Ohio State freshman tells her story about being attacked by a fake Lyft driver
'I don't know how else to deal with it except for to tell other people, so girls will hear this, so somebody will tell them'
When Ohio State freshman Hahna Shook went out with her friends last weekend, she had no idea that the night would end with a phone call to the police. Less than a week after her attack, she met with me to talk about her traumatic experience. We sat in Thompson Library as she went over the events that took place.
"I thought I was being safe," Shook said about her decision to use a rideshare app to get home at 2am on Friday morning. "I got a text from my Lyft saying it had arrived," that's when Shook went to wait for her driver and a car pulled up. Before getting into the car Shook "asked, 'Are you here for Hahna?' and the man said yes."  Thinking nothing strange of the situation, she got into the passenger seat of the fake Lyft.
After getting into the car, Shook gave the driver directions to take her back to her dorm room on Ohio State's south campus. "I was picked up near Midway, and my driver took me [north] when I was supposed to be going to Worthington dorm."
Shook didn't think much of the misdirection at first, assuming her driver would turn around at the next street. When he didn't change direction is "when [Shook] realized he wasn't taking [her] home."
"I said, 'I want to get out of the car,' and he pulled into an alley…that's when I started crying and yelling and he started grabbing at me–grabbing my thigh and grabbing my arm…He was trying to keep me from getting out of the car, yelling at me to be quiet and stop screaming," In her recollection of the events, Shook commented that she believed her strong reaction may have scared her attacker enough for her to get away.
"Eventually I was able to get out of the car…I ran behind apartments and sat on a back porch." Shook sat there until a girl who lived nearby came over to help. The girl helped Shook get back to her dorm, where she then called the police.
It wasn't until after she escaped from the driver that Shook realized she had gotten into a car with a man posing as a Lyft driver. She had several missed calls from the driver who was supposed to pick her up, and a cancellation notification from Lyft after she missed her correct ride.
"It's frustrating, because I didn't know this could happen," Shook has become very outspoken about her attack in the past week in an attempt to generate awareness about the dangers of rideshare apps, if they are not used properly.
Shook wants to advocate for safer methods when it comes to using apps like Uber and Lyft. She recommends to "always ride with a friend, and pay attention to the license plate numbers and type of car you're getting into." She also mentioned that before getting into a car, you should ask who the driver is picking up, and who they are driving for.
"I wish I had been more aware, if I had done any of those things, he probably would've driven away."
Hahna expressed that spreading the word about her attack is helping her to cope with the aftermath. Her goal is to spread the word about her experience in an effort to prevent it from happening to other women in the Columbus area,"I don't know how else to deal with it except for to tell other people, so girls will hear this, so somebody will tell them."
The man who attempted to attack Shook has not been caught, if you have any information about the incident, call the Columbus police.
Photo Credit: Fox28