Here's how NYU students think our campus has changed in the year since Trump was elected
The Resistance remains strong
It's hard to conceive the fact that yesterday marked a whole year since Donald Trump's shock victory in the 2016 presidential election. It's also hard to conceive the fact that ONLY a year has passed since Trump's victory.
From mounting evidence that members of his campaign colluded with Russia to his failure to denounce white supremacy after the events in Charlottesville, Trump continues to confirm the fears of those who oppose him whilst falling short on the promises made to those who support him, like repealing Obamacare.
Precisely this time last year, Hillary Clinton supporters were congregated at the Javits Center in eager anticipation, waiting for the moment that America would announce her as their next president.
It never came.
The effects were immediately felt, especially in NYU classrooms. In the days following the election, some professors made time in class for students to voice their feelings and unease. Essay deadlines were extended. And the protests began.
It started with the march on Trump Tower in midtown after November 8th. Thousands bore signs protesting Trump's controversial proposed policies on immigration and others of its ilk, chanting "not my president." Then came the Women's March, and shortly after, the demonstration in Battery Park against the Muslim ban.
We've gathered on Kimmel stairs to show support for the Muslim community after the first ban was announced, we've walked out of classes and we've taken part in many protests in our very own Washington Square Park, with NYU students gathering recently to protest white supremacist propaganda found in Kimmel.
In regard to the increasingly charged atmosphere on campus, NYU grad student Supraja Sundaresan spoke about how the university's office of global services has been proactive following the president's executive orders on immigration.
"I'm a grad student and I'm from India, so I know how much this affects my future. I feel that NYU has taken necessary steps to reach out to us, to provide some protection…they've given us counsellors, they've given us tips, and they've made sure that we've been updated on a day to day basis on what's happening. We are aware, so we make sure we know what's going to happen, so (we know) if our future's secure, or if it's not."
Freshman Yassmin Dehesh said that the university's resistance to Trumpism was apparent from day one.
"I pretty much expected it to be a really liberal school, and I expected the resistance to be strong here. It was obvious, as at the presidential welcome we had, the Dean of Admissions, Shawn Abbott, kind of denounced the entire University of Pennsylvania because Trump went there."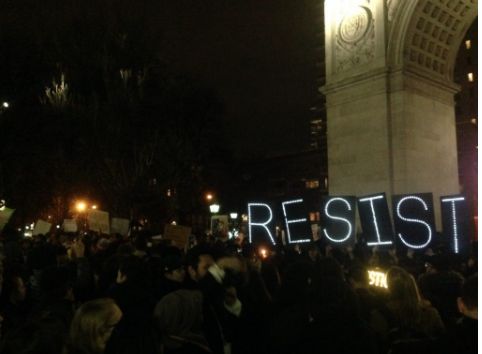 Senior Megan McPherson countered this by admitting that she personally has not noticed any monumental shift in the university's conduct since the election.
"I think people are definitely more open to talking about their frustrations with the government and policy, but I think that the ideas have basically remained the same."
Nevertheless, junior student Sara Merg remained hopeful, saying that students appear galvanised by the political climate to enact change.
"NYU has changed since the election last year in that a lot of student groups have become a lot more vocal on campus in pushing for what they really want and for some change."