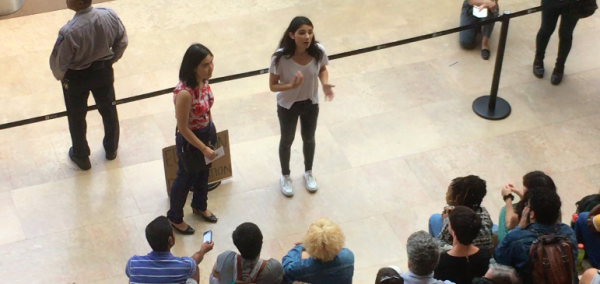 'Education not deportation': NYU Dream Team defends DACA
'The collective power is a lot stronger than the people in power'
Kicking off the first day of classes with a little bit of political protesting, NYU Dream Team held a demonstration in Kimmel today with the aim to highlight the need for DACA and shed light on the consequences of its removal. NYU Dream Team organized the event alongside NYU Sanctuary and NYU Asian Pacific American Coalition.
Speaking at the event was President of NYU Dream Team Hüsniye Çöğür, who is also a recipient of DACA. As a recipient of the program, she described this week as "very emotional" for herself and her family and discussed some of the benefits she – and other DACA recipients – receive from the program including a Social Security number which allows her to have a job at NYU.
She also highlighted that the removal of DACA would "leave thousands of students without a job" and send them "hiding in the shadows," constantly fearing deportation. Many recipients of DACA grew up in the United States and may not be comfortable with the languages and cultures of the countries in which they were born.
The crowd were lead in chants to close up the brief but powerful demonstration. These included "Education not deportation," "Say it loud, say it clear, immigrants are welcome here" and of course, the classic and always relevant "Dump Trump."