In an email to students, President Hamilton addresses the events in Charlottesville and Barcelona
Do you think he read our article?
Last week, The Tab NYU published an article that called for NYU and President Hamilton to release a statement addressing the events that occurred in Charlottesville the following weekend.
There had been no word from the administration or President Hamilton on this topic until an email sent this morning to the NYU community, in which Hamilton addressed these events as well the terrorist incidents that occurred in Barcelona last week.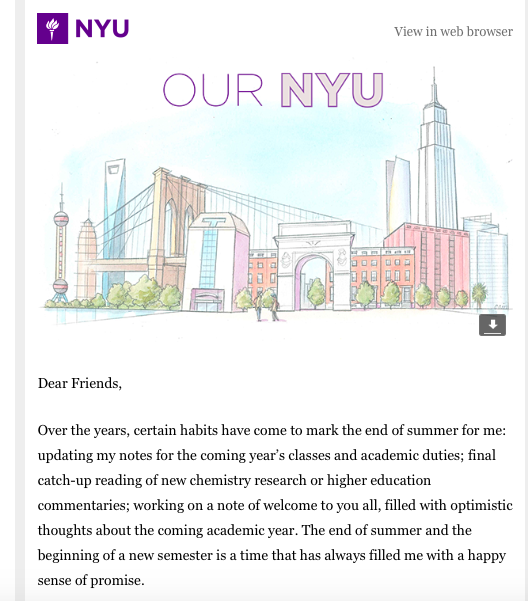 Here are some extracts from the email:
What happened in Charlottesville is in itself tragic, dispiriting, and frightening. However, its awfulness and our heartbreak are compounded by the false equivalence that has been drawn between those who stoke bigotry and those who oppose it. Nazism, neo-Nazism, white supremacy – whatever is the term of the moment – is now and has been through history, an abhorrence.
So, as we approach the start of a new academic year, let us take heart at the opportunity it affords us to make NYU's position clear. Racism, anti-Semitism, ethnic hatred, religious intolerance, and extremist violence are an offense to all that is decent. While they persist, let us commit ourselves to standing united in our commitment to diversity, our rejection of hatred and intolerance, and our renunciation of violence.
He also offered his thoughts on the attacks in Barcelona and parts of southern Spain, claiming the violence "is a further, stark reminder of the consequences of blind hatred and intolerance".