What it's like being a full-time student and working at one of NYC's fanciest restaurants
A day in the life of a hostess at Public
New York restaurant Public – located in Nolita – has one Michelin star, a near perfect rating on Open Table and four $ signs on Google (their Moroccan Braised Lamb Shank costs a tasty $36). It is also a popular dining spot for Hollywood actors and musicians alike. Danielle Jones, a sophomore at NYU, has been employed as a hostess at Public since the beginning of March. I sat down with her to get an inside look at what it's like to work there.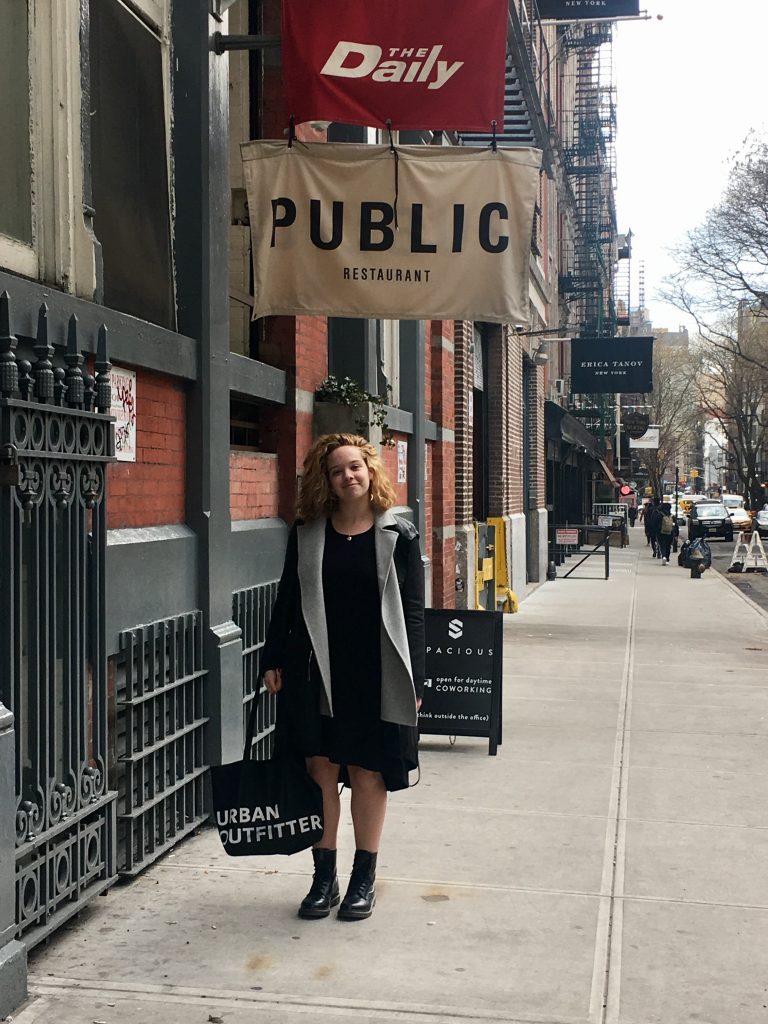 How did you get this job?
"My roommate's brother works there and they both got me the job."
Do you enjoy working at Public?
"Yes, I like it a lot. The people are really nice and it's a good job."
What's your favorite part of working at Public?
"Sometimes I get to try the food. It's really good. I also like that the other employees are the nicest people. I've met so many amazing people already."
Describe your typical work day.
"I show up, I clock in. At just a typical dinner shift, I'll help set up. We put out a million candles and I make sure that the plans for where everyone will sit are good and not overlapping with each other. I make sure we know where all the important people will be sitting, so we're ready for when they arrive. We're mostly a reservation-based restaurant.
We open up and people start coming in and out. From about 6:00, when we open, until like 9:00, I'm just running around keeping everything in order, keeping the kitchen updated on how many people are coming in, seating different customers, making sure everyone's happy. It's a crazy couple of hours, but it's really fun."
What is the coolest thing that has happened in the time you've been working at Public?
"Once when I wasn't there, Jim from 'The Office' came in. I heard about it and I was sad that I missed it. When I was there, one of the actors from 'Game of Thrones' came in. I didn't recognize him, I thought he was just a nice little boy, but it turns out he's in 'Game of Thrones.'
We also had a pretty big band come by called Bring Me The Horizon and they came to eat the Impossible Burger." (The Impossible Burger is made entirely from plants but appears to look, cook and taste entirely like a beef burger).
Have you eaten the Impossible Burger?
"Yes, I have. It's a veggie burger that's sustainable and environmentally friendly, but it tastes as close to a real burger as a veggie burger could possibly ever taste. I got to try it the other day and it is everything everyone says it is.
I would recommend it especially if you're a vegetarian who stopped eating red meat, but you still like and miss the taste of it."
Do you personally recommend Public?
"I do recommend everyone go there at least once. It is a little more expensive, but it's fine dining. They have a Michelin Star, the ingredients that you're getting are the best ingredients that they have, and the food is a totally unique experience. It's unbelievable. You can sit at the bar and order appetizers which aren't as expensive, you can still partake in the activity of going to the restaurant and experience the really nice service and the beautiful space without spending too much money.
If you want to treat yourself every now and then, it is worth doing at least once. There are things you can get that are more on the affordable end."
How do you feel knowing that Public will be closing soon?
"I'm sad about it. I only started working there after they already announced it was closing and they hired me with the condition that it would only be for the next three months. I might wind up working at their sister restaurant or at another restaurant after this. At first, I didn't really care that it was closing, but then I was there for like two weeks, and now I'm really sad it's closing.
Everyone is amazing and nice and the space makes for the coolest looking restaurant I have ever been to in New York. A lot of different customers have come by, like people that have gotten married in the restaurant, or people that have had their wedding reception at the restaurant, and they've all been upset it's closing. I wish it didn't have to happen."