NYU's ¡Viva Perú! students hold bake sale to raise money for Peru
Buy Krispy Kreme doughnuts and make a difference
¡Viva Perú! is hosting a Krispy Kreme bake sale in Kimmel to raise funds to help areas in Peru that have been damaged recently by unprecedented floods.
In the past few weeks, flooding in Peru has affected over 600,000 people and left more than 100,000 people homeless. 100% of profits raised from the bake sale will go to Help Peru, an NGO that will deliver drinkable water to parts of Peru affected by the floods.
The bake sale will take place again tomorrow from 1:00-5:00 p.m. atop the Kimmel stairs.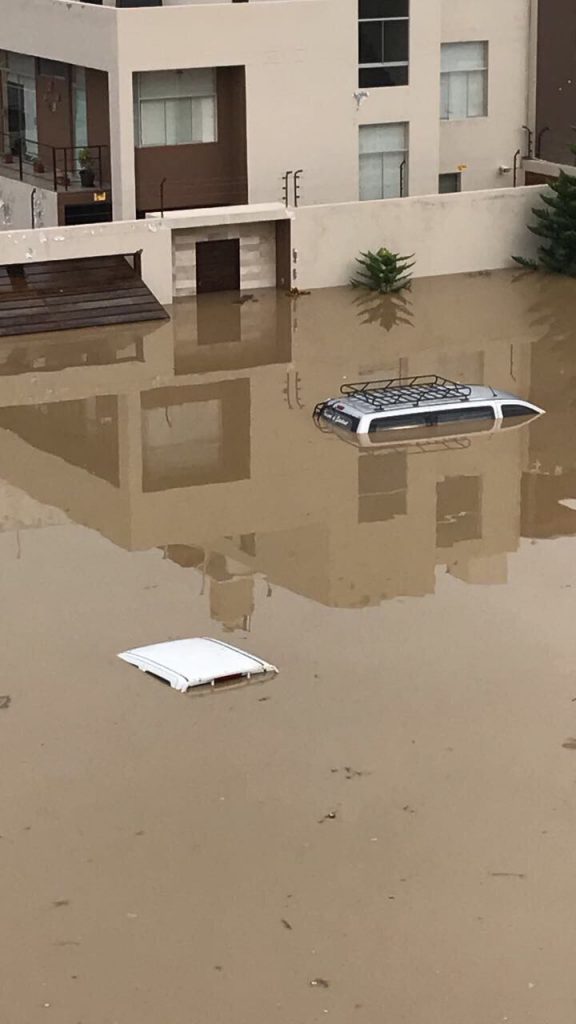 I spoke with Arianna Rodriguez and Thais Rehder, two coordinators of the bake sale, to get their thoughts on the disaster and on why they want to make a difference. Rodrigues, a junior, and Rehder, a sophomore, are both from Lima, Peru.
Why are you having this bake sale? 
Arianna: We've recently had very bad flooding going on in Peru and due to poor infrastructure, houses have not been able to withstand it and bridges have fallen. The whole water structure has been damaged, so a lot of people have not had water to drink. That's why we are stepping in. We are raising funds to work with an NGO that I personally know and I know people that work there, so we are going to deliver fresh water to people in the north of Peru.
I figured that this would be a good time because students really like eating. Sugary things are good to boost your mood and this is the first event in a series of events that we hope we can have. This is not just a one-time thing, it is going to be months of work to reconstruct houses and cities that have been devastated.
Thais: The unprecedented floods in Peru are because of El Niño, which is a natural phenomenon that takes place every couple of years, but due to global warming, this has been more severe than any time before, so it has affected over 600,000 people, and we hoped that it would stop. The rain this week has not stopped, it has actually been getting worse in the northern part, so raising awareness that global warming can have effects in the world.
Do you have family members affected by the flooding?
Arianna: I don't have immediate family affected by it. I have family friends that are very close who have been. Lima is the lesser affected part of Peru because it is the most developed one, but even in Lima, water has been cut and in certain parts of Lima, you can only use it two hours a day.
But in the north, I do know people who have cows and sugar plantations and they have been affected because roads have been closed due to landslides.
Thais: Thankfully my family lives in an area that hasn't been affected, but they've suffered by not having water for a whole week. The water supply was cut for the capital, which has 10 million people. 10 million people were out of water for a week.
How do you feel about the lack of media coverage in the United States?
Arianna: I think it's understandable, since we're such a small country and there are so many horrible things going on right now. Ideally, in a better world, we would be seeing more coverage, but if you look into Latin American media and media in Peru, it is very well covered and communities in different countries are also covering it, so I feel like we are getting somewhere.
Thais: It's a bit devastating because being here, I see all the news from my country, so it's hard to see the news here and see no coverage. When you compare it to the news back home, it's all that people talk about.
What do you hope to accomplish with this bake sale?
Arianna: Two things, well to raise funds, which I acknowledge are minimal in terms of impact. We are a small group, but apart from that I just want to raise awareness for it and have people know what is going on and donate on their own. There's such a big Latin community in New York, so I feel like this can help spread the word.
Thais: We want to raise as much as we can because every dollar counts. We want to spread awareness about what's going on.