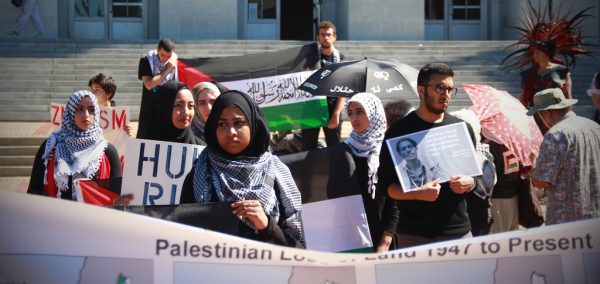 Muslims targeted in threatening email sent to NYU Students for Justice in Palestine
The email threatened to 'smash their collective skulls together'
NYU's Students for Justice in Palestine have demanded that President Andrew Hamilton condemn and investigate the contents of an alarming email they allegedly received on January 31.
The message addressed SJP members as "MUSLIMS, ARABS, AND OTHER 'ANTI-ZIONIST' CAMPUS TROLLS" and threatened to publicize their personal information, from immigration statuses and religious affiliations to family ids, and distribute it to federal agencies.
The email expanded its threats to include Black Lives Matter and LGBTQ affiliate groups at other universities, concluding that "By the sword of David, we will smash your collective skulls online together, and shatter your futures to pieces. And Muzz/Arabs; It'll be a Family Affair for you. That is a promise you may wish to meditate upon before ruining your family's lives."
SJP's announcement did not identify the email's author(s), or clarify whether or not they know the source of the hostile message. This comes days after President Trump's chaotic Muslim Ban, which SJP referenced in their request for a response from NYU.
But this isn't the first experience of aggression SJP has received. In August 2016, the "FIST OF ZION" sent NYU SJP an email titled "F*CKING UP YOUR HAJI PROGRAM" that went on to make threats to "RAPE [OUR] ORGANIZATION LEAVING NO HOLES."  NYU administration refused to publicly condemn that email at the time, and has yet to reply to SJP's newest request that they condemn and investigate the January threat.