NYU's craziest moments of 2016
From Trudeau to Pharrell, 2016 has been an adventure
We're only a few weeks away from 2016 being over; the year that many are calling the shittiest in recent memory. 2016 was like when you're already having a bad day, and then someone decides to sucker-punch you in the face.
But we've made it, we're almost at the finish line. And just in case you're struggling to remember all the crazy things that happened at NYU this year, here's a refresher:
RIP Coles
Our beloved (but hated) sports center finally closed down for redevelopment. But don't worry, you can enjoy the new state-of-the-art building when it opens in 2021…oh wait…
Jonas
This came along and really fucked up everyone's travel plans, but it didn't stick around long enough to give us a snow-day.
The sugar baby epidemic
We found out NYU has more 'sugar babies' than any other college in America. It's not really surprising considering our tuition and living expenses, but here's hoping Andrew Hamilton's new 'affordability measures' might reduce this number in 2017.
The great pipeline burst
A burst pipe blew a hole in the ceiling of the Third North Dining Hall. Oops.

A freshman sold his friendship on the class of 2019 page
A then-freshman/now sophomore offered his services of friendship for $10/hr on the NYU Class of 2019 page, and we all felt simultaneously embarrassed and impressed by his hustle.
NYU Crushes
Someone created an anonymous NYU Crushes page and it became our favorite thing during Valentine's and midterm season.
Joey Bada$$
Joey Bada$$ lectured at NYU and blessed the audience with a verse that he prepared specifically for us.
RIP Dahlia's
The beloved Mexican restaurant had its liquor license revoked for – feigned shock – serving minors, and eventually closed down. As someone who walks past the shuttered restaurant every day on my way to class, for me this one is still pretty raw.
Future
Future played Violet 100 at Terminal 5 and SMASHED it.
They encouraged students to vote for Bernie outside Stern. Remember when Bernie was in the presidential race? Oh, the happier days.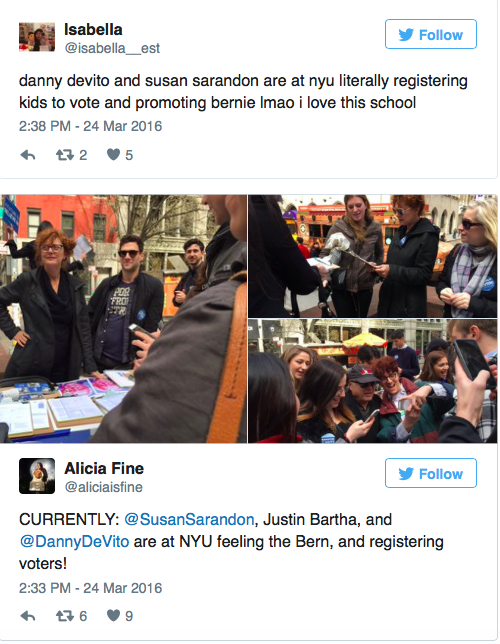 The 30 hour occupation of Kimmel to denounce 'the box'
The Incarceration to Education Coalition at NYU led a 30 hour occupation of Kimmel to denounce "the box" on the Common Application that asks applicants if they have ever been convicted of a crime. This eventually lead to the administration changing the application to ask if students had been convicted of committing a violent crime.
Pharrell fell in love with Maggie Rogers and everyone else did too
 Pharrell Williams taught a masterclass at Clive Davis and had an epic reaction with "zero, zero notes" to senior Maggie Rogers' song "Alaska." The song immediately went viral, and Rogers has since signed with Capitol Records, scheduled a international tour following her EP drop on February 17, and booked a performance on Jimmy Fallon.
Bernie and Vampire Weekend
Bernie came to Washington Square Park and basically shut down campus for the day. Oh and Vampire Weekend performed, no big deal.
Justin Trudeau came to campus
The babe of the political world Justin Trudeau came to campus to talk to NYU students and made us all joke that we wanted to move to Canada. Back then of course it was actually funny and not, you know, a really enticing possibility.
NYU was rated, a lot
Business Insider named NYU as #1 university for a Wall Street career (take that Harvard and Columbia) and THEN we were ranked in the top 1% of universities in the world. That's what I call Violet Pride people.
We got free tampons on campus
The Students for Sexual Respect organized a petition for free tampons and MHPs on campus and the administration agreed to approve a pilot program to do so. Cue a chorus of "Hallelujah" from women across NYU!
Fox News tried to screw with us and we fought back
The great minds at Fox News targeted NYU students and quizzed them about the 2016 election, trying to prove how politically unengaged university students currently are. But The Tab fought back and produced our own video showing what NYU students are really about.
'Deplorable professor' revealed himself, got suspended….and then got a promotion.
Professor Michael Rectenwald revealed himself to be behind the twitter handle @antipcnyuprof, which aimed to expose "the viral identity politics of academia and its destruction of academic integrity".
He was then suspended for a semester and placed on paid leave by NYU, only to get awarded a promotion and a full time position a few weeks later. You've got to love that consistency from NYU huh?
Madonna stopped by Washington Square Park
On the day before the election, Madonna stopped by Washington Square Park, gave an impromptu concert in the fountain and encouraged people to go out and vote for Hillary. Maybe it didn't really work that well but it was still pretty freaking cool.
"Drumpf!" graffiti found on Muslim prayer room door
And thus began our new reality. In the first of a series of frightening incidents around campus, Muslim students found "Drumpf!" written on the door of their prayer room in Tandon the morning after the election.
And then there was more…
Residents in Gramercy Green residence hall found a series of offensive notes on their door, including a swastika and post-it with the words "Make America White Again".
The Walkout
NYU students staged a walkout to promote the #SanctuaryCampus campaign and protest Donald Drumpf's status as president-elect, as well as his attitude towards immigrants and marginalized groups.
2016, you've been a long ride with decidedly more downs than ups. We would say we're nostalgic and sorry to see you go, but we're really not. #bringon2017