NYU look of the day: Walker Curtis
'It's a matter of putting in effort'
Name Walker Curtis.
Age 20.
Hometown Seattle, Washington/Florence, Italy.
School Core Liberal Studies.
Tell me about when you started getting into fashion.
I asked for a navy blazer with gold buttons when I was four, so I guess I already kind of cared, but I really started to consciously think about what I was wearing probably freshman year of high school. Which was five years ago, because I went to high school in Italy.
How has your style evolved since coming to New York, and being in college?
I feel like New York is more accepting of outlandish stuff, there's a lot that I'll wear here that I wouldn't wear in Florence because the Italian teenage boy is very homogenous and very judgmental. If you stand out, they're gonna notice and they're gonna make fun of it, but not to an extent where you can just ignore it. If you're wearing something that's not what other kids your age are wearing, every person you walk by on the street stares. I got sick and tired of that, so I kind of toned it down, but still maintained my own thing.
I've definitely worn way more outlandish stuff in New York, because here you literally see crazy people, so if I walk past in a print silk button up shirt, nobody's gonna look twice. I feel like the culture here is more accepting of people's individuality.
That's interesting, because Italy is widely considered a fashion powerhouse. Do you think the judgement came more specifically from the teenage culture?
I do think it was more just the teenagers, but Italians all have this personal image thing too – Italian women and men will not leave the house if they're not put together. Women would drop off kids at school in full makeup and have their hair done and be wearing elegant designer shit, and here in America that has not been the case, from what I've seen. It's a mindset of caring about what you look like when you're out in public, which is something I've noticed more so in New York, but less around the United States in general.
Calvin Klein t-shirt Topman necklace.
Are there any particular brands or designers whose work you follow?
I really admire Hedi Slimane, but not exclusive to Saint Laurent, the stuff he did beforehand at Dior was also really fucking cool. Sandro is pretty cool, I rock with it. Kris Van Assche is killing it at Dior, with all the floral patterns, and Alessandro Michele at Gucci, with all the cool, weird 70s stuff. I like gender blurring, androgynous, and ACNE Studios is getting into that also, but they're a little more minimalistic than I generally tend to go.
How would you describe your personal aesthetic?
I draw inspiration from rock'n'roll, and definitely hip hop. I wear a lot of skinny jeans and Chelsea boots, and I'm trying to incorporate more of the 70s and 80s, with big coats and silk shirts, I love short sleeve buttons ups. I really don't like the word streetwear, but I wear a lot of hoodies, although I don't wear sweatpants that much.
Why don't you like the word streetwear?
I think it's more that I don't like the streetwear world itself, I feel like it's a term that's thrown around very loosely. People who have a graphic t-shirt brand will say that they have a streetwear brand, but no, you don't. You have a brand that prints graphics on plain black t-shirts, and think you're really cool.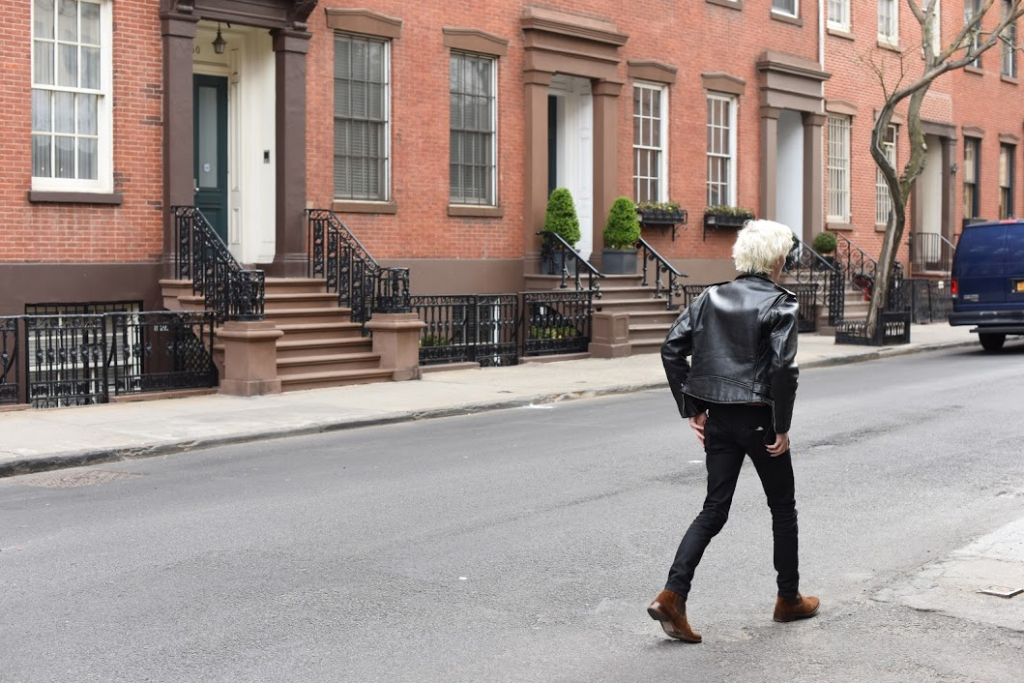 West Village, Manhattan.
What do you think are currently some of the most cringe-worthy trends?
I don't know if this is a trend or not, but people who tag brands for every piece of clothing in their Instagrams. It's just stupid. Either you're a celebrity, in which case people want to know what you're wearing, but if you're not, then don't. Because to me, that's trying to define your style through who you're wearing and not the actual clothes themselves, it's trying to make people think you're cool because of the brands. Maybe it's the need to try to prove you're cool and show people how much money you've spent on something, but that just shouldn't be the case. You don't need to spend a lot of money, you can look just as cool in a $5000 dollar jacket as you can in a $500 jacket. People who tag brands in Instagram seem to do it mostly just for flexing purposes.
Which of your favorite pieces would you absolutely save in a fire?
I really like this jacket I just got at a vintage store in DUMBO, Front General Store. I have an old Levi's jean jacket that's super worn and really comfortable, and starting to fray at all the cuffs and hems, distressing that I absolutely love. I have the Yeezy season invites, so I would save those for sure, and also my dress shoes. That's pretty much it, everything else can burn. I would redo my wardrobe with the insurance money.
How do you hope to work with fashion in the future?
I have ideas for designing but I feel like it's very hard to start doing that. Plus, I don't know how to draw, so I'm kind of at a dead end there. But, my dream would be to basically be a glorified opinion giver, and ideally have my own creative consulting firm.
Like a stylist?
Yes, it could be within the fashion world, it could be editorial with ads, styling as well and maybe even consulting with designers. I feel like the best way to start doing that would just be to begin with my friends.
Any style advice you'd like to share?
Just to try. It's easier now than ever to look somewhat put together, and you don't have to have a lot of money. If you have an aesthetic, even if others don't personally find it pleasing, at least you have one. It's a matter of putting in effort.
—
Featuring Walker Curtis
Photography by Matthew Babcox