Every young person in NYC right now really loves Bernie Sanders
'He can't be bought, he's not for sale, he'll break up banks too big to fail'
It's no secret, New Yorkers are feeling the Bern and they sure aren't afraid to show it. Thousands gathered in Union Square and marched to Wall Street on Saturday to show their support for Bernie before Monday's Iowa Caucus. People of all ages, backgrounds, and ethnicities came together to voice their discontent with the current status of our political system, the immense power of the one per cent, unfair wages, unaffordable college education, and much more. Sanders is known for rousing support from millennials, which made up a large portion of the crowd.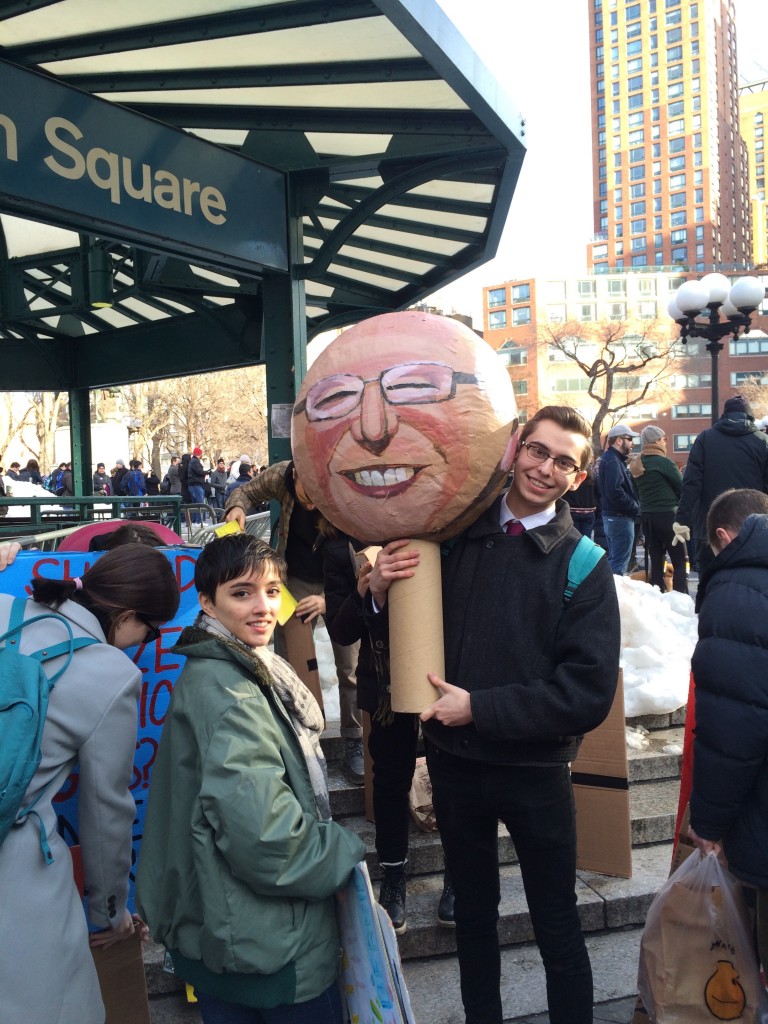 The rally's booming chants filled the streets as they marched down Broadway, where shouts ranging from, "He can't be bought, he's not for sale, he'll breakup banks too big to fail," and, "Hear us now, we're willing to fight! Make our healthcare a human right," were heard.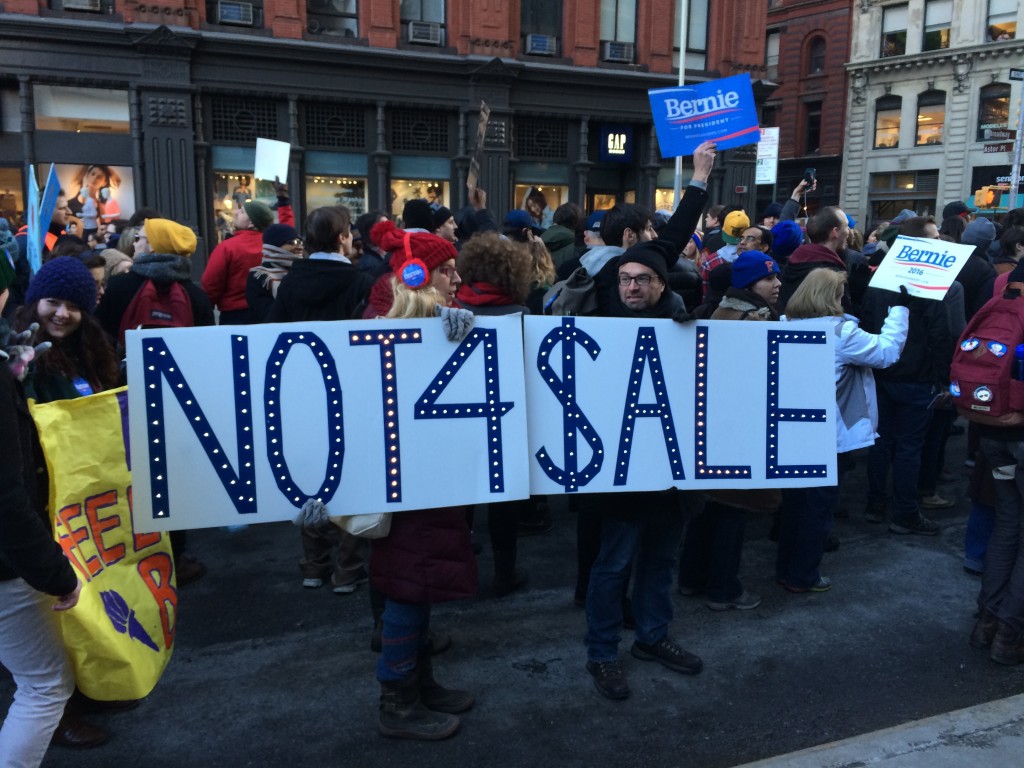 #MarchforBernie didn't just make waves on the streets, it stirred up quite a bit of excitement on social media too. Sanders' slogan #NotMeUs became the top New York trend on Twitter with more than 100,000 tweets from attendees and onlookers.
We spoke to some of the hundreds of young people at Bernie's rally to ask them why everyone is showing him so much love.
"Bernie starting a grassroots movement that's similar to Occupy Wall Street," said Eric a student at the University of Massachusetts. "He's is attacking economic forces that really should not rule our political system."
Leverett, a New School student, added: "He's straightforward and honest. He did a fantastic job at representing Vermont, he'll do the same thing for America."
Tyler and Kyle are both students and had travelling from the University of Rhode Island and Shenandoah University in Virginia. "Bernie's addressing climate change and campaign funding inequality, two big problems which need to be dealt with", said Tyler.
Kyle told us: "Bernie isn't interested in big money. He's brought some much needed integrity to the primaries by staying away from corporations."
"He has far superior stances on public education and women's reproduction rights than any of the other candidates," said NYU student Libby Torres
Juliette Maigné, also at NYU, said: "I'm not a citizen but I am totally behind Bernie's stances. He wants to give political power back to the 99 per cent instead of limiting it to the elites."
NYU kids were out in force at the rally. Another student, Rose, told us: "He's giving our generation a chance to get involved in a new type of politics that's different form what our parents used to talk about around the table."
Even high-schoolers were supporting Bernie as their first-time voting candidate. Sofie said: "If I could vote, I would vote for Bernie because he is genuinely emotional about causes that I stand for. The other candidates sound too rehearsed."