The best places to nap on campus
A guide to help you hibernate this winter
College students are one of the most sleep-deprived populations.
Increase the hours of sleep you get and spice up your nap game with these comfortable snooze spaces around campus.
Reckers
Enjoy a pizza, smoothie, and catnap on the comfy furniture of Reckers at any time! Bonus footage: show up around 2, 3, or 4 am to observe some hungry and drunk domers in their natural habitat.
Bond Hall Library
Snag one of the comfortable couches on the second floor of Bond Hall to dream about Michelangelo and the Taj Mahal.
DePac
Explore the beautiful DeBartolo Performing Arts Center to find some prime spots to slip into a quick coma. The basement also has a great lounge for napping.
The Main Building
Notre Dame's world-renowned Dome is not only good for taking pictures and showing off to your friends and family, but also great for getting some quick shut-eye between classes.
East Lounge of LaFun
This secret room that exists in the basement of LaFun is great for not just studying but also sleeping. A variety of armchairs allow for great places to doze off.
Any Bench on Campus
Need a quick rest when walking from Grace Hall to Reckers? Take advantage of the copious benches on Mod, North, God, South, West, Library, and Debart quads for una pequeño siesta.
The Huddle 
Who needs cuddling with someone special when you can nap with your favorite snacks at The Huddle in LaFun?
Reading Room on the Second Floor of the Library
Easily one of the quietest places on campus to pass out while doing some riveting philo reading. Just make sure not to snore!
The Snow
"Is that guy making a snow angel? He must be so cool!"
A great way to casually catch a few z's without drawing attention to yourself. Here at Notre Dame, finding some snow to settle down in is as easy as getting into BC.
CoMo
Take advantage of the comfortable sofas and armchairs in the first floor lounge in the Coleman-Morse Center.
Jordan Hall
Enjoy the space of the vast Jordan lecture halls. Maybe you'll learn a thing or two about chemistry while you're there.
Rolfs
Show your fellow peers what they should really be doing with their spare time instead of exercising. The treadmills in Rolf's provide a comfortable, serene, and relaxing spa-like ambience that smells great.
DeBart Lounge
A great nap area in the back of Debart. If you're lucky enough to snag a beanbag, you'll be sure to accidentally sleep through all your afternoon classes in time to wake up dazed and confused to a janitor poking you awake in the middle of the night.
Sorin Swings
Napping with a view! What could be better? Enjoy a heavenly sleep on the very comfy wood swings on the porch of Sorin.
Law Library
If you're lucky or sneaky you can find a merciful law student to swipe you into the law building. From there, enjoy a peaceful and sophisticated nap among the hardworking law students.
Any Construction Vehicle on Campus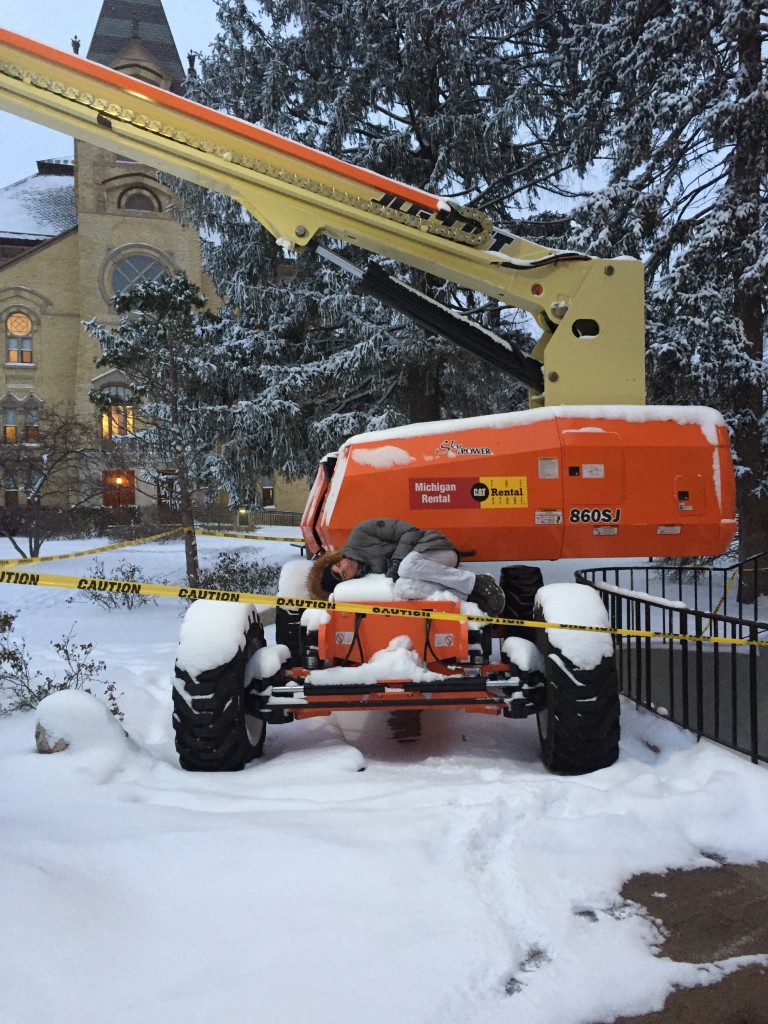 The constant construction on campus isn't all bad. You can always find a comfortable place to sleep on the construction sites.
Shoutout to Sam Gehman for modeling like a boss