Super simple but incredibly cute ways to cut your shirt for gameday
Nail game day with these easy-to-make shirts
Let's be honest, red is not the easiest color to find in the stores and none of us want to wear boring old tee shirts that we workout in to the games.
So to help you look a little less like a tomato, I have put together three different, cute and trendy ways that you can cut basic t-shirts for game days.
'Choker' T-shirt with Crop
This first one is my personal favorite, I wore it to my first college football game and everyone absolutely loved it, plus it is really easy to make!
Basically, all you do is draw a triangle on the shirt and cut it out! I recommend putting on the tee and measuring how low cut you want the top to be before you actually cut into the top. Also, I would use a straight edge to make sure the lines are not crooked! The easiest way to mess up this tee is to cut through the collar on accident. If you cut through the collar, the choker will be not be intact. You need to remember to make a little hole in the tee near the collar to use as your starting point. Next I just measured how cropped I wanted it to be, cut straight across the bottom, and rolled the sleeves up!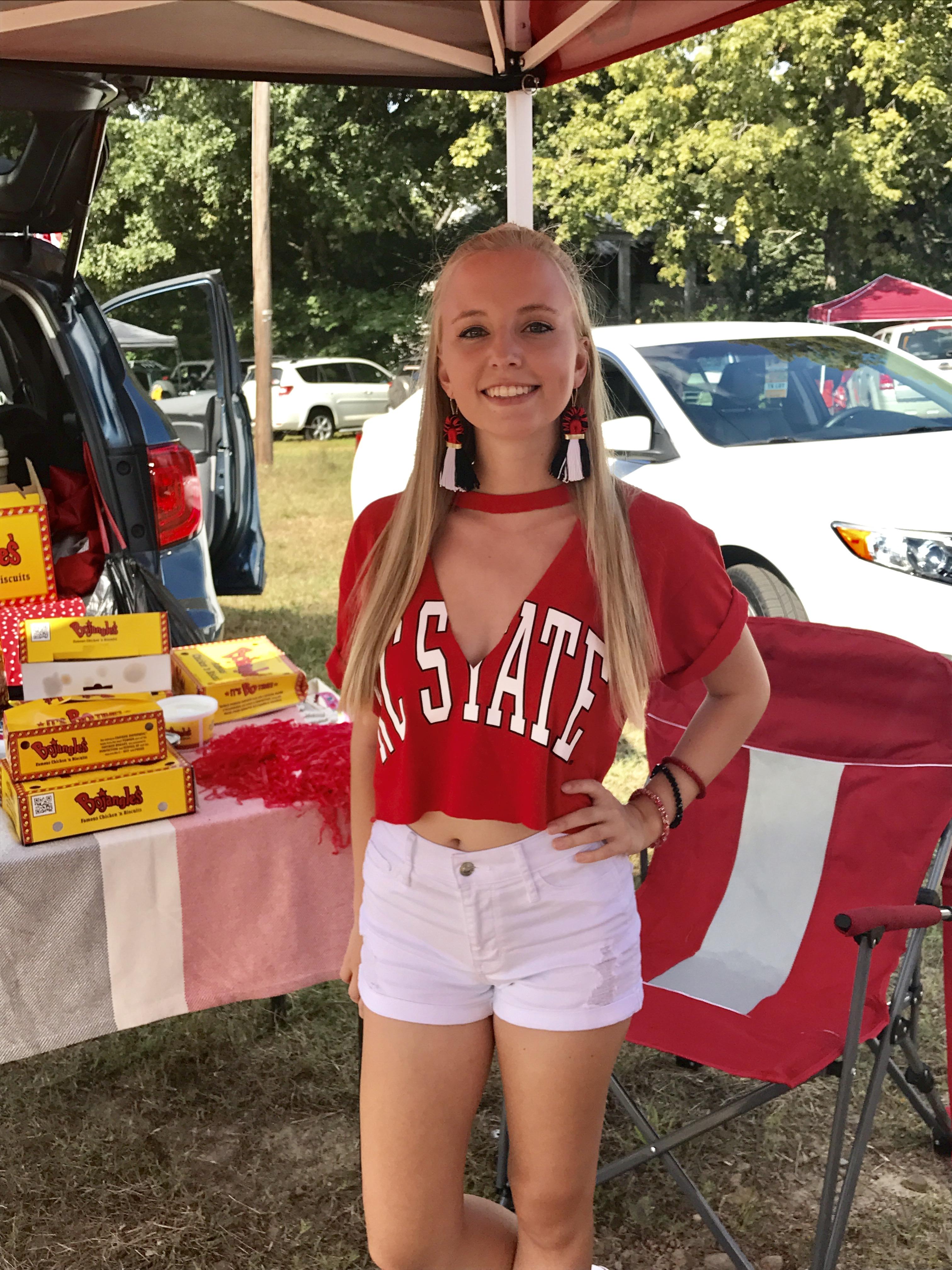 Off The Shoulder Crop
This next one was not planned at all. I kept trying to make a choker tee with the cut out like the tee above, but I wanted to have more lines down the V so it was more like slits instead of just a huge open space. Clearly, that style shirt is a little more complicated than I was expecting.
I ended up cutting way too much into this shirt and having to improvise, but I think it turned out super cute. After making a few mistakes, I had this tee down to a V neck. I then decided to widen the V out more towards the shoulder so it would be more slouchy. This way, it can be worn as an off the shoulder top or a one shoulder.
Tie Front Tee
The last shirt was definitely the easiest one to make and the most comfortable option. All I did was cut straight up the middle from the bottom of the tee to the beginning of the logo, tie together both sides of the slit, and roll the sleeves, it's seriously that simple.