Here's how to sneak alcohol into The Big House on gameday
Where there's a will, there's a way
Gamedays are almost among us. The best time of the year, amiright or amiright?
This means we're back to early Saturday mornings, drinking —or chugging— alcohol before breakfast, hopping from tailgate to tailgate on Hill Street and getting hyped to watch Speight and Crawford have an amazing season.
But the tailgate partying always ends once you get to the stadium: no bags, drinks or food allowed in. This should be illegal. Don't the powers that be know my buzz wears off by the time I show security my ID?
Worry not 'cause The Tab has you covered. Here are the best ways to sneak alcohol in to The Big House:
Squishy Flasks
Fold them up and shove them into your pants/skirt/undershirt/bra, whatever it takes to get that thing in.
Wine Bra
You'll finally be bigger than an A-cup!
Or if you're a guy, the crotch up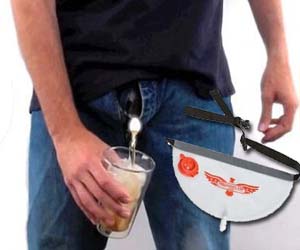 Not sure how comfortable this one is but you gotta do what you gotta do
Tampon Flasks
Ragstock sells 'em, just make sure you have a good pocket to put them in.
Airplane Bottles
Winter coats have huge pockets, you could fit about 10 of these in there!
Ladies, put the bottle in your hair
Desperate times call for desperate measures.
Football szn begins this coming Saturday, so start prepping! Luckily, we have until September 9th to prepare for home games. I suggest testing each method to figure out which works best for you so you can get your game day on.