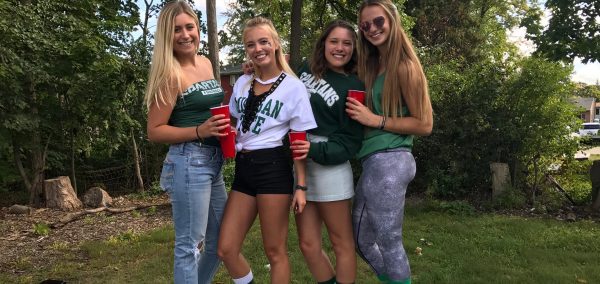 The Spartan girl's definitive guide to Insta-worthy tailgate looks
If you don't have an 'MSU Dad' shirt in your closet, do you even go here?
Girls, we all do it: cut up our favorite t-shirt, freeze our ass off (with an exception to this season so far, obviously) and put glitter all over our face and try not to cry our makeup off when it gets in our eye – and for what? For the love of tailgating, that's why. Well, and football. But let's be honest…mainly tailgating.
There is are certain trends of tailgating fashion that the student body (no pun intended) has come to learn and love. Whether you're a freshman, someone who just doesn't have time to keep up with fashion trends, or an upperclassman looking for new #looks to rock this season, this handbook is for you.
The "look ma, no pants" oversized t-shirt look
Don't feel like putting on pants when getting up at 6am for a noon game? No problem! Just grab your boyfriend's, your brother's, or your own giant Spartan pajama shirt and call it a day.
The "I definitely almost butchered this shirt while cutting it"
Feeling up for a day of arts & crafts? Then this look is for you! Grab a marker, a pair of scissors and a ruler, and hope you learned enough in kindergarden to cut a straight line.
If you can't cut one straight line, you might not want to shoot for two with the tube top look. If done to perfection, you can pull off the tailgating look without worrying about tan lines. It's a two-for-one, for just the price of a possible hand cramp while cutting.
The "faux choker tee" – a new look with an old school feel
If you miss the 90s but dig this back-in-style look, you have to give this one a go. It gives off a "Kimmy Gibbler goes tailgating" vibe that we can't help but love. Don't own a choker necklace? No problem! Just cut one into the shirt you're wearing for the low cost of free 99!
The classic "is that a tailgater or a player?" ensemble
A favorite of diehard football fans. Warning: do not be fooled by these game day tailgaters – they're not actually on the football team.
The "MSU relative" shirt
Again, do not be fooled by these tailgaters. They're probably not actually a dad OR a grandpa.
The "I might be on the cheer team but I'm probably not" look
Honestly, this is one of your better options if you're trying to get your dance on and look peppy simultaneously. This skirt has all the properties of a true Spartan fan without lacking in the "cute" department.
The ever-classic green & white overalls
Super comfy, and you don't have to worry about your pants falling down! Yay! Also another outfit where dancing can be accomplished with style.
The beautifully utilitarian fanny pack
Fanny packs: not just for your mom anymore. These lil guys are coming back into style in a big way. And I mean, where else are you supposed to put your phone, house key and shooters?
The glitter + face sticker combo
Absolute essentials for the perfect selfie at Spartan Stadium. We suggest keeping an endless stash of glitter and face stickers at your apartment or dorm, because this combo will literally never go out of style.
There you have it, Spartan ladies – every iconic look you can depend on for a comfortable, stylish, Instagram-worthy tailgating experience. Now that you've got your outfit out of the way, don't forget to Sparty hard, drink responsibly and go green!