Richard Spencer is trying to come to MSU, students clash with President Simon's response
Simon believes there is a responsibility to 'accommodate a broad range of speech'
Richard Spencer, under the National Policy Institute, has inquired about renting space at Michigan State University, as well as others after Charlottesville. As of yet, no decision has been made over NPI's ability to rent the space, and details of what it would be used for have not been released.
Since the announcement, MSU's President, the Student Body President, and various students have all had different opinions on how the situation should be handled.
President Simon released a statement regarding the University having to consider NPI's request, because of its "obligations to accommodate a broad range of speech."
"As our record shows, this university does not determine who can access public spaces based on what they think or say," said Simon in her statment. "Allowing access to public spaces would in no way constitute endorsement of messages that might be delivered there."
However, the Student Body President, Lorenzo Santavicca, responded differently. Santavicca already showed his solidarity for Charlottesville by signing a letter with over 150 other schools.
Before writing an official statement with ASMSU, Santavicca took to Facebook to make his opinion clear about NPI's request in two different posts.
"Our city needs leadership with foresight into a new future for East Lansing," Santavicca wrote in an open letter for the State News. "We need leaders that will be a bridge between students and permanent residents, establishing a means for all to come together without dividing the populace by time of residency and fiscal contribution."
"Where more than half of its residents are students, a city council that is a representative to all interests — including students — should be paramount," continued Santavicca.
Lorenzo later released a second statement to respond directly to NPI's request to reserve space at MSU.
"I am aware of the recent developments regarding the NPI request to come to MSU campus," he said. "I am involved in the conversations with admin & trustees at this time. I will continue to serve the best interest of our students to promote a safe & secure campus unwelcome to violence and extremism of any kind."
He then released his official statement: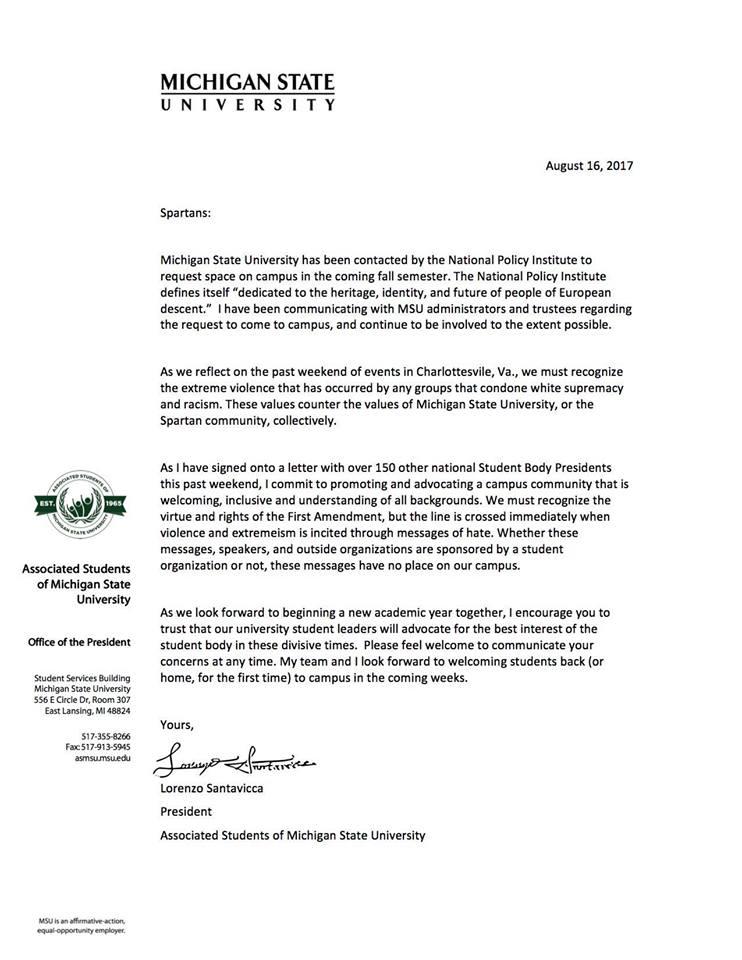 This is how the MSU community is reacting: