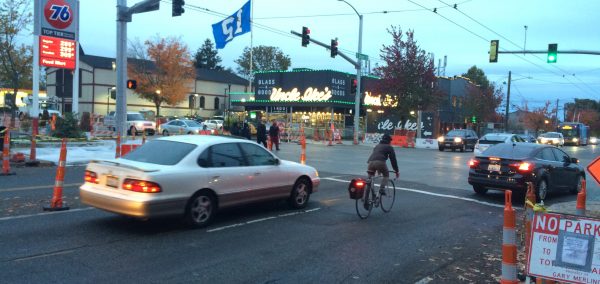 I'm from Seattle, but it's not my hometown anymore
When gentrification hits home
Each school break, I travel home to an increasingly disingenuous Central District.
Construction throughout the Seattle neighborhood acts as blatant signifiers of the neighborhood's rapid transformation. Once home to many African-Americans in the city — and therefore characterized as a "bad" part of town — the area has now become synonymous with gentrification.
Known as "the CD," the neighborhood is flooding with higher income individuals, many of whom are young and white and attracted to the city for its rising tech-epicenter status and the beautiful, green surroundings.
I am from Seattle, but I wouldn't define it as my hometown anymore.
When landmarks and populations vanish
Squeezing past the construction cones that dot the area, I see proof that my old neighborhood is disappearing.
Not only are new populations taking up space and changing the demographics of the area, but the landscape itself is changing. There are fewer of the Black-owned shops that mark my childhood memories and those of my mother and grandmother. Ms. Helen's Soul Food and the Philly cheese steak place on the corner of 23rd and Union are gone — they're now a modern apartment building and a weed dispensary, respectively.
The community shaped the special places and though the Garfield and Miller Community Centers, the Medgar Evers Pool and the Jimi Hendrix statue on Broadway still stand, they are forever changed because the community they serve has changed.
Other famous Seattle landmarks remain — many of which are named after Black community leaders  — but the population these community-oriented buildings now serve is not the one that benefits directly from the legacy of the inspirators.
Racial divides are everywhere
Uncle Ike's Pot Shop has become a well-known attraction in the rebranded Central District, and the dispensary is a popular tourist attraction for those visiting the city.
Its presence particularly frustrates me because I know countless Black men and women were racially targeted and arrested on that same corner for drug possession up until the legalization of marijuana in 2012. In fact, Black people are still twice as likely to be arrested for possession in Washington state. The legacy of discrimination is long — the initial Black population in this part of the city was only present due to red-lining and institutional segregation.
Despite this, the Black residents established the neighborhood as theirs and created community centers. This history and these injustices don't seem to be an important topic of discussion for those who make the decision to move there. Instead, they ignore it and continue to move into areas Black homeowners and renters were priced out of once their neighborhood was deemed "desirable."
My generation will be the last
My family's history in the CD dates back to its beginning. I'm part of the fifth and final generation of those in my family to have grown up in the area.
My family was so engrained in the CD that you can ask almost any Black person from there if they know a Redmond and they will. As I grew older and moved to North Seattle, most of my family members moved to South Seattle and beyond. It's a move typical of displaced peoples from gentrified neighborhoods.
It is difficult knowing that future generations of my family will not know the CD as I did. I often wonder whether all of the similarly altered spaces around the country will ever feel like home again for the residents who helped form them.
Where did our home go?
I grew up on 18th and Union. I still sometimes pass the townhouse I spent the first years of my life. I drive down streets my mother mapped out on her bike as a child. I glimpse my great-grandmother's house where she grew up and where I also spent a lot of time.
I'm not sure I can claim these places as mine or my family's anymore.
While significant to our history, the homes and streets and the people in and around them have become unrecognizable. The CD was our home and it no longer exists. Its ghost sits there — tucked just out of reach, hidden behind a layer of privilege and new paint.