Allergy-free eating (and drinking) at JMU
Gluten free isn't a trend, it's a lifestyle
People born with serious food allergies, like nuts, wheat, dairy, eggs, soy, seafood, etc., spend their eating-lives on constant alert. We all understand that feeling when we explain "Please, be extra careful. I'm allergic," we're assured confirmation, and then the waiter returns with nuts, seafood, bread, etc. on your plate. After sending it back, you can't help but wonder, "are they just pulling that off of it or are they really preparing me all new food?" Question no more! I've prepared a list of the local places I've tried (on and off campus), that were, not only aware of my needs, but also took extra precaution without my asking. I also investigated the local beer scene and searched for alcoholic alternatives for my beer-free friends.
Let's start with on campus:
D-Hall
I heard rumor that D-Hall wasn't safe for people with severe allergies/food restrictions like celiac disease and thus I had avoided it until this point. However, in the interest of research, I used one of my few punches (it's far too expensive to pay cash for) to put them to the test and hope I didn't get sick.
There's a gluten-free counter made very visible to the right of buffet bar (side closest to the entrance next to Chik-fil-e). I met a wonderfully kind woman named Sue who proudly informed me that she kept all her ingredients safe, in their own containers, away from all other ingredients. She assured me that "anytime [I] want[ed] it," she'd prepare me a safe meal. I had an excellent sandwich, salad, and bowl of soup and suffered no side-effects.
P.C. Duke's
I refer to P.C. Duke's as the gluten-free promise land. The first time I went in there they had a poster up listing all the gluten-free options they offer and, wow. Every restaurant in Duke's has some option for gluten-free (though I've had very minimal luck at the Sliders place). I'll list them in descending order of preference
Topio's–This place is the absolute best. They're rarely busy, the pizza's phenomenal, the staff is kind, and they're always safe. 
Maria and Christine, who have been working every afternoon I've gone in there for lunch for the past 2 years, know exactly how to prepare the pizza safely. All you have to do is go up to the counter and ask for the gluten-free pizza and tell them you have a severe allergy. They'll take every precaution necessary.
Zoca–Their burrito bowls are a great option (make sure to ask for no tortilla!) as long as there's no line.
All places are accommodating and will change their gloves upon request, but that won't cancel out previous contact already made. The longer the line, the more chances of cross-contamination.
Side Pockets–Their salad's are delicious and the make-your-own is totally safe, when there's not a line. Like most places that offer your allergen, whether it be nuts, wheat, eggs, seafood, etc., the busier they are, the faster they're working, and the less careful they're prone to be. Just use caution.
Duke's Deli–They offer gluten-free bread, however, they are a deli. The risk for cross-contamination is very high. I recommend only going when there is no line and being very careful.
Chick-fil-A
Did I just hear a cry of joy? Yes, if you weren't already aware, people with gluten-intolerance can now enjoy the magic of Chick-fil-A (within reason). As long as you inform them of your allergy, they'll help you pick your food and do all they can to keep your food safe. I've enjoyed biscuit-less bacon, egg, and cheese breakfasts and grilled chicken nuggets many a-time. They are really helpful, so I'm sure this goes for all allergies, not just gluten!
Top Dog Cafe
The only place I'm aware of safe for gluten-intolerance in Top Dog is the Mongolian Grill.
However, their pad-thai is safe and to-die-for. This is my guilty-pleasure comfort food on campus. It's a little pricey without a meal plan, but worth every penny.
Mrs. Greens
There's a dedicated gluten-free deli inside Mrs. Greens. They offer sandwiches, wraps, and breakfast items (I assume in the morning). They also have gluten-free cereal located at the end of the bar. I ate there today and enjoyed a delicious sandwich, worry-free!
The menu for the gluten-free section of Mrs. Greens
Off Campus:
Jimmy-John's
It is my experience that if you inform the staff of your allergy, they'll be safe. However, if you're very sensitive, I wouldn't recommend taking the risk. For less sensitive people, the un-wich (made with lettuce instead of bread) is fantastic.
Bojangle's
Here's another one of those, "thank you!" moments. The rotisserie chicken bites at Bojangle's are gluten-free and wonderful. They won't break the bank either!
Greens and Grains Cafe
Formerly Salad Creations, this place is phenomenal! It's located at the bottom of the 865 apartment complex and they deliver. Let me repeat that for my fellow salad-fans: tons of delicious salads to choose from and they deliver. They offer gluten-free bread, salads, soups, and they label everything really well. They also have cider and wine for those of you over 21,  so you won't feel left out when your friends order beer.
Quaker Steak and Lube
They work really well with allergies. As long as you inform your server, all is well. If you order the grilled, boneless wings (only option for gluten-free wings), remember to order them without the pita. I forgot on one occasion, but they remade the whole order and the manager brought it out to me, assuring me that it wasn't contaminated. That's some great dedication. Plus you can get them on their Tuesday wing night! They also have a full bar so they offer wine and mixed drinks as well as cider.
Cracker Barrel
I didn't believe it when I first heard it, but Cracker Barrel actually has a really extensive gluten-free menu. Like Red Lobster and Olive Garden, most have a full allergy chart as well to make menu navigation easy for everyone. I've eaten from their gluten-free menu three times now and have yet to get sick. Well done, guys.
Heritage Bakery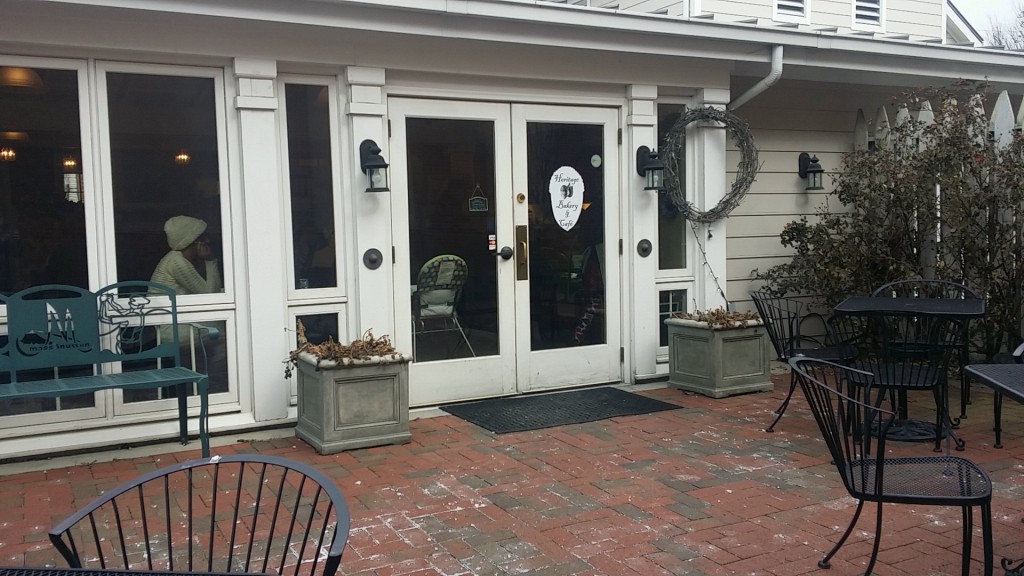 This is my absolute favorite place to get breakfast. They typically have gluten-free blueberry muffins that are amazing. I've yet to get something from there that wasn't delicious or that made me sick. They've told me they keep their utensils separate as well. They offer tons of baked goodies and gluten-free bread. They're on Main Street beside the library.
Capital Ale House
This is probably my favorite restaurant in town. They have gluten-free buns, gluten-free desserts, and their fries are safe. For gluten-free alcohol, it's the place to be. Cap Ale has the largest list of gluten-free beers I've seen in town (all bottled). I highly recommend the Dog Fish Head they have. They usually have a great cider selection on tap as well. Lately they've been doing steal the glasses for Bold Rock, Blue Toad, Old Hill, and Crispin. The staff is really well informed on their drinks and their menu and their manager Dana is one of the nicest ladies I've ever met. I've never had an issue with cross-contamination there!
NOMS Food Truck
The only allergy-free food truck in town is phenomenal. It's awesome enough that they exist, but their food rocks too. They offer options for all sorts of allergies and their some of the nicest people you could meet.
You can see where they're located on their Facebook page every day.
Pure Eats
They offer gluten-free buns and bagels. However, if you're highly sensitive, let them know. Otherwise, they'll put said bagels in the normal toaster and you could get cross-contaminated. The staff is very understanding, knowledgeable, and for what they don't know, they'll ask. They also typically have some form of gluten-free alcohol available, whether it be cider or something else.
Midtowne Bottle Shop
This place is awesome for everyone. They have an amazing beer selection and often great ones on tap. They also have a gluten-free section featuring tons of ciders and gluten-free beers. The staff is really helpful as well. I often get my boyfriend a gnat (mason jar for a pint-to-go) as Christmas/birthday presents, but I know absolutely nothing about beer. I feel completely confident that they will steer me in the right direction if I tell them a few beers I know he likes. They also have a punch card and who doesn't love discounted beer?
McAllister's
McAllister's is a magical, magical place. I love their baked potatoes, huge salads, and their gluten-free bread is actually tasty! Unfortunately, they don't always have it so you have to ask.
El Charro
As long as you get something with a corn tortilla, you should be fine. I eat there all the time and have never gotten sick from them.
Campus Cookies
The greatest revelation I had last semester was that Campus Cookies offered 4 different gluten-free cookies. My mother ordered me all of them one day and they are amazing. The texture is perfect, the taste is perfect, and they're safe. Go get yourself some cookies or have them delivered, because whoever decided to deliver cookies is a genius!
The Little Grill Collective
They have a great gluten-free menu. All I've tried there is the gluten-free buckwheat pancakes, but they were amazing. Make sure to let your server know if you're highly sensitive/allergic and they'll accommodate you. All their staff is very knowledgeable about it and kind/helpful.
Kline's Dairy Bar
They offer a special flavor every week and have the most amazing ice cream ever. Be sure to order it in a cup!
Bella Luna
Bella Luna has some of the most amazing pizza I've had in my life and they offer gluten-free crust. The staff is pretty knowledgeable, just be sure to inform your waiter of your dietary concerns.
Grilled Cheese Mania
This place is totally awesome. They have a limited selection for gluten-free, but as much can be expected from a regular food truck. They are absolutely delicious. However, the owner told me if you have celiac, you have to inform them and they will take all precautions necessary. I didn't get sick in the slightest from them and definitely recommend it. Most nights you can find them behind Wolfe Street Brewery (so you can actually get something if your non-celiac friends drag you to a brewery).
If you know of any places I didn't mention, please email me at [email protected] and let me know! I'm always excited to learn of new places to try!