Behind-the-scenes of JMU's show choir: The Madisonians
Once a class, now a class act, meet these talented Dukes
According to their website, The Madisonians originated as a class at JMU back in 1974, but in 1999 JMU "reallocate[d]" money and "stopped providing backing for [them]." However, in 2013, thanks to the hard work of Elizabeth Garcia and Melanie Robison, The Madisonians were revived. Now they're a thriving group scheduled to perform a concert in Memorial Hall on April 11 and at King's Dominion for their "Show Fusion" competition on April 16. The Tab caught up with some of its members to get a behind-the-scenes look at what it's really like to be in a show choir and got an exclusive video from one of their rehearsals.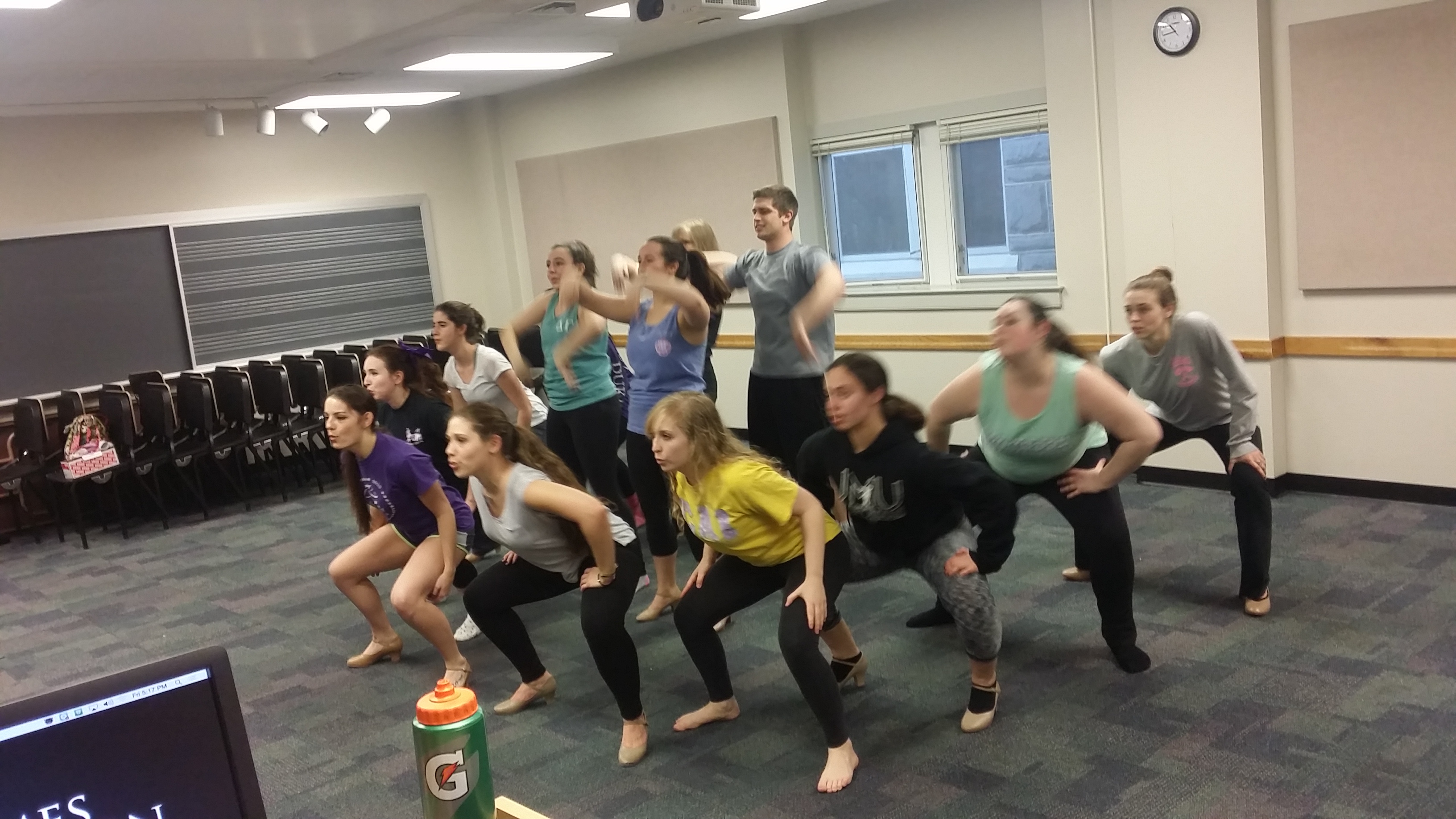 What made you want to audition for The Madisonians?
Sarah Meirose, senior English major said: "I wanted to audition because I was starting my junior year still feeling like I didn't really know my place here; everyone I knew had already found what made JMU feel like home for them, and even though I had been in other clubs and done a lot on campus by that time, I still hadn't found the thing that made me pause and think, 'This is it. This is home; this is family. I feel save and loved here.' My confidence really took a hit when I came to college because I was suddenly surrounded by people who were exponentially better than I was. Honestly, I was scared I was only 'high school good,' not 'JMU good.' But I quickly became friends with Elizabeth Garcia when we met during 1787 that year. She introduced me to a few more Madisonians and I finally came to the realization that if I didn't at least try out, I'd regret it forever. The Madisonians have really become like a second family to me and it's my safe space here. I have no regrets about it, and that's wonderful to realize and even more wonderful to say.
Sarah Schweit, Senior, Music Education Major
"I always wanted to perform with The Madisonians, but it was hard to find the time along with my busy major. Melanie [Robison] offered me the position to direct after she was finished. To do that, I needed to be a standard performer for a semester first. This definitely served as a motivating factor to reprioritize and make sure I made time to make show choir a part of my life at JMU. I did musical theatre, dance, and private voice in high school, and, while being a voice student does give me some outlet for music, I wanted to do something more theatrical; show choir was a great option."
Is it difficult to juggle the obligations for The Madisonians and school requirements?
Nicole Moran, senior Dance and SMAD, double-major with a focus in Converged Media Concentration: Yes, that's why I was hesitant to join at first. We schedule a lot of extra practices, especially around show time, and I often had conflicts. Now that I'm the choreographer, I have more of a say in the schedule, but I also have the additional responsibility of creating all the dances! It's very rewarding, though, and I'm glad I'm making the time for it.
Ashley Little, Sophomore, Interdisciplinary Liberal Studies
"Not too difficult, The Madisonians are pretty understanding with the academic demands people have, so I never feel horribly stressed between the two."
Is performing with The Madisonians challenging for you? Is it outside of your comfort zone at all?
Camden Villaire, Senior, Modern Foreign Languages with a concentration in French
"It's a bit challenging because I have never had any formal dance training. My only dance experience has come from high school musicals. I would say our level of dancing is just challenging enough; it might take me several tries to get a move, but once I do, it's so rewarding."
Shannon Douglass, junior Media Arts & Design major said: "Performing is one of my favorite parts of being a member of The Madisonians! Getting to show everyone the set that we've worked so hard to perfect always feels so rewarding to me. I always have some pre-show jitters, but once I'm actually  on stage, the energy from the ensemble is always so uplifting that I feel really comfortable.
How has being in The Madisonians changed your life?
Claire Fadl, Junior, Music Major with an emphasis in Musical Theatre
"The people make it so special. I know I could go to any of them with anything and they would help me in a heartbeat! Show choir itself is also something that is really unparalleled, and I love it. It's pretty fun to sing and dance."
Sarah Meirose: "It's changed my life in so many ways. I've grown so much as a performer and I've also just learned a lot about myself as a person. Performing with The Madisonians brings out this strength. I didn't know I had in me anymore. I've met some of my greatest, closest friends through The Madisonians and I wouldn't trade this experience for anything."
Shannon Douglass: "Being in Madisonians has helped me really feel at home at JMU and has allowed me to be a part of a family where I know that I can be myself and feel accepted no matter what."
Felicia Singson, Junior, Psychology Pre-Med
"I've met so many amazing people because of The Madisonians and made some incredible friendships with some of the members. I'm also very thankful that The Madisonians came back when I came to college because I was afraid my love of singing and performing would die off as I got into college. Being able to sing with such a talented group of people is such an awe-inspiring feeling that I can't even really begin to describe. The Madisonians have really made me appreciate the artistic side of life."
Are you excited for your upcoming concert?
Nicole Moran
"Definitely! We have three awesome gigs lined up. First, we're performing at the JMU alumni banquet, then we have a show in Memorial [Hall], and then we're performing at King's Dominion! And, from what I've seen so far in rehearsal, we're on our way to having a really good show for these audiences!"
Felicia Singson: "I'm super excited to perform this set! I'm literally counting down the days until our Memorial concert! This set is really fun and full of energy and it will be absolutely amazing to perform for JMU and the Harrisonburg community."
Why do you think JMU students should come see your concert?
Claire Fadl: "I think it's always great to experience live performance, especially for people who don't usually come to see things like show choir! We all have such a fun time on stage; the audience inherently has fun, too. Plus, it's free!"
Shannon Douglass: "I think that JMU students should come to see our show because we'll be performing songs that they know and love and because it's a fun and entertaining way to support their fellow Dukes!"
Sarah Schweit: "Plainly: we're fun. We're high energy. We are a talented group! This semester, our shows are free. It means so much to have student body support, especially for something that was reborn as a small club."
Felicia Singson: "The point of a show choir set is to tell a story through both singing and dancing. I want JMU students to listen and see our story and walk away feeling amazed. I want them to see what it's like to be in a show choir and all of the hard work we put into each set. Plus, I'm sure many students will be very familiar with our song choices and I want them to sing along with us as we perform."
Being a show choir, do you ever get compared to Glee?
Shannon Douglass
"I don't think I've heard people outside of the group compare us to Glee, but I do a lot. I loved Glee and so a lot of the time, whenever we're learning new material, I'll reference different characters or songs that they performed. Actually, when I first joined The Madisonians, my best friend from home asked me if that meant that I was Rachel Berry now, since watching Glee was the only show choir experience I had had before joining."
Sarah Meirose
"I've never personally had anyone ask me if we're like Glee, but I wouldn't be surprised if someone heard show choir and thought of Glee. It was a really popular, long-running show about show choir (for the most part), so that connection doesn't seem like a stretch to me. But if we're anything like Glee, I'd say we're like Glee before season three and also with less teen drama because we're all actually adults. When it comes to the actual show choir parts featured on Glee, there's definitely singing and dancing at the same time. We also don't compete, since we're collegiate-level, but the concept of what show choir is, is fairly true."
Felicia Singson: "Oh god, all the time. We always get asked that question and we always have to clarify that it isn't always like the show. The show isn't always accurate but it did do one good thing for show choirs. It actually brought us into the light and people recognize what we do, so I guess that's the plus side to this."
The Madisonians allowed The Tab to sit in on their rehearsal to get an exclusive first look at their work-in-progress opener–unfortunately, several of their members were out sick so there's only one guy, but they still sound great!
If you'd like to support The Madisonians, they're having a date auction on February 27 from 7-9 pm in Taylor 405 (the big room with the piano) and their concert will be in Memorial Hall on April 11 "most likely starting at 8 pm," (Sarah Meirose). If you're interested in joining The Madisonians or want any more information, you can contact them on their website.