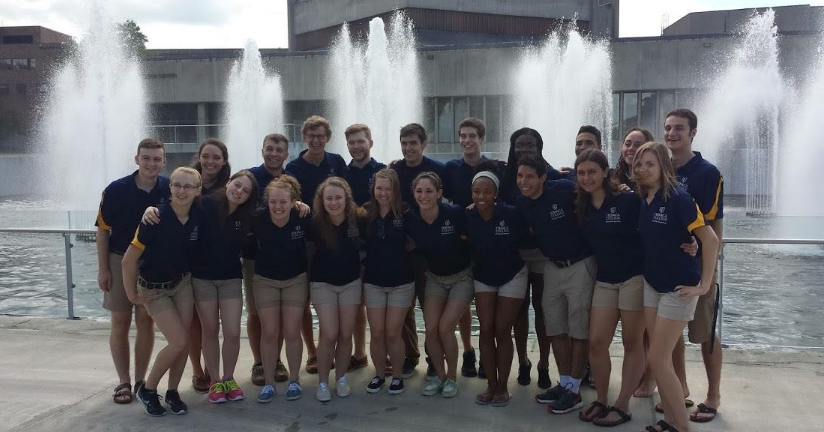 The best of being an IC Summer Orientation Leader
To anyone considering applying for an Ithaca College Summer OL position: Do it
Ithaca College summer orientation – whether you loved it, hated it, or have yet to experience it, one thing is for certain: an incredible amount of work and dedication was put in behind the scenes (exactly eight sessions and two weeks of trainings worth!) from every staff member, but we wouldn't have wanted it any other way.
I, along with 19 other amazing individuals, got chosen to work and represent the student body at IC's 2015 summer orientation sessions. While those back-to-back sessions definitely challenged us, both mentally and physically, working as a summer OL was one of the best jobs I've ever had and will forever be treasured a valuable experience. Here's just a few of the best things about it:
New friendships
When I applied for the job, I didn't know a single person also applying for it. On Move-In day for training, it was like freshman year all over again – the apprehension, the nerves, and the anxiety of "Will I get along with this group of people all summer?" Looking back, it's comical I felt this way because this job helped form 19 important friendships that I still treasure today (and even helped me to find my apparent long-lost twin!).
Never in a million years did I think I'd become such good friends with the next best rapping-architect, athletic trainer, music teacher, business woman, circus juggler, or stand-up comic. Each individual has something incredibly special about him or her that I'm lucky enough to have in my life. We didn't just become co-workers, we became family – and this family has continued to support and inspire each other beyond our summer employment.
Making an impact on incoming students
Nothing was more rewarding than knowing you made a difference in the life of a new Ithaca College student. We've all been there – class registration, understanding Homerconnect, all the in's and out's of IC – and it can be stressful! Whether it was something as little as pointing them towards a building, or something larger like calming down an overwhelmed, crying student at my dorm door, making a difference and helping them navigate college was something I always strived to do. Even if I could alleviate the littlest of stress for someone, it made me realize how worthwhile this job truly was and I'll never forget that.
Summer in Ithaca
Need I say more? Not many Ithaca College students are able to say they spent almost an entire summer living in Ithaca, NY. Although the community population was cut in half, there was something beautiful and tranquil about the quietness of campus. (And, the fountains never turn off!) Trust me, fellow Bombers, summer in Ithaca is worth experiencing at least once in your life.
Experiences and free time!
Speaking of experiences, being an orientation leader allowed me to have many of these. Aside from helping incoming students, building relationships with staff and faculty on campus, and rocking the khakis and blue polos at Club O, the OLs were also able to do (and wear) our own thing on the weekends! Hikes in the gorges, nights in the park, trips to restaurants and Wegmans, and zip-lining through the woods were just some of the amazing things the 20 of us were able to spend our free time doing together.
A big shoutout to the people featured above for making Summer 2015 the best one yet! Thank you all for always inspiring me. I hope that this article makes you reminisce about all the great times of working together this past summer.