Thousands of Iowa students get scholarships pulled due to 'cutbacks' and we're pissed about it
Former recipients now question how they will fund their education
As of February 22nd, 2017, University President Bruce Harreld made an announcement that nearly 2,500 students would be losing scholarships due to cutbacks in state funding.
In an email describing the situation, Harreld revealed that scholarships including the Iowa Heritage, Iowa Heritage Transfer, Iowa Heritage Presidents, CC 2+2, and CC Academic Scholarships are all set to be removed from the 2017-18 academic year. The removals of which are projected to save the University nearly $4,300,000 annually will affect nearly 2,500 deserving students.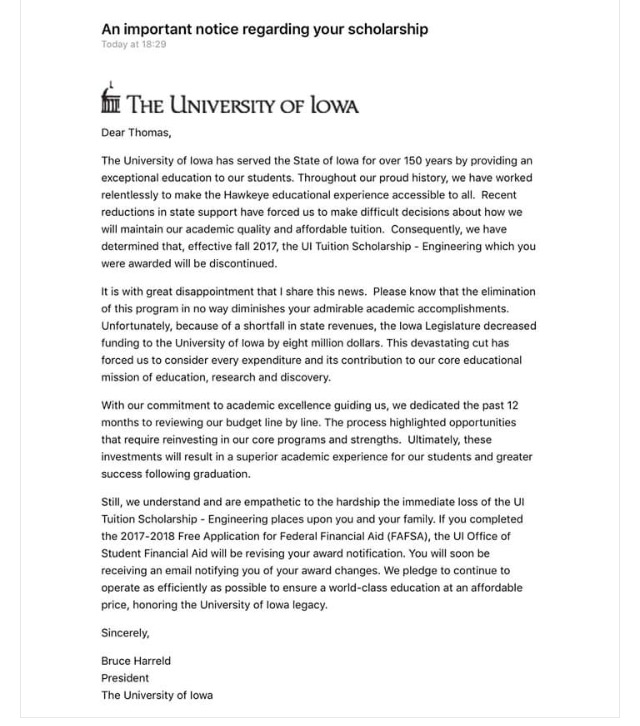 In the email addressing students, Harreld writes: "It is with great disappointment that I share this news. Please know that the elimination of this program in no way diminishes your admirable academic accomplishments… This devastating cut has forced us to consider every expenditure and our core educational mission of education, research, and discovery."
Erin, a sophomore Health and Human Physiology student expressed her anger over the matter. "I am extremely disappointed in the University of Iowa's recent decision to discontinue some of their scholarships. When I was accepted, I was awarded the Iowa Heritage Award and yesterday I received the email that I will no longer be receiving that award. Both of my parents attended Iowa and they were a huge influence on why I decided to come here. It honestly feels like a slap to the face to both me and my parents because as alumni, my parents have supported this school for years and now this is how they are repaid. I understand that funding to the university was cut by the state but I just do not believe that scholarships that have already been rightfully awarded to students can be cut," she said.
Many of the affected students now question how they will make up for these cuts, such as this Iowa student who took to Facebook to discuss his feelings on the matter
As well as decreasing funding for certain scholarship programs, the university is tightening regulations pertaining to residency programs for out-of-state students seeking to gain in-state status and tuition. Cuts have also been made for well the Summer Hawk Grant as well as increasing the amount of credit hours required of students who wish to stay in residence halls. These measures are the results of the Iowa Senate approving cuts totaling nearly $118 million from the University's 2016-17 budget.
Aside from tightening programs and cutting scholarship funding, the University plans to combat the lack of state funding by implementing raises in the cost of tuition over the next five years. Raising UI tuition, which now on average totals nearly $9,000, to that of peer institutions such as ISU and UNI, who average nearly $12,000 would bring an estimated $91 million into the University.