Crowd yells 'get raped' to students participating in Take Back the Night
Students marched from Dunn Meadow to Monroe County Courthouse to raise awareness of sexual assault
On Thursday, September 28th, students, faculty, and members of the community gathered at Dunn Meadow to take a stand against rape culture and support victims of abuse.
Take Back the Night featured opportunities to learn about different organizations, a performance from an a cappella group, two inspirational speeches, a march to the courthouse, and a safe space for survivors to share their stories.
"I think it's really encouraging to see all these people coming together for the same cause and for supporting survivors and people who have been through domestic violence or sexual assault," said Ashlee Critser, IU junior.
Given recent events, I was a little bit nervous for the march because I felt concerned for my safety.
Carol McCord, associate dean of students, said that Take Back the Night "has been a peaceful event for many years, I think about thirty-something I've been coming to. We have only had a couple times when we've had groups who had any sort of opposition to us, and that hasn't happened as much for this as it has for the Slut Walk. With the large number of groups of people from both campus and from the community that participate in this, I don't expect it to be anything other than peaceful."
Then, the march began.
We walked down Kirkwood in silence when all of a sudden, loud shouts began ringing through the air. "Rape power" and "Get raped" were some of the most memorable phrases used by onlookers. Their words were hurtful, but we kept walking. We refused to give them the attention they wanted.
As I was walking, a man lunged towards me while shouting something unrecognizable. In that instant, I felt completely paralyzed in fear. Thankfully, no one was harmed. Faculty, IUPD, and Bloomington PD kept everyone safe.
When we arrived at the Courthouse, we formed into a large circle and each person lit a candle. Multiple survivors came forward to talk about their experiences. Their stories of abuse were truly heart-breaking, and I spent the remainder of the evening fighting back tears.
Giving survivors the opportunity to express their emotions in an intimate and supportive environment was immensely powerful.
Tables from sponsoring organizations such as Middle Way House, Culture of Care, IU Health Center, and Crimson CORPS were set up for people to visit, participate in activities, and learn more about what each organization has to offer.
"I think that this event helps create positive change, and is just a positive reminder to people that there are people listening and there are people that know that women and men are struggling on this campus with this issue and everyone is here to support them" said Alexis Davis, co-organizer of the event.
One of the featured speakers was Evelyn Smith from Middle Way House, a domestic violence shelter and a rape crisis center. Evelyn spoke so eloquently about fighting back for ourselves and for others who can't.
The other featured speaker was Leslie Fasone, the director of the Office for Sexual Violence Prevention and Victim Advocacy. She encouraged everyone to speak out against rape culture in order to make a positive change for the future.
"This is a very, very touchy subject, but I'd rather spread awareness than keep my mouth shut," said Leslie Sanchez, IU Senior and member of Gamma Phi Omega International Sorority.
Take Back the Night took place just days after fake It's On US flyers were hung up in the bathrooms around campus depicting an anti-consent mindset that some IU students unfortunately possess.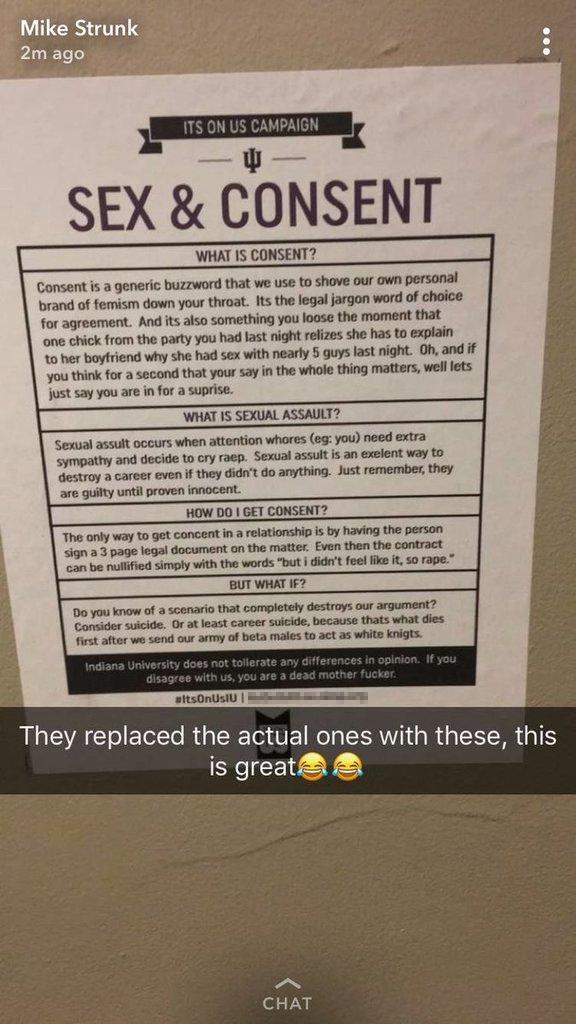 "Of course that's upsetting, but it was kind of nice that we had this event already planned like right afterwards because it gives people an outlet," said Celia Dawson, co-organizer of the event. "Like, we saw online that people were so angry, and this is a really constructive way to like get out that anger."
Take Back the Night was an incredibly moving event. It was a time of solidarity, and a way of healing.