'I DO NOT promote rape culture': IU student apologizes for viral Snapchat
Someone replaced Sex and Consent flyers with ones that mock sexual assault
Earlier this week, Indiana University was shocked to discover fake "Sex and Consent" flyers hanging in bathroom stalls. Someone switched out the posters — ones that define consent— issued by the Its On Us campaign with ones that make fun of sexual assault.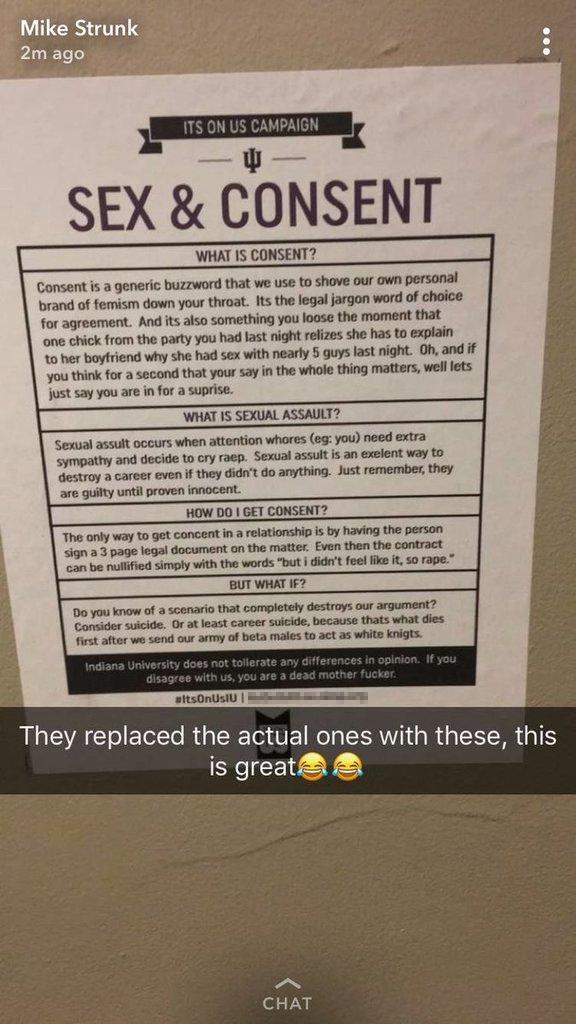 Mike Strunk, a sophomore at IU, sent a Snapchat of the poster captioned "they replaced the actual ones with these, this is great", which quickly went viral. Initially, anger from the community was directed towards the posters themselves, but now the Internet is furious with Strunk.
Some students unsuccessfully attempted to get #MikeStrunkIsAPunk trending.
In response, Strunk tweeted a statement issuing a public apology for the Snapchat. He has since deleted his Twitter account.
"I do not promote rape culture and know there is no excuse for it," Strunk tweeted. "Ask any single person that knows me and they will gladly vouch for me, this is just not the person I am."
IU student Hope Hiller doesn't think this apology is sincere. "The fact that he considered it 'just a snapchat' shows how lightly he is taking the situation," the junior student said. While she was sad to hear that his family was attacked for his action, she thinks the backlash should be a lesson to him about the power of his words.
"The persistence of rape culture will not be tolerated," Hiller said. "I consider his 'apology' to be more of a pity party and a sad attempt to salvage his 'good' reputation."
The university is currently investigating the case.