Pooja Chandrashekar is Harvard's hotshot biomedic
She was accepted to every single Ivy
It's common, when you go to Harvard, to feel inadequate. It seems like everyone around you is a superhero, doing a million different activities and still getting good grades. That's how I felt for most of my first semester. Then I met Pooja Chandrashekar.
And she proved all my worries right.
She's a sophomore from Potomac Falls, Virginia, right near the nation's capital. Before even attending Harvard, she created a medical device that predicted whether an individual had Parkinson's disease. It has a 97 percent accuracy rate.
Fittingly, she's planning on concentrating in biomedical engineering with a secondary in global health and public policy, just because she can.
Obviously, the Ivies recognized how amazing she is because every single one accepted her, along with six other highly ranked schools. Luckily, she chose us.
We spoke to her about her achievements.
What was your reaction when you found out you got into all of the Ivies?
I never expected it to happen, so it was a mixture of shock, disbelief, and excitement. I really applied hoping to get into just one of them so it was unbelievable having the privilege to make the choice.
How did your parents and your family react?
My parents were just really happy about the way things turned out! They never expected it to happen either so they were screaming out of excitement as I opened my decisions.
How did you end up choosing Harvard out of the fourteen schools you got into?
In the end, it was between Harvard and Stanford for me and to be honest, I enjoyed both admit weekends and the people I met at both, so it was just a matter of going with my gut. But one of the big factors that swayed me towards Harvard at the last minute was the fact that Boston is really a biotech hub and the number of health-related opportunities here are endless!
So you want to develop medical technology after you graduate?
Ideally, I'd love to pursue an MD/MBA after I graduate and continue to combine my love for engineering and data analytics with my love for biomedical research and working on global health challenges as a physician developing innovative healthcare technologies. I'm super interested in medicine, technology, and entrepreneurship so the ideal career would be at the intersection of those fields.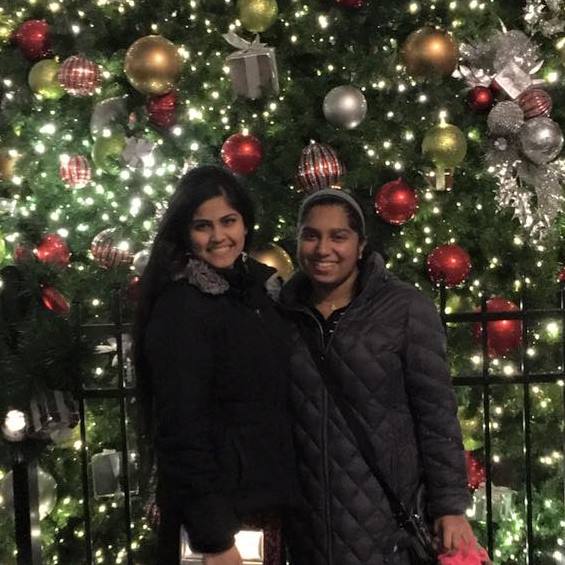 How did you go about developing your Parkinson's detector when you were just in high school?
I went to a very science and tech-focused high school with a lot of resources to help students develop their own project ideas and make them a reality, so that was very helpful and my coursework there definitely gave me a solid background. In addition, my mentor at the MITRE Corporation, where I did research for three summers, was a neuroscientist so I could bounce ideas off of him as I worked on the project, too.
And you also created ProjectCSGirls?
Yup. ProjectCSGIRLS is one of my biggest passions and something that I spend a lot of time working on, especially during this winter break.
What's your main objective for that?
So, ProjectCSGIRLS is a national youth-driven nonprofit dedicated to working towards closing the tech gender gap by running a national computer science competition for middle school girls and workshops around the country. The goal of our competition is to challenge girls to identify a social problem in their communities and then use tech to develop a project that can solve that problem. Essentially we hope to encourage more middle school girls to pursue technology and computer science by showing them how these fields can be used for social impact, providing them with a community they can turn to for support and advice, and by providing a national platform to showcase their innovative ideas and projects.
What kinds of things are you involved in on campus?
I work as an undergraduate researcher at the Wyss Institute Ingber Lab, developing organ-on-chip models for the blood-brain barrier and also work with a public health startup called Barakat Bundle at the i-Lab. I'm also one of the directors for the 2016 Harvard Women Engineers Code (WECode) Conference, was part of the team that organized Harvard's inaugural hackathon, HackHarvard, this year, and am also involved with Harvard Women in Computer Science. Also, I'm part of the PBHA Service to Society Freshman Council through which we organize monthly public service events for the freshman class to participate in.
So how often would you say you sleep then? Weekly? Monthly?
[Laughs] I get a pretty good amount of sleep I think. Probably around six to seven hours every night and if I need to stay up super late I try to take a nap in the evening.
What do you do when you need to unwind?
Hang out with friends. That's always the best way to unwind. Go find good restaurants in the Square or in Boston, watch Bollywood movies or listen to Bollywood music.
And where do you see yourself going after graduation? Any travelling or taking a year off to work before you go to graduate degree?
Maybe! I'm not sure right now whether I'll take a gap year between college and medical school or go straight through, but I'd love to study abroad or do research abroad at some point during college. I absolutely love traveling.
Where would you want to go?
So many options! It's so hard to choose. London maybe because of Oxford and Cambridge, or Zurich because of its engineering prowess, or maybe Berlin.
What is your dream innovation? If you could only create one thing ever again what would it be?
Like anything at all? Even something seemingly impossible? Or does it have to be realistic?
Let's go with impossible.
Well, I hope this isn't impossible to do in the future, but a way to reverse memory loss in Alzheimer's patients.