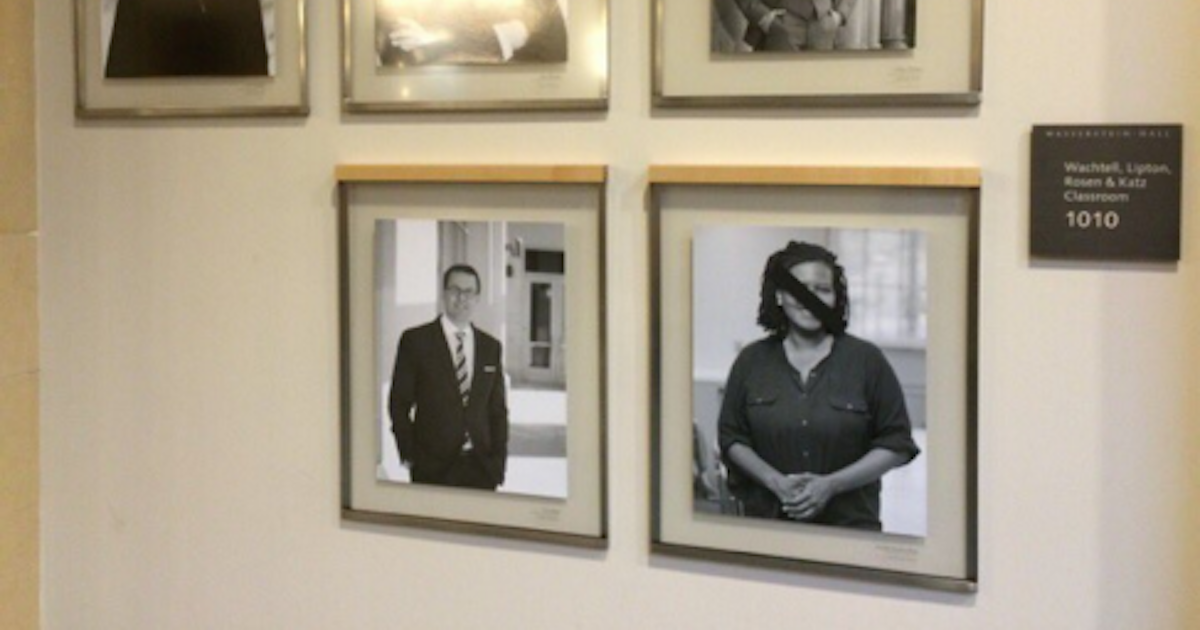 Someone taped over the portraits of black professors at Harvard Law School
'I am saddened and angered by this act'
Update
President Drew Faust has condemned the taping of black professors as "acts of hatred".
She said: "We join together as a university in deploring the defacing of portraits of African American faculty at the law school.
"Such acts of hatred are inimical to our most fundamental values and represent an assault on the mutual respect essential to our purposes as a community of learning and inquiry."
---
Harvard Law School lines its halls with the portraits of every tenured professor in its 198-year history.
This morning, Harvard Law student Michele Hall made the shocking discovery that portraits of black tenured professors were slashed out with pieces of black tape.
In her article posted on the website Blavity, Hall posted pictures she took of the racially-charged vandalism, making mention of the law school's roots in slavery.
In response to yesterday's protests, cowards have covered the faces of Harvard Law's Black professors w/ black tape. pic.twitter.com/IuNd9ckucj

— the other one (@imfromraleigh) November 19, 2015
It comes just one day after student organizations under the Black Students Association here at Harvard held both a solidarity rally in the Yard and a march to Porter Square with sister groups at Tufts.
Black students and allies at colleges across the country have organized their own marches and protests against racism in light of recent events at the University of Missouri and Yale.
Dean Martha Minow said: "As most of you know, this morning we discovered that portraits of some of our African American faculty were defaced with black tape. I am saddened and angered by this act."
See what Harvard students had to say about a status they posted in solidarity with black students and allies across the country here.