We tried blending our foundation with a condom and it make us glow like a queen
It felt like doing make up with a micro penis
2016 produced some of the most ridiculous beauty trends including clown contouring, excessive highlighting, blending makeup with a silicone bra insert, and using random objects to contour your face.
Now, with 2017 upon us, beauty bloggers have produced the mother of all ridiculous makeup trends: blending foundation with a condom.
Some people were genuinely repulsed and confused
deadass just saw a vid of some instagram makeup guru blending her foundating w a condom…we truly do stray further from gods light everyday

— adri (@kruhsnic) February 7, 2017
I just saw a girl PUT A CONDOM OVER A BEAUTY BLENDER AND USED IT? TO BLEND!!?? I am so done with the makeup community y'all are on your own

— Natalie Torosian (@NatalieTorosian) February 7, 2017
Others found the new trend as a source of inspiration
I just saw someone blend their foundation out with a condom ?? love some instagram make up artist

— myugh (@myahsgarcia) February 7, 2017
I just watched a girl blend her makeup with a condom and I'm honestly inspired

— Madeleine Brown (@madeleinelbrown) February 7, 2017
Given the popularity of the Molly Cosmetics SiliSponge (which is literally always sold out), and the subsequent trend of blending makeup with a silicone bra insert to mimic the effect of the Silisponge, it's almost predictable that gurus would turn to the cheaper alternative of using latex condoms to blend their makeup.
The real question here is: does it really work? We decided to give it a go
The ingredients for this recipe for disaster include a drugstore foundation, a knock off BeautyBlender, and of course a condom. Ain't nobody got time to be wasting their $64 Giorgio Armani Luminous Silk and $20 BeautyBlender on a condom.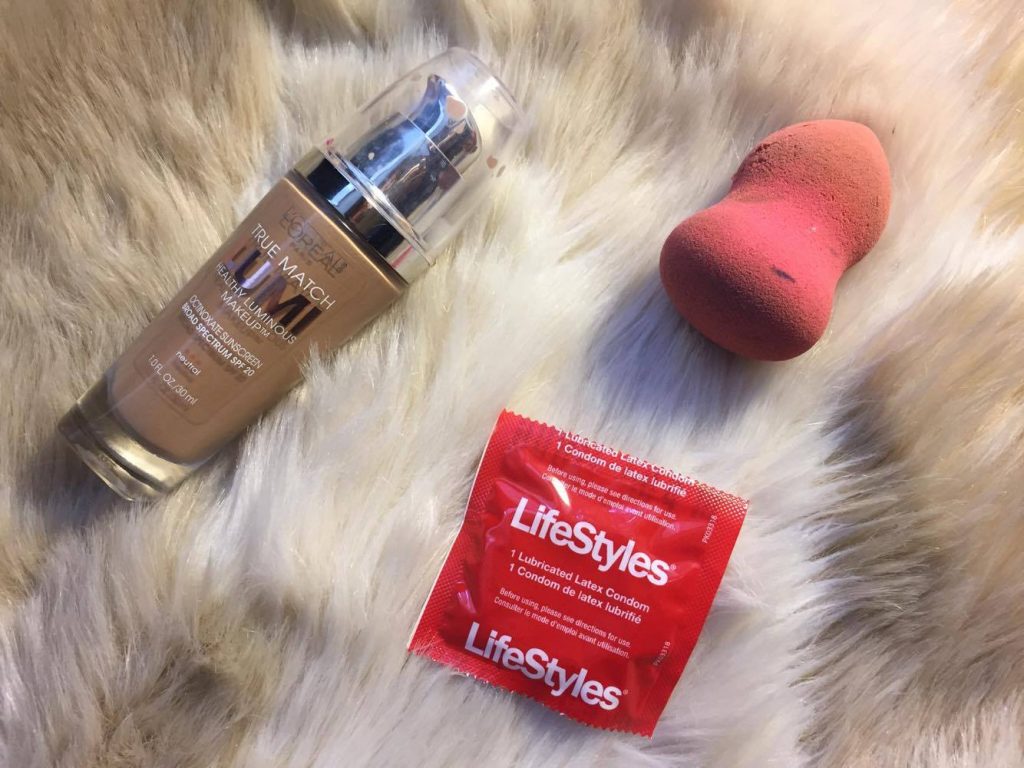 Next, insert said knock off BeautyBlender into the condom
Good thing I paid attention in Sex Ed.
What about the lube though?
We cannot just sit here and ignore the fact that condoms happen to be covered in lube. And, girl, let me tell you, lube mixed with foundation is probably not the type of glow you should be going for. But I took a deep breath and blended for my life.
Initially the condom made my foundation very cakey; the lube wasn't mixing well with the foundation's formula. I also couldn't shake the feeling I was doing my makeup with a micro penis, and the smell wasn't too great either.
After a good 10 minutes of blending, my skin was actually looking pretty good. It wasn't the most amazing thing I'd ever seen, but for a condom, and going into this with such low expectations, I was really surprised.
Because I'm extra as fuck, I couldn't just end this experiment once my foundation was done.
I decided to finish off the "lewk" (filled in my brows, put on some mascara, highlight, contour, and liquid lippie).
Your girl was glowing for the gods and looking flawless as hell. Shine bright like a condom.
Although my makeup turned out super cute, I would never do this again. Drug stores have made beauty tools available to the masses for a very good price point, and I can get literally the same look without covering my face in lube.
Let's put down our bras and condoms and use a goddamn brush, HOWBOWDAH.