Madison Social's tweet isn't the reason why Neighbors & Friends was deleted
The show was reuploaded a day after its brief removal
Earlier this week, Tallahassee bar Madison Social spoke out against Florida State University's new controversial reality TV series. After tweeting a statement ripping "Neighbors and Friends" to shreds, the show was nowhere to be seen on YouTube.
In the tweet, Madison Social called the show a "poor representation of FSU's true culture." Well, that's not entirely true. The Olos — the nickname for the stars of the show — highlight the sex-driven, alcohol guzzling culture that's thrived in Tallahassee since I was a freshman at FSU.
However, I agree that "Neighbors and Friends" is definitely not the best look for us right now, considering the negative media attention we've received for our football program and Greek life shutdown. I applaud Madison Social for calling them out.
"It seemed like they kind of took the opportunity to make it about themselves and use the publicity as a stunt to put us down," said "Neighbors and Friends" producer Yofray Ray. "It was pretty left field in my eyes but they have every right to have an opinion."
Okay this neighbors and friends, olo, whatever the fuck you wanna call it shit is such a disgrace to this school

— fsuprobz (@fsuprobz) December 12, 2017
While FSU rejoiced over the show's removal, Ray silently re-uploaded both episodes to YouTube a day later. While Twitter and Facebook users praised Madison Social for the company's influence in Tallahassee, the tweet and the show's removal are not linked. It was actually just a coincidence.
So no, Madison Social did not make Ray delete "Neighbors and Friends." It was removed from YouTube for copyright issues.
"A lot of the things I put in these videos flies under the radar of universities and local businesses," Ray said. "But since it is now such a high profile thing, the episodes moving forward will feature a lot of blurring of businesses who didn't give us direct consent as well as FSU logos to avoid our videos being removed in the future."
In the face of major copyright issues, local backlash and social media disgust, Ray is totally calm. He says the show has been working "cooperatively and patiently" with FSU authorities to address their concerns. He knew he'd grab their attention but never imagined making this big of a splash.
"I underestimated that people have a lot of time on their hands and love to complain in this country," Ray said.
A bit snarky, but not entirely false. YouTube analytics showed that "Neighbors and Friends" was viewed in over 70 countries within the last 12 days. They've earned over 72,000 views and nearly 400,000 minutes of content consumption. Let's be honest here, none of us expected that kind of impact.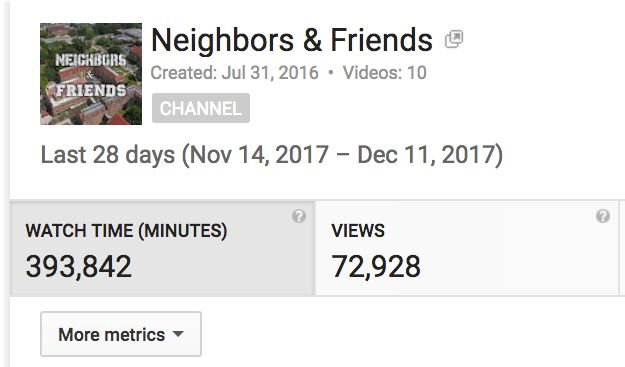 "Obviously all of these re-uploads aren't ideal but as we garner an increasingly watchful eye of the series we've learned more of an understanding of what we can and can't use," Ray said.
Olo Episode 1 was trash. Don't want to give Neighbors and Friends the views but hoping E2 will be better.

— lex (@Ayywhit19) December 12, 2017
Though most of us would like to think it's not all about the numbers, Ray argues that's more than half the battle. In the world's most competitive industry, the producer is just looking for eyes and that's exactly what he got. Yours and mine included.
"Clearly we're doing something right," Ray said.