Florida State fuckboys are the least romantic humans in the world
'I had a long day so why don't you just come over and suck my dick'
If I had one dollar for every puppy, frat boy, or oversized fish that I saw on Tinder, I'd be a gazillionaire.
Ladies and gentlemen, we're nearing the end of 2017 and not only have classes moved to the online realm, but so has dating. The one thing that remains steady in this world is college boys and their uncontrollable hormones. No matter what year it is they will always be DTF and asking for nudes.
I'm sure most of us on campus have had our own 'unique' experiences on Tinder. Here are some hilarious conversations our fellow Seminoles have had.
Let's begin with this little gem…
First of all he responded two days later and asked if she's DTF at 1:36pm in the afternoon…ok
"What a mood." Dead.
Fifty Shades of Grey: FSU edition
TBH red velvet is the bomb ok.
"Well are you free tomorrow" …Umm no thanks
Nah…you can keep them
And it was never fixed…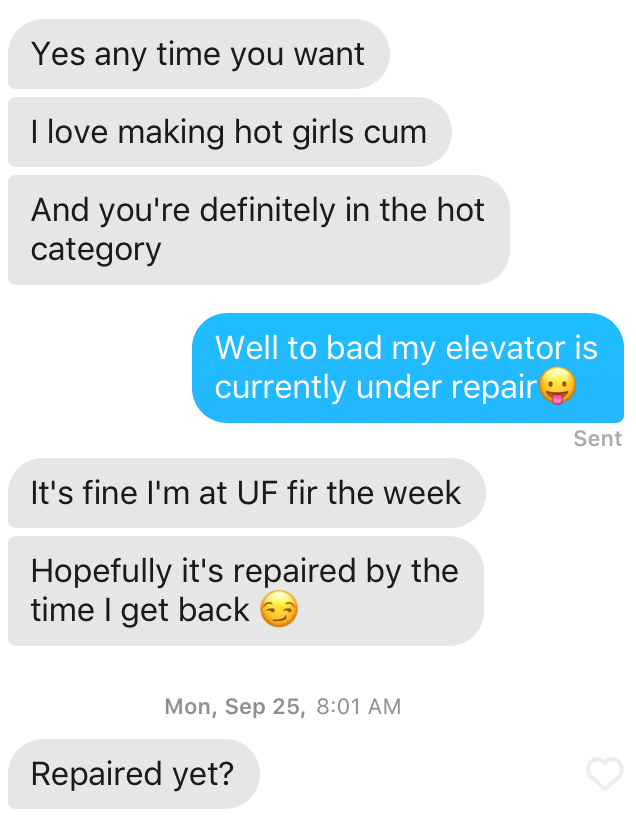 This sounds like a Taylor Swift song
He obviously didn't get a 2400…
North Korea
And there you have it. Proof that the FSU male population is possibly the least romantic breed of men on the planet. Maybe it's about time that our wonderful FSU boys begin to think before typing. Or maybe they'll just continue to give zero fucks and let their hormones take control. Anyways, good luck out there and stay clear of FSU fuck boys.